Zodiac
June 2021 Will Be A Happy Month For These 3 Zodiac Signs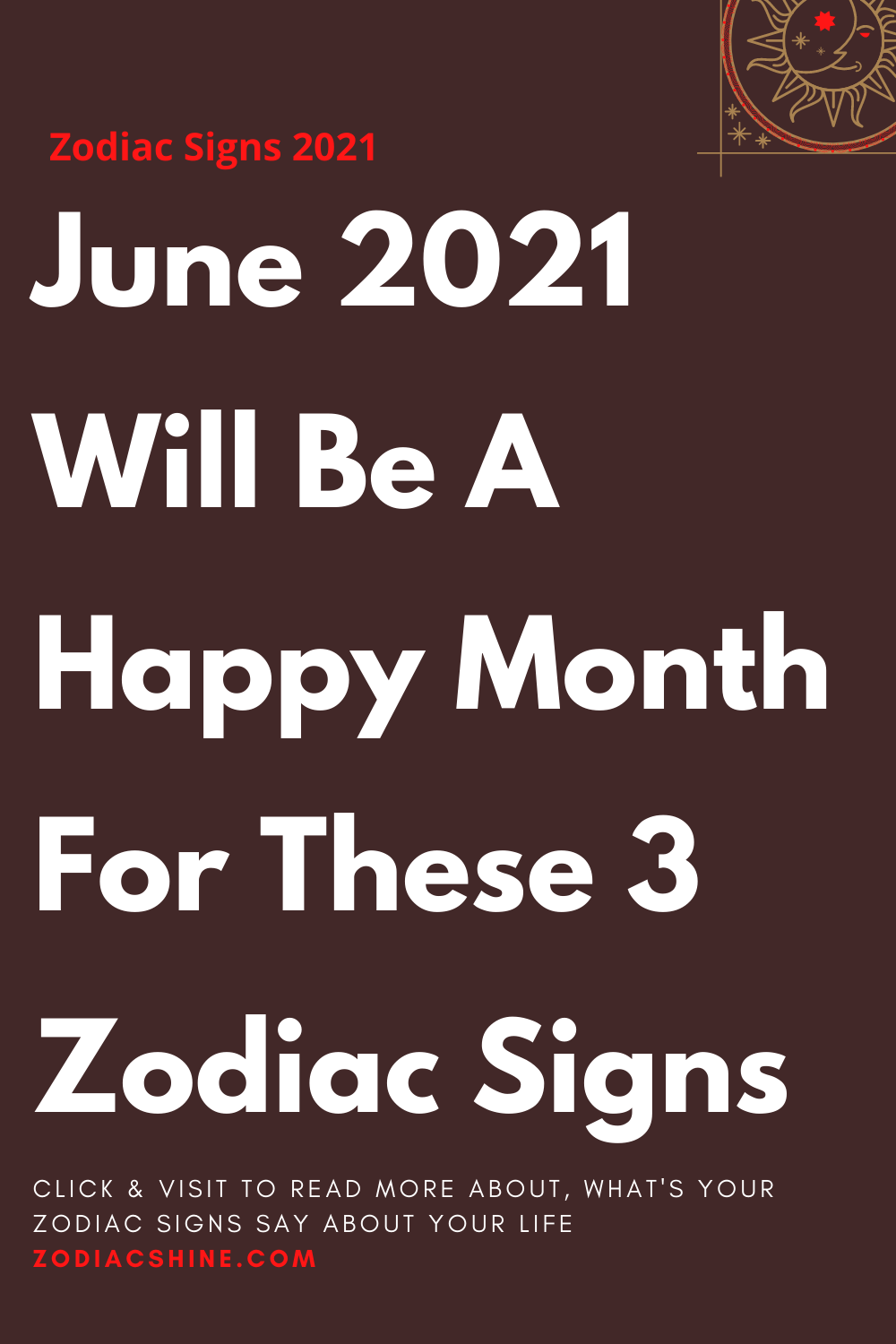 June 2021 will be a happy month for these 3 zodiac signs
Every month, happiness falls on different zodiac signs. These are the lucky 3 characters in June 2021.
The zodiac sign you were born under has a significant impact on your character and destiny. It gives you certain characteristics that you should work with. Because these qualities definitely have a big impact on your happiness. Who are the lucky ones this month? Find out!
Taurus
This month will fill you with happiness and joy as you finally manage to embrace your identity and your self-esteem. This is your month Eventually the sun begins to shine in your life and the stars emit the energy that suits you best. This part of your life focuses on defining your purpose and recognizing your inner strengths. There is no better time to build up your self-esteem and feel valuable.   The stars will help you not to attach too much importance to things that have nothing to do with you and to focus on your personal path in life. Try to get your trust from the depths and listen less to the opinions of others.
In your relationship, things are changing for the better. All of the love, tenderness, and desire that you and your partner feel for each other are finally rising to the surface. This strengthens your bond, puts your relationship on a more solid footing, and brings joy into your everyday life. If you're single, don't give up and stay open to new people. Keep searching for the One and don't be downcast that it hasn't worked out yet. You are going to fall in love this month and you could find the love of your life in the process.
This month is expected to be optimistic and fruitful for your career. You will take important initiatives and change anything that does not completely satisfy you in order to achieve your goals. Positive thinking will help you make new plans. At the end of the month everything is ready and you can better imagine your future. In your finances, the last week of the month requires a lot of attention. Avoid risks that could lead you to a dead end.
Libra
This month will bring you a lot of satisfaction and relaxation. You feel more attractive and lovable and this will revitalize your social streak so that you will make lots of new contacts. The month begins with paying more attention to your needs and following your inner voice. This will fill you with excitement and a boost of energy, and encourage you to absorb all of the positive, loving, and fascinating vibrations that are on your way. However, from the middle of the month your life can get a little more intense and some changes might come your way that will surprise you. You are ready for it! So don't be afraid if your life takes a turn.
In terms of love, this is a good time to plan things with your partner and do enjoyable activities that will bring you closer together and let your love flare up. When you are single, stop wasting your time on meaningless infatuations and fussiness and focus all your efforts on building the kind of love affair you want. By showing yourself authentically, you will earn some pluses this month with the guys who interest you.
Your curious energy will lead you to look for new development opportunities in your area of ​​expertise. You currently like to live fast and you are very resilient. This will enable you to achieve your goals and move forward. After mid-month, you'll try to make changes in your work life that seem scary but reward you in the end. Be organized and do your tasks without pressure or panic. You need to be more disciplined and cautious about your finances and control your spending.
Scorpio
You can rejoice because you are about to have so much abundance and growth. You are probably on an exciting and breathtaking journey this month. After all, the cosmos focuses all of its expansive and abundant energy directly on you. So much growth is on your way, and while it feels intense at times, it also opens an unlimited number of doors for you. This transit will encourage you to be open-minded and try something new that you have never considered before. There is so much energy on your way and if you embrace it fully, it could take you on a wonderful exciting adventure.
You're going to have some much-needed conversations with your partner this month, clearing up the things that have long had to be sorted out. It is good for both of you to know where you stand in your partnership so that you can move forward accordingly. If you're single, stop pressuring yourself to find a partner and let things go by themselves. Go with the flow and you will find that life means well with you.
In your career, things seem to be going well and everything is developing as planned. In the first half of the month you can permanently solve some problems that have preoccupied you for a long time and that will give you more serenity. The collaboration with your employees and your relationships with the people in your workplace will be perfect and you will manage to realize your ambitions. Towards the end of the month, dare to take risks in your career and try things out because luck is on your side and can bring you success. Nevertheless, think carefully before you act.