Zodiac
June 2021 Will Be A Difficult Month For These 4 Zodiac Signs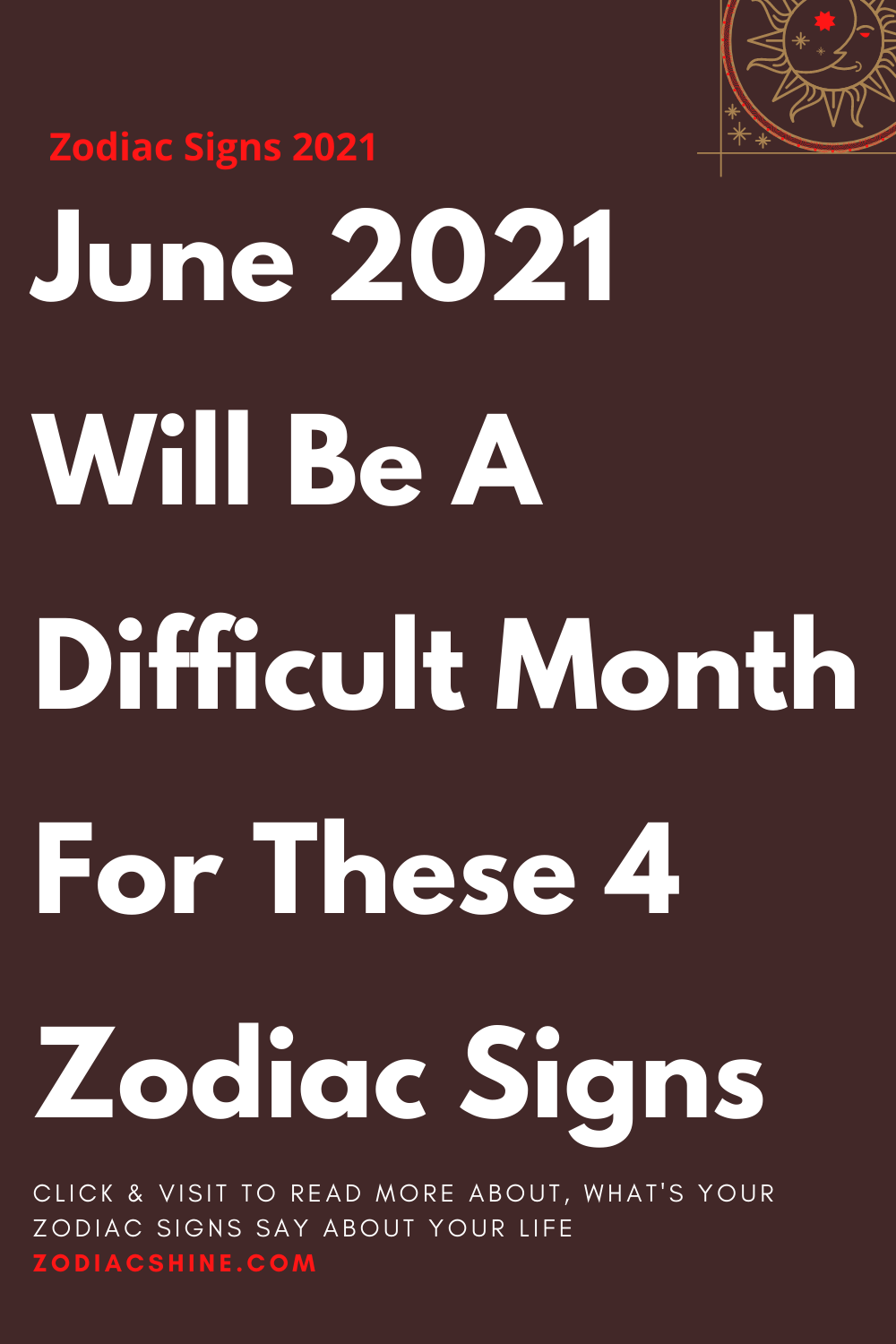 June 2021 will be a difficult month for these 4 zodiac signs
Everyone goes through difficult times. June 2021 will be a difficult month for these 4 zodiac signs.
While some will have a good time in the month ahead, others will have a pretty difficult time. If your zodiac sign is one of them, then you will be better prepared for this complicated phase. There are a total of 4 zodiac signs that will have a lot to fight in the coming month and will not be spared from the drama. For some it is a turning point that is always fraught with complications, and others will be forced to accept certain changes that they do not like.
Find out which 4 zodiac signs will have a difficult month:
Virgio
In this month you will explore your inner world and all its dark sides. This month might encourage you to do some pretty deep healing. Eventually, your spirituality will push you to look within and allow you to feel all that you have inside of you. You may also have secrets from yourself and you suppress your emotions so you can somehow get through the days. During this month, however, it might feel like an ocean of emotion is flowing over you, encouraging you to swim in it and understand it.
Things are tense in your relationship, but you shouldn't let that get you down. Instead of thinking things through yourself and making decisions, you need to involve your partner. Talk to him and try to find common solutions to the problems to give your relationship a second chance. 
At work, you face difficult and demanding situations this month. Get ready Cooperation and communication should now be in the foreground. Your momentum will prevail this month and will push you to take initiatives that can help you achieve your goals. By the end of the month, you will have made important, profitable deals. Take some very cautious steps towards the middle of the month and you may be able to grow your sales.
Sagittarius
One thing is certain: this will not be an easy month for you. You may be dealing with some important conflicts. This month could be very busy and very life changing for you. There is a balance between your personal life and your public life, and this month it can be difficult to achieve that balance. 
There will be conflicts in your personal life that can only be resolved through communication. Be patient with your partner. If you're single, say yes to an invitation to go out! This invitation will most likely come from a work colleague, and you will soon find that things could develop into something more between the two of you.
At work, you need to become more mature and responsible. Don't forget that the competition is very tough right now and enemies are everywhere. Be very cautious and don't reveal your plans to anyone, no matter how trustworthy you find them. Try to work independently and make the most of your skills. This time may be a favorable one, but you still need to think critically to take the best steps. In your finances, you need to pay off old debts now that you finally have the ability to do so.
Aries
It could get quite stressful for you this month. Unexpected changes may occur in your life that force you to rethink your perception of your goals. It can even lead you on a new path. Try to take things one step at a time.
Your personal life is full of tension and quite a bit of whining, but you need to hold your nerve and control your temperament. This is the only way to get out of this annoying time in your love life unscathed. If you're single, get out there and make the most of this month. The stars smile positively at new encounters.
You have to be very careful at work because everything is up to you. Trust your judgment and instinct to make your dreams come true. Build your own path and don't let anything stop you. Also, be courageous about obstacles. Luck will be on your side, so don't be afraid to take bold steps. Be cautious and methodical in your finances and don't let your consumption take you to a difficult place. After the middle of the month, you can try to get some money back that is owed to you. This will help you deal with your own obligations.
Pisces
You are feeling the pressure of a few unexpected changes this month. It might feel like there is so much on your plate. So much more than you would like. The cosmos is giving you quite a storm, and while it may be difficult, it also means that you are the main character of the story right now. A powerful turning point occurs in your life and you embark on a journey that will lead you to your higher self. It may be a bumpy ride, but that makes the destination all the more rewarding.
Your relationship has fallen victim to a boring and busy day-to-day life, and you really feel the need to mix things up a little so you and your partner can feel refreshed. Take the initiative and get started. Why not book a short break? If you're single, change your mindset. You need to become more approachable if you want to find what you're looking for.
From the beginning of the month you need to take action and take important initiatives to resolve issues that are stagnating and blocking your path. This will boost your morale and fill you with positive thinking that will help you achieve your dreams. Be realistic and stable to identify key opportunities and profitable opportunities. Luck will be on your side and you can have conversations that will benefit your career. Your finances will gradually improve so you can do some things that you have long planned.