Zodiac
Your Love Horoscope For September 2021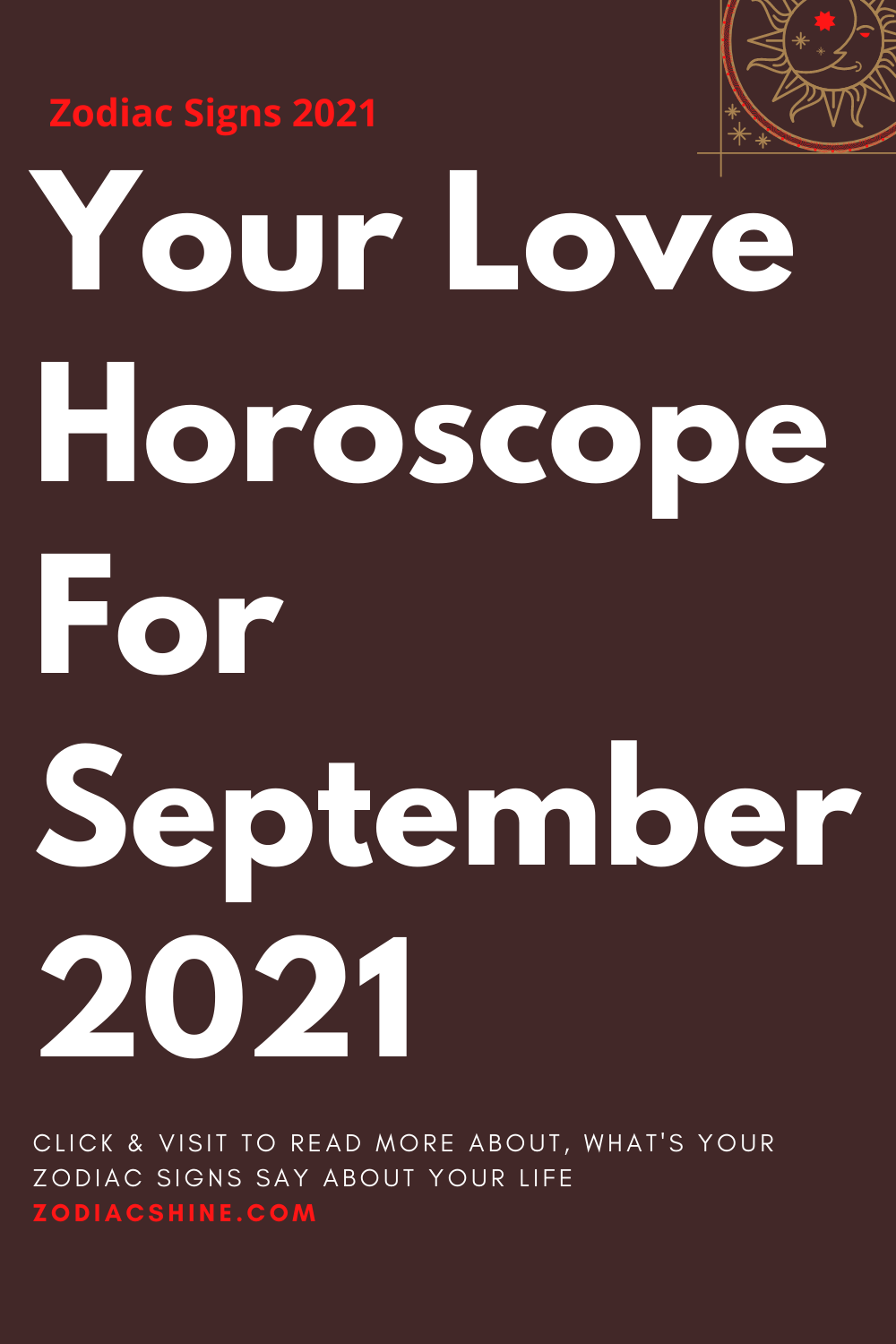 Your Love Horoscope For September 2021
This is your love horoscope for September 2021. What will your love life look like in the coming weeks? Find out!
Capricorn (December 21st – January 19th)
This month will be full of love, because your sensual side will prevail and guide you in your relationship with the opposite love.
When you are single you will feel the need to seek love; you should know that they are already out there looking for you and that you will soon be able to start a new relationship. Your spiritual side will be dominant and it could even lead you to a person who can change your life. 
Aquarius (January 20th – February 18th)
This month you are one of the favorite characters. Your energy and dynamism express your charm and your communication skills bring you closer to people who interest you.
When you're single, you will have many opportunities to meet people, so take advantage of them. If you are in a relationship, you will likely take the next step or expand your family. You are in the spotlight and your socializing will give you fun and life-changing options.
Pisces (February 19 – March 20)
This month seems to be positive for your love life. Your eroticism and charm will attract the opposite love and it's up to you to define what type of relationship you want to enter into.
You can choose to have a committed, devoted relationship, or you can choose to have fun situations that don't bother you with future plans. When you're single, you can attract people who value your personality. You will get the chance to start a romantic relationship, but you will be the one to decide how it should turn out.
Aries (March 21st – April 20th)
In your love life, you have the opportunity to enjoy your relationship in a mood of trust and affection. Your partner will make sure you see their feelings and this will give you a lot of satisfaction.
If you are single, you can make interesting acquaintances during this time that you will appeal to in a special way. Let your charm do the work. Reach out to the people who really care about you. In any case, act responsibly and clearly, and make your intentions clear to the other.
Taurus (April 21st – May 21st)
Your socializing will peak by the middle of the month. If you're single, this will help you meet new people and reach out to potential partners. Make the most of the planet's favor, control your insecurity, and seek love and companionship.
When you're in a relationship, the planets can help you make things official. You feel surrounded by love and your relationship is full of sensuality. 
Gemini (May 22nd – June 21st)
Your love life is at the center of this month as it receives very strong planetary influences. Love and emotion will prevail and greatly influence your daily life and actions.
Your charm and charisma will be strong and evident and will have a positive impact on your relationship. When you're single, you are about to pique the interest of potential partners. Your personal life will be passionate and hot, and pregnancy can even occur. 
Cancer (June 22nd – July 22nd)
The position of the planets this month reinforces your romantic side. You are very sociable and cool. If you're already in a relationship that needs an invigorating touch, this is the time to correct and revive things.
You will successfully keep your balance and things will stay peaceful and warm. You and your partner will have the opportunity to enjoy nice, funny moments. When you're single, your attractiveness will help you build a new relationship that could thrive. 
Leo (July 23rd – August 22nd)
In your love life, things will be pleasant and full of emotion. When you're in a relationship, the mood between you and your partner will be fun and romantic. You will be very close and you will have the opportunity to improve your relationship and change important things.
When you're single, love is in the air. Someone might find you at work or through your friends. You get the chance to build an interesting, romantic relationship. It's too early to tell how serious it is going to be so enjoy it and time will tell.
Virgo (August 23rd – September 22nd)
Your love life will get a little complicated this month as your career and ambitions will upset the balance of your emotional relationships. The romantic moments with your partner are becoming less and less common and this is not entirely your fault as you both have very intense social lives and you may be neglecting your relationship.
Remain forgiving and willing to compromise and avoid any kind of intrigue. If you are single, find the right balance between your work and personal life and don't let your career become an obstacle to your personal happiness. Find time to go out, have fun, and flirt
Libra (September 23rd – October 22nd)
This month is expected to be very interesting for your sign. When you're single, you have many opportunities to start something new. Your social life will be very lively and you could end up meeting a person of high status and power.
Your love life is determined by your good mood and your communication skills, which will help you solve any problems. When you're single, you may feel the urge to be alone. That's perfectly fine!
Scorpio (October 23rd – November 22nd)
In your love life, new opportunities lie ahead of you in the first week of the month. You will be able to speak to interesting people who could change your life.
The way you act is different from what your character usually does, so don't be surprised. Your social status will be active and powerful. However, you need to control your jealousy and ego when chasing the person you are interested in. 
Sagittarius (November 23rd – December 20th)
The planets increase your sociability and make communication easier for you. You have the opportunity to get closer to your partner and improve your relationship with them. When you're single, you are magically drawn to unexpected acquaintances and you could commit yourself to something that has a long future.
When you feel ready to take the next step or expand your family, this month will help you get closer to your goal.