Zodiac
Your Love Horoscope For June 2021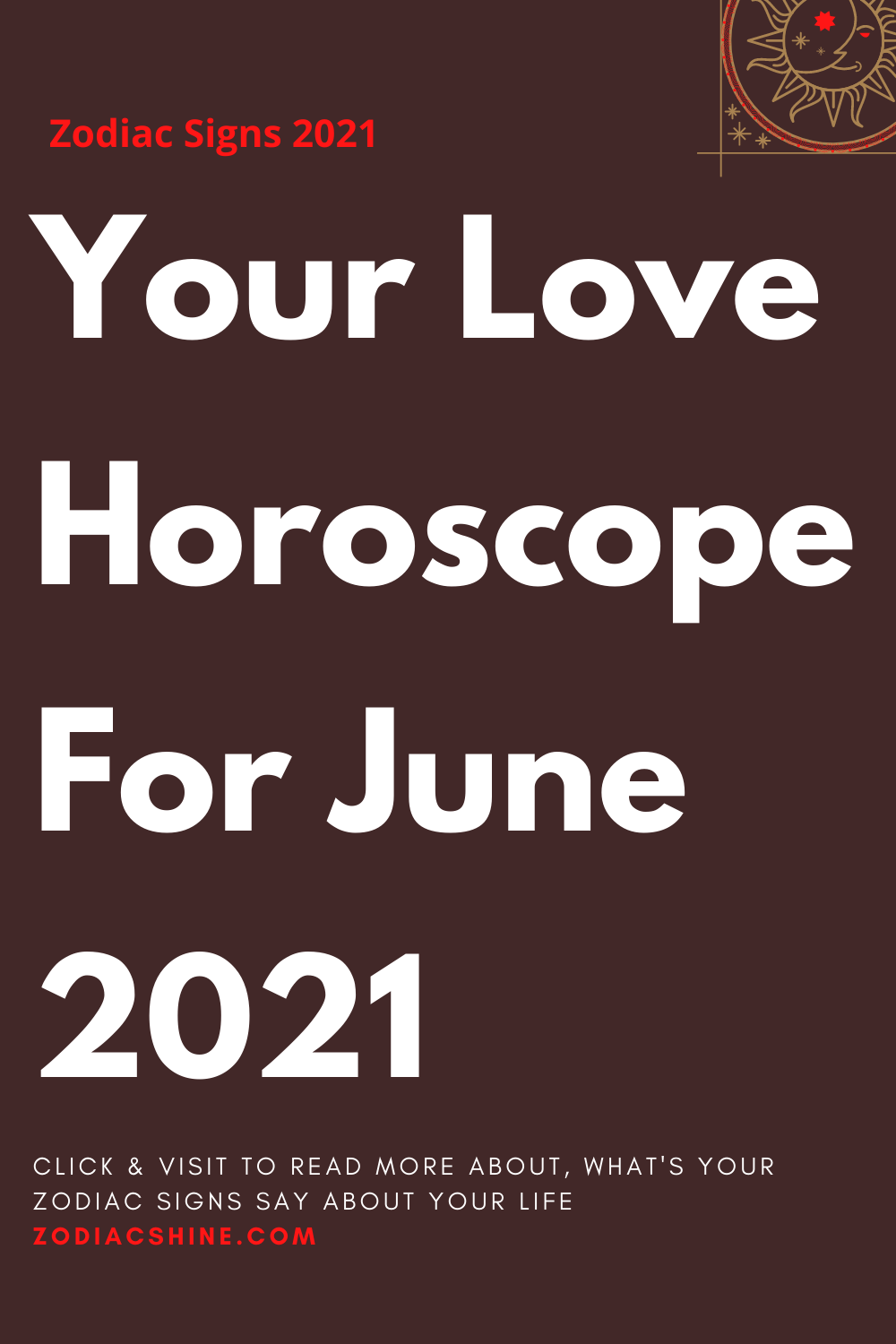 Your love horoscope for June 2021
This is your love horoscope for June 2021. What will your love life look like in the coming weeks? Find out!
Capricorn (December 21st – January 19th)
If you are in a relationship this month will be very positive for you. Things between you and your partner will be better than ever and you will get in touch with the strong love between you. You will also deepen your mutual understanding. The beginning of the month in particular helps you to solve problems with the help of good communication. By the end of the month, you will both feel the need to make plans for the future together. When you're single you're in the mood for some fun, you're flirting like there's no tomorrow and this could lead you to make an interesting acquaintance or two, or even start a new romantic adventure.
Aquarius (January 20th – February 18th)
This month will bring many changes that can be both good and bad. In your relationship, you will learn some things that will leave you speechless. Overcome the initial shock quickly and make the right decisions. In another point, some people close to you will face huge problems and you will need to stand by their side. If you are single you will be very popular and your opinion will have a lot of supporters. This month offers you some alternative solutions to problems that have troubled you so far.
Pisces (February 19 – March 20)
Instead of asking everything of your partner, try to have a quiet conversation with them and explain what you need to be happy. You will get along better and the mood will improve. When you're single, someone comes up to you from work and expresses their love for you. You will be surprised, but you will not get a definitive answer. Give him some time and try to get to know him better. Then you will know whether you want things to go further or not. 
Aries (March 21st – April 20th)
When you are in a relationship, be careful and try not to cause conflict. You are both very tired and under pressure. Take some time and space until it calms down between you. If you're single, be careful about going back to previous relationships as there may not be anything else going on. If you've already made an effort and the situation hasn't improved, you need to move on. Around the middle of the month you will meet a new, interesting person who is exactly what you need in your life.
Taurus (April 21st – May 21st)
Your love life will flourish and that is much to your delight. Your libido will be high and will give you and your partner moments of passion. Some small issues may start appearing by the middle of the month, but if the fundamentals of your relationship are solid, everything is fine. If you're single, expand your social circle and build your confidence through flirting. You could meet your other half this way.
Gemini (May 22nd – June 21st)
From the beginning of the month you will start feeling more extroverted and expressing your deep feelings of love to your partner. Avoid exaggeration, as these may lead to results that are opposite to what you are aiming for. Don't suffocate your partner. If you're single, make the most of your socializing and good mood. Go out and meet the person who will make you happy. After the middle of the month, your libido will be very high and you will be more active.
Cancer (June 22nd – July 22nd)
The planets favor your relationship so that you can get close to your partner and do things that refresh you as a couple. Make sure you show your love and tenderness and everything will be smooth and fine between you. When you are single you will meet a lot of new, interesting people and one of them will be the person who can make you happy.
Leo (July 23rd – August 22nd)
In your love life you decided to put things right because with all the turmoil you can't find the calm you need. You will make a fresh start with your partner who really needs it. You will get close to each other and live a happy, quiet life. If you are single, the various acquaintances this month and all that flirting will revive your love life.
Virgo (August 23rd – September 22nd)
The first fortnight of the month will bring many new problems to your relationship and will also revive old problems that you had swept under the rug instead of solving them properly. So if you want to get rid of them once and for all, take the right steps. Around the middle of the month you have the opportunity to start over in your relationship. If you are single, don't let anyone into your life without restrictions. You might be disappointed. Take some time to assess the quality and intentions of the people who approach you so that you can give a chance to those who really deserve it.
Libra (September 23rd – October 22nd)
This month will help you review your relationship, behavior, and attitudes toward your partner. Consequently, you have the opportunity to correct your mistakes and all of your wrong movements. There is no need to go through this alone. You can have excellent discussions and work with your partner. If you're single, an unexpected, interesting acquaintance will inspire you, and it could potentially become something permanent in your life.
Scorpio (October 23rd – November 22nd)
In your personal life, there are a few things you can clear up and achieve some calm and peace of mind for you and your partner. This brings you close to one another and helps you meet each other's needs. When you are single, your sociability and charm will attract many people among whom someone will come into your life to stay and make you happy.
Sagittarius (November 23rd – December 20th)
A possessive attitude and feelings of insecurity and fear from your partner will disrupt your relationship. After the middle of the month, things will calm down and the passion will be intense and revive your relationship. Show your good side and channel all of your positive energy into your relationship to keep it alive for a long time. If you're single, don't let your excitement drive you through all of your flirting into wrong decisions. By the end of the month, you will get to know someone and immediately understand that they are a perfect match for you.