Zodiac
What Cupid Has For You What Remains Of November In 2021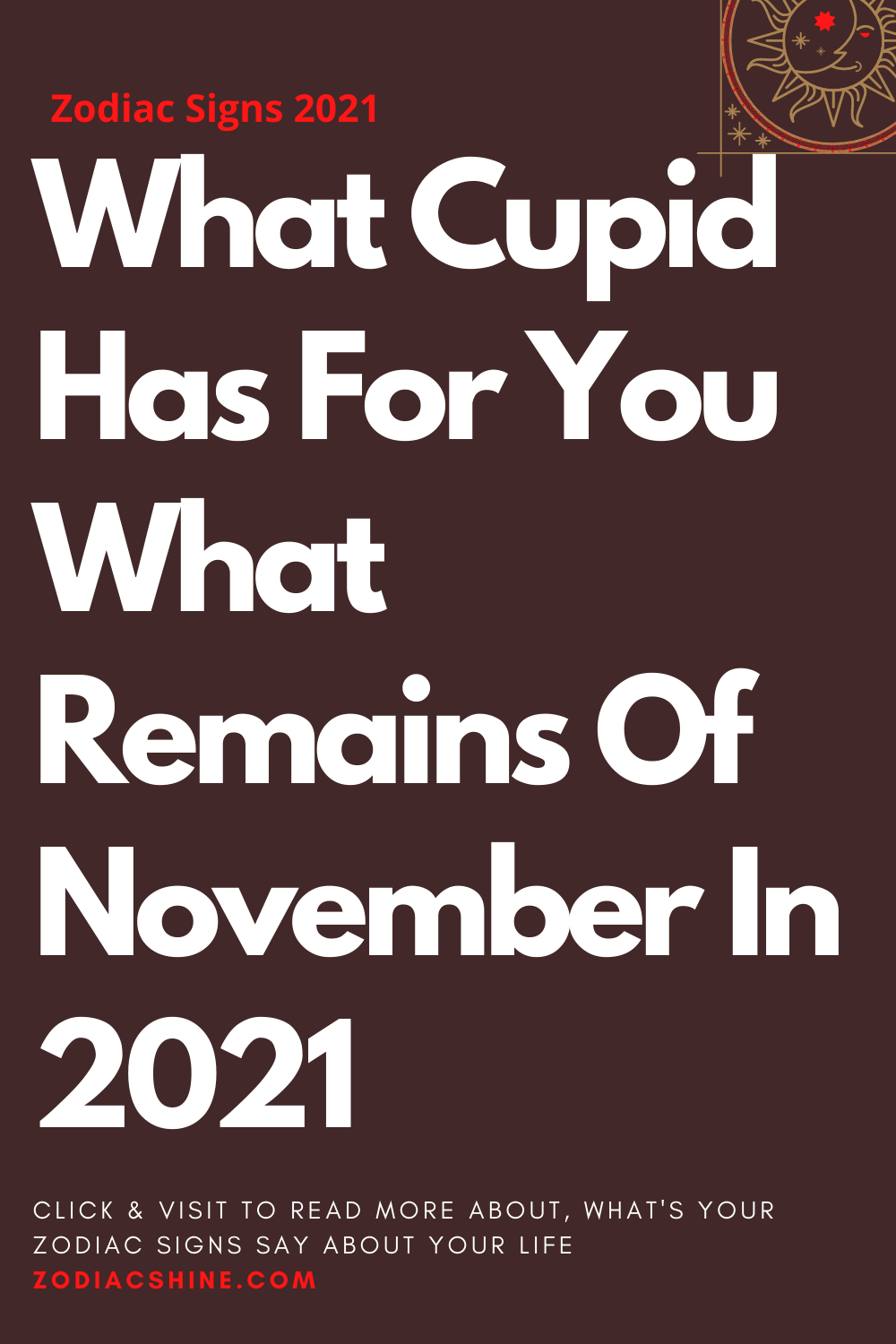 What Cupid Has For You What Remains Of November In 2021
November is here! Surely you have already turned upside down with all its planetary movements. Sagittarius season is coming, the holidays are already beginning to be felt. However, the month began with the magic of Scorpio, all that transformation that you experienced was not by chance. It is a good time to set goals and make new beginnings. In particular, as of November 14, we received an invitation to deepen on a romantic level. That is, there are contracts, house changes, new jobs, unpredictable love affairs. Do not take anything personally, everyone will bring emotions in a whirlwind. It is time for you to be you, to let yourself be carried away in love. Let's see what Cupid has for you for the remainder of November: 
Aries
Take a deep breath Aries, maybe this year you will have a great time next to that person who steals your thoughts before going to bed. You have to trust because the remainder of November for you is synonymous with a lot of joy, fun. But … be careful with your anxiety, because so much adrenaline in the air can make you lose control. Before focusing your energy on a partner, try to pamper yourself, put a little more effort into your personal care and your health in general. I already know that you are dying for the holidays to begin, also those around you. You have to be ready for a ton of invitations. Keep your eyes open and your heart relaxed because you probably know someone who elevates your senses. It is a month of surprises, of charm, of following your instincts. If you have a partner, enjoy, now is when they can do all those crazy things they have always wanted.
Taurus
Taurus, you are going to be flat out on the edge, so you have to trust yourself, but above all be patient, because your feelings will not know which way to choose. The rest of November brings you moments of the battle, decisions that will mark a before and after in your life. Please, donative into anyone's pressure, if you don't know what to choose, go the way your heart dictates, in the end doing what you really want is never a mistake. Let's say that in matters of love, you will be red hot. If you have a partner, try not to fall for provocations, because what may seem like a simple argument can end in something more serious. If you are single, let me tell you there will be several romances hanging around, but don't lower your expectations. Taurus, you want facts, a clean love that is capable of supporting you, something more than a pretty facade, do not settle for less.
Gemini
Without a doubt, Gemini starts the middle of November with all the necessary energy. In fact, the good news is very likely to come to your door, particularly in financial matters. So pay attention because money is probably not an issue. This season invites you to relax, there are many more important things that deserve your attention, but worrying about others you have not noticed. If you have a partner now is when you can trust her, tell her everything that keeps you from sleeping, and how much you want to achieve. It is not that you are materialistic, but for you being well financially is synonymous with tranquility, you do not ask for luxuries, simply stability. Remember that it is good that you do everything alone, but a little company would not hurt. Do not live the penalties secretly. On the other hand, you have to be ready for many outings, appointments that will change the way you see life.
Cancer
The Universe has listened to your Cancer requests. Fortunately, you are a sign that is not afraid to show your emotions, so, for you, November does not imply an internal war, on the contrary, it is your opportunity to really feel heard. It is a month in which your sweet, nostalgic, and tender side will rule your walk. You just have to be careful because there will be loves that come to you and do not have very good intentions. You are no longer there to deal with drama, jealousy, and instability. The first time it is better that you leave, do not get hooked with people who are only passing through to show you what you do not deserve. Take advantage of this season to relax, to let the remnants of pain that still remain in your soul go away. Not only do good times come in terms of love, but it is also the opportunity to visit your friends, recover your passions, all those hobbies that really fill you with smiles.
Leo
A month of cleaning for Leo, not only on a physical level but also spiritually. It is time to remove all those negatives that do not let you move forward. November is to seek repair, to work on everything that you are not and that has become a shadow in your days. You have to take care of yourself, love yourself, you have to show the world how much you are worth. Leo, trust what you are looking for in the other, do not pressure yourself, you do not have to have a partner before the end of the year. Better focus on him being the person who really transmits calm to you. You know that you are a very helpful person and if you have a partner, take the opportunity to show them in detail how much you care. It is time for you to put your pride aside so that your vulnerable part is present. It's the only way you can connect naturally and kindly. Bad vibes outside, because there's only garbage getting in your way. Leo, you know you deserve much more, do not accept crumbs.
Virgo
A toast because Virgo has long put an end to those loves that only steal your heart in the movies. You are no longer up for lies, what you want is to investigate your love roots, in the way you attract others. You are no longer there to look down and pretend nothing is wrong. Now, you are ready for the losing streaks, to start over if necessary. If you have a partner, it is very likely that a drama is the subject of discussion, but do not get hooked. It is not worth making a storm in a glass of water, because both have the ability to speak and solve from a logical point of view. Your heart will be more sensitive than usual, do not reject it, it is the sweet part of you that also deserves to be recognized. On the other hand, if you are single, remember that you can have whoever you want at your feet, but do not cling to someone who does not show you interest. If you focus, you will receive what you want.
Libra
The shelter Libra needed can undoubtedly find a lot of peace in the remainder of November. A month in which the blessings are going to be felt in the air, very unexpected good news, for you Libra. It is possible that you feel a little lost, because your anxious side, the one that cares about everything can make you see things in an exaggerated way, but do not believe it because the good thing comes. It is time to recover your humor, redecorate your soul and let go of all that is not letting you move forward. Take the opportunity to get all that you don't need from your home, but also from your heart. You know that throughout the year you became the pillar that many needed, but now it's your turn. It is time to put yourself as a priority, that you really listen to yourself. What do you want to do? Inquire into everything, if you have a relationship ask yourself if they are on the right track. If you are single, it is very likely that someone will move the floor, but it is not recommended that you let yourself be carried away by passion, look further.
Scorpio
Well … let's start by taking a deep breath, because November is a tough month for you, Scorpio. Let's see, it's not that you're going to have the worst streak, but… important changes are coming at an emotional level, let's say it's an opportunity to go deeper, especially because your anxiety will make you think a lot of things that you thought you had forgotten. Please, Scorpio, do not focus on the opinion of people who envy you, they don't even deserve you to plan any kind of revenge. Better focus on the season to let your loving spirit flow, be patient because the moment you relax, the right person will arrive. If you are in a relationship please lower two lines to your mood swings, if you can't control yourself better, stay away, and come back after everything happens because your partner is not a garbage can so you can unload the fury that other people provoke in you.
Sagittarius
Let's go! One smile a year does not hurt anyone. That's you Sagittarius, who can laugh out loud even after having lived through the worst of his days. The truth is that November has not been entirely good for you. At least it seems that way because you haven't thought that behind every failure there is a great lesson. In the end, something better always comes and Sagittarius knows what I'm talking about. You have a personality that destroys everything, that falls in love from madness, that is not afraid of the new and that is ready to resist everything that comes. So, if you have a partner, get ready to close the month with a flourish, because fortune is on your side., not only speaking of money, also of abundance. Of all that happiness that you deserve. It is important that you do not limit yourself, because it is your season, it is the best way in which you can receive all the blessings that will come. I recommend that you stay alert because if you are single it will not last long.
Capricorn
If there is something that is not well received in your life, it is undoubtedly stress. You Capricorn like to live in peace, to have everything under control, and for things to go as they went through your mind. However, you have to know that not everything is work, that there are times when life demands a pause and it is completely normal. Fortunately for you, November gives you the opportunity to welcome serenity. Intense nights are coming under the sheets, you just let yourself be loved, it was your turn. For a long time, you have been in charge of only satisfying the needs of others and leaving yourself last. The time has come for the roles to be reversed, you are no longer here to please and be belittled. If you have a partner, take the opportunity to set limits, it is not out of selfishness or because you do not feel love, it is because you deserve a special place. Now, if you are single, pay attention to the signs because there is a healthy love around.
Aquarius
It is time for you to turn on your senses very well because you will have to be very meticulous in the remainder of November. Let's say that bad vibes are going to be the order of the day, so, you have to be vigilant. Aquarius, be careful with all those who dress up like sheep to hurt you at the least expected moment. It is a month in which they will want to get involved in some gossip, but do not get hooked, people say what they want, you know very well what you are worth. You will be tempted to isolate yourself, it is fine if you want it, take advantage of this season to reflect. It is a month full of adventures, social events, new faces. If you have a partner they will have a great time, it is not a time for discussions, it is a time to love. But … if you are single, enjoy, remember that there are loves that only pass by and it is not a bad thing to end up in his arms from time to time, just don't expect something else.
Pisces
A month that requires you not to let the rest of you stick their noses in your affairs. It has been difficult enough to get to the penultimate month of the year, to still have to deal with the demands of others. Undoubtedly, your emotions will be on the surface, so much so that many times you yourself will not know how to stop them, but you have to be tolerant with yourself. Pisces, trust, is a way to cleanse the soul, all that you have carried and that many times has not been your responsibility. In matters of love if you have a partner it is possible that tears are present because you will feel very little heard. So, feel free to tell your partner what is weighing you down. It is a month in which smiles and fun will walk at your pace. The Sagittarius season is synonymous with lovers and friends, so you will not be alone.