Zodiac
The Past Is Knocking On The Door Of These 3 Zodiac Signs In April 2022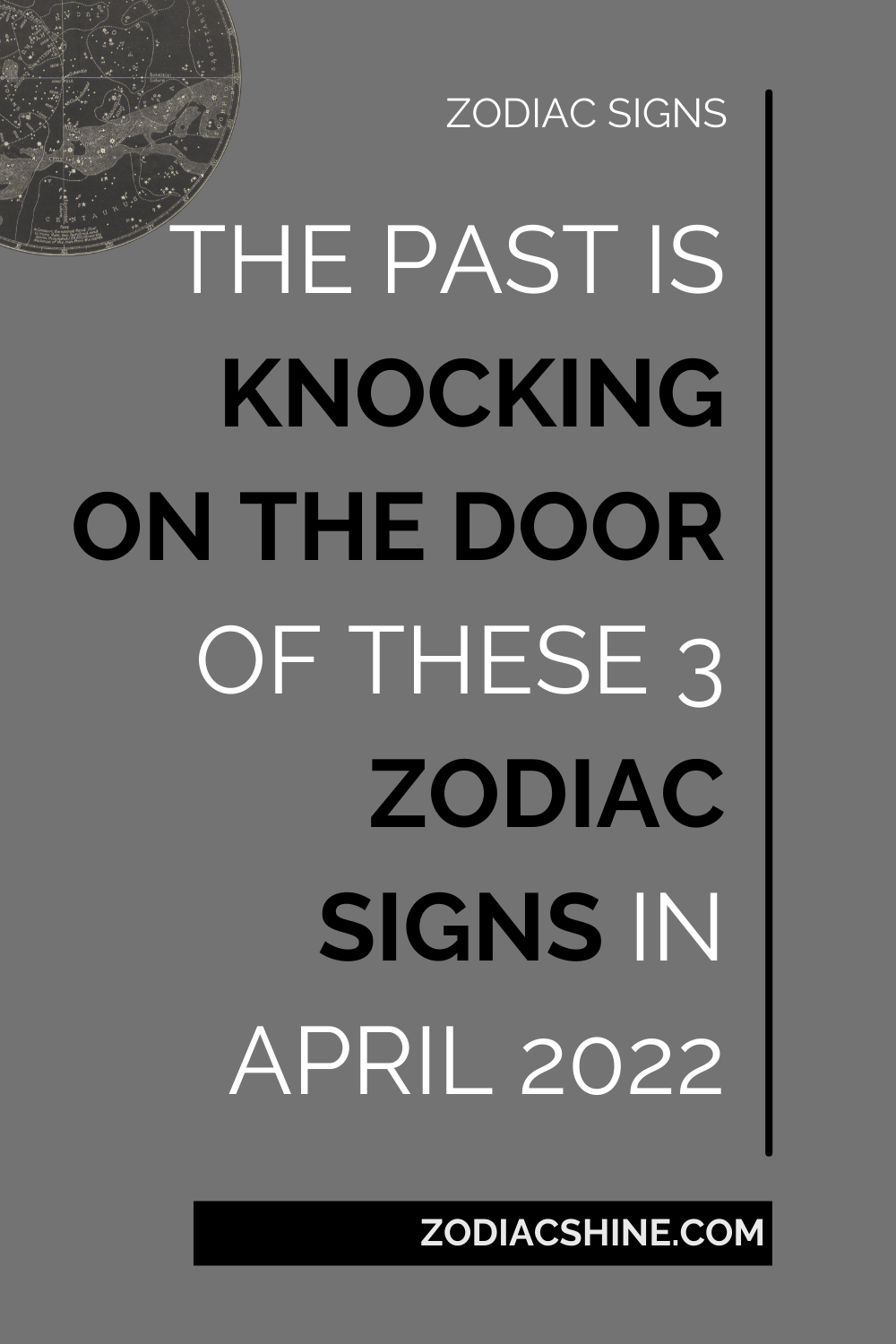 The Past Is Knocking On The Door Of These 3 Zodiac Signs In April 2022
Is the past knocking at your door in the coming weeks? A few zodiac signs will have to deal with their past in April 2022, whether they like it or not.
Actually, we should leave the past behind so that we can live in the here and now, but sometimes it just comes into our present and catches up with us. It's not always a bad thing when our past catches up with us. Sometimes it brings us something good too. 
For us, it often means that there is still a topic that we have to deal with because we haven't really finished with it yet. Or the Universe wants to help us learn from our past mistakes and do things right now.
The past is knocking at the door of these 3 zodiac signs this month:
Taurus
Some zodiac signs are very good at using the past as a guide to learn from. In ancient astrology, it is believed that every day is an opportunity to learn a life lesson.
If you are someone who is easily thrown back into a past situation that you have not yet let go of, it can be painful. Some can fall into a pit of depression from too much self-pity when reliving past events. This is exactly what could happen to you this month. But you don't always have to understand what's going on and why.
Sometimes the universe has something in store for you and you just have to embrace it and accept it. This month, a situation in your life might come up again, even though you've been through the same or a similar situation before. You will wonder what your lesson should be from this situation. But don't worry: you will soon find out.
Be careful not to get into an argument. However, if a fight or some sort of altercation seems inevitable, don't shy away and don't hide. It is important that you face the source of the attack and stand in the way of whoever or whatever. Conjure up the warrior in you and you might surprise yourself with the incredible power you carry within you.
Cancer
You are also one of the zodiac signs that the past will catch up within April 2022 and you will certainly not like it. You will feel desperate and hopeless when you feel like you are taking a step back and moving away from your goals. Of course, it feels depressing when you realize you're going backward.
Even if you wish to just live in the moment, the past seems to be haunting you right now and this month could be a hard blow for you that you won't be able to easily avoid.
You are too hard on yourself and that will be your undoing! Often you feel like a victim of your own thoughts and it inhibits your personal growth. No wonder! Your inner critic puts you down in a tour.
Questions about freedom may also arise this month, and in more ways than one. These problems could be related to opportunities for adventure and travel for you.
Although you may want to immerse yourself in this promised freedom at first, before making a final decision, take some time to consider what you need in your current situation. 
Don't forget about the other people in your life and how your actions might affect them and your relationships. Be empathetic and supportive, and the universe will lend you a hand to better deal with your own problems.
Virgo
In this month a lot of energy from the cosmos works for you and gives you a boost in the right direction. You are still extremely nervous and may feel like walking on hot coals. This time certainly doesn't make you sit on the couch in front of the TV. It's more like you keep moving. 
Engage in activities that exercise both your mind and your body. You'll feel a lot better when you can point to something and say you created it. It is important that you work on your self-esteem and recognize what you are made of.
You will also struggle this month with letting go of issues from the past, especially if it was something that hurt you or your loved ones. It can be difficult to make progress when you have so much stored anger inside you. So set them free and welcome peace into your life.
You could still be mad at one of your loved ones. Maybe he did or said something in the past that was directed against you or you just didn't like it. There's no point in making your life unnecessarily difficult in this way and holding on to all the grudges. The faster you learn to forgive others, the faster you will be able to move on with your life and be the best version of yourself. 
You should deal very intensively with your emotional world this month and find a way to let the negative go. This is the only way you can bring more positivity into your life. Until then, you will be fighting for your self-improvement. If you manage to resolve this conflict within you, you could do something great for your personal future. stay tuned…