Relationship
10 ways to make a man understand that he is about to lose you.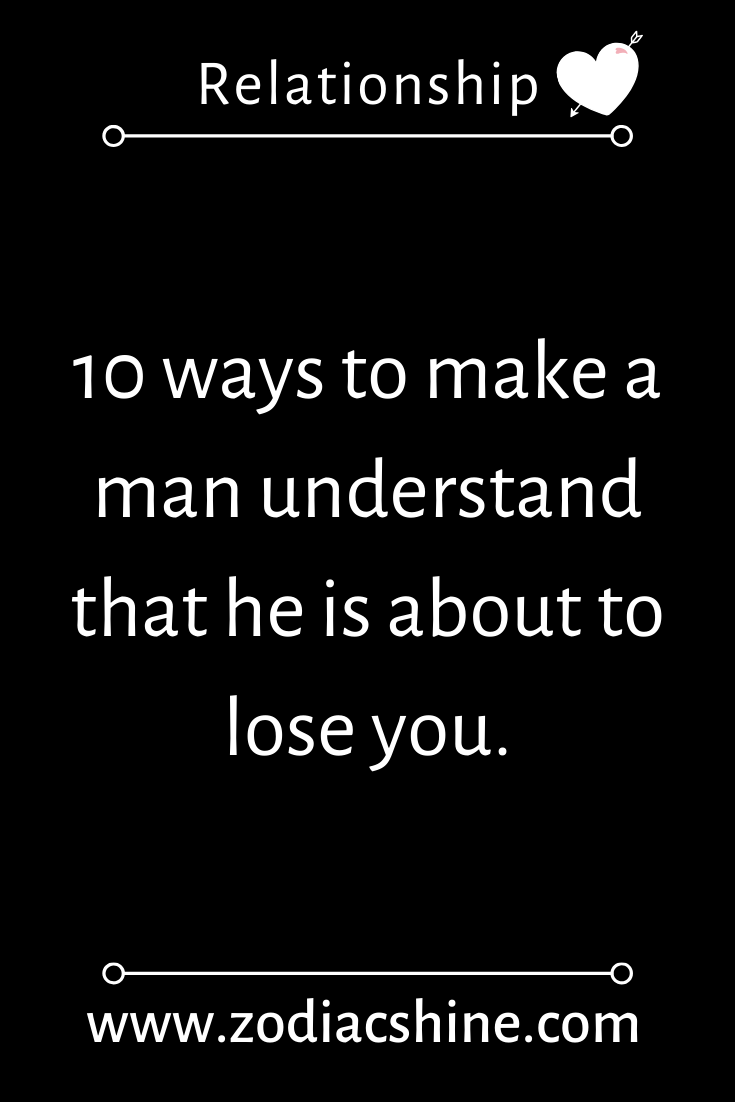 Nobody wants to be taken for granted. That's why you get frustrated when the guy you're in a relationship with does that to you. 
You may be wondering what to do when he starts pretending he does not like you anymore. Is there any solution or is this man about to become your ex-boyfriend, and you can not help it?
How can you make him realize that he is losing you and make him fall in love with you again?
It does not necessarily mean he does not love you anymore, that he takes you for granted or that he's looking for ways to let you down. No – relationships can sometimes falter, and it gets boring.
You know that your guy is still in there somewhere because he has not changed overnight – that's impossible. Therefore, it is natural to be afraid to lose it. The only way to turn the tide is to make it clear that he might lose you under these circumstances.
But how can you tell a man that he could lose you? Here are 10 ways that will show you that it's worth fighting for.
1. DO NOT WORRY TOO MUCH ABOUT IT
Keep him at a distance. I'm not saying that you should completely exclude him from your life, but you should at least try to get away from him for a while. Do not ask him where he was or what he did. Do not ask about his friends or plans and do not wait for him to involve you in his plans.
Do not talk too much about what's going on in your life. Use this time to work on yourself and the things you like. He'll find something is wrong, and he'll do his best to get to the bottom of it.
2. STOP RESPONDING TO HIS CALLS AND MESSAGES
He is used to reaching you whenever he wants, and he is accustomed to answering his messages and phone calls immediately. If you change these patterns of behavior, you will show him what his life would look like without you.
Do not answer his calls, ignore his SMS, and see where it goes. I assure you that he will not like it, so soon he will return to his old self.
3. STOP TRYING TO MAKE EVERYTHING RIGHT
Stop doing things for him. Stop doing chores and stop making his life easier. Instead of pampering this guy with whom you are in a relationship, direct all the energy you have wasted on him and concentrate on yourself.
I know that you will probably worry if he can do it without you, and you will want to help him as you have always done. But try not to worry about his needs this time. He needs this lesson to realize what he has in you.
4. LEARN TO SAY NO.
Do not let him pull you to the places he likes. I'm not saying that you should stop supporting your dreams and aspirations. I'm just saying that you should have a different life to take care of – your own.
He'll probably be baffled that you've suddenly learned to say no. That's the last thing he expects of you, and it's definitely going to be a wake-up call for him.
5. GO OUT WITHOUT HIM
The next step is to go out without asking him to come with you, and without first consulting with him. In this way, you show him that you can cope on your own and spend the time of your life without him. Do not ask him if he agrees, and do not worry about what he has to say.
6. SAY HIS LAST-MINUTE PLANS
If he did not have the decency to tell you his plans a little earlier, it's a sign that he does not appreciate your time, and if he does not appreciate your time, he does not respect you.
If he does not respect you and the things you want to do, you do not have to respect him and you damn well do not have to say yes to his last-minute plans. Show him that you do not agree to be his second choice. 
7. FIND A NEW HOBBY
You have to stop turning around him. After all, that's why he acts like that. So it's obvious that you have to show him that you're fine without him.   The best way to do that is to find a new hobby that does not involve him.
In this way, you enrich your social life and automatically make you more interesting. He will realize that you are again bursting with passion and that you have an exciting life without him.
8. FORGO S*X WITH HIM
Through s*x, a man feels emotionally and physically close to you and if he does not see that he is emotionally a total idiot emotionally in real life, unfortunately, the only way to show him that something is wrong.
Men are basically like kids, and your friend will probably understand that he's an ass if you stop giving him "treats."
9. FLIRT WITH OTHER GUYS
Cheating is never an option you should consider! However, this does not mean that you can not flirt with other men, especially if it helps save your relationship. Do this only if absolutely necessary.
If your friend does not pay attention to you, do something about it and show them that there are people who would die to be with you. Show him that he takes you for granted, while he should be happy to have you by his side.
10. TALK TO HIM
After realizing that you're emotionally removing yourself from him, you should definitely take that step. Just try to be as honest as possible. Sit down with him, look him in the eye and tell him everything that bothered you.
Try to remind him why he fell in love with you at all. Tell him that he takes you for granted and does not respect you as he should. Do not allow him to convince you.
Use these steps to bring him back because you know he loves you. He just took that love for granted, and if that guy notices that, he'll be sorry.