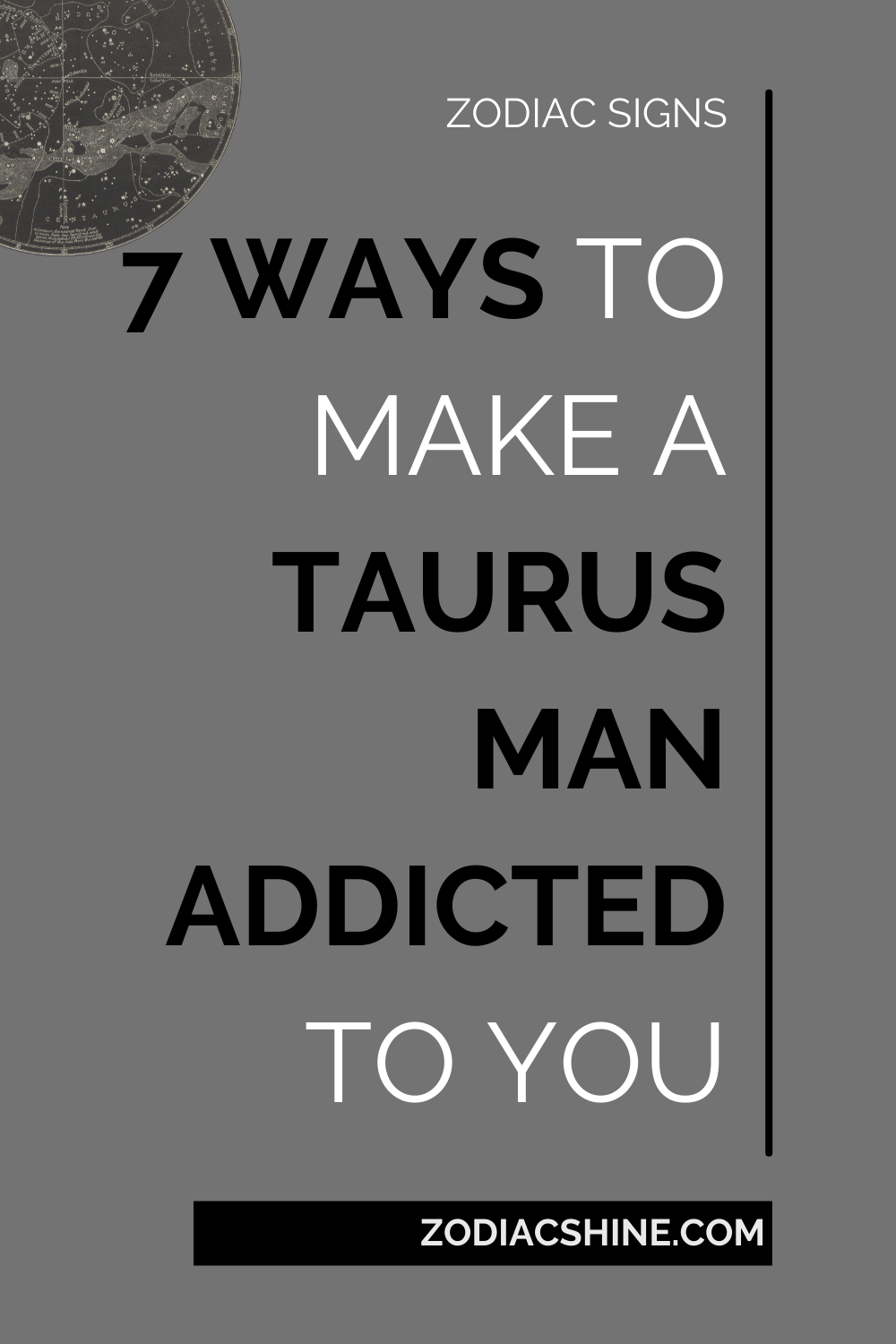 7 Ways To Make A Taurus Man Addicted To You
It's always difficult to have a crush on someone and not have a strategy to approach that person, especially when it's a Taurus zodiac sign. Taurus are known to be stubborn and bossy at times, and they have an aura of seriousness that makes them very appealing. This makes it even harder to win her over. 
For a Taurus man, a woman should be patient, confident, and of course, never give up on being pretty. A feminine touch always works in Taurus. Learn how to attract a Taurus man and persuade him to love you.
1. Be prepared and confident
A Taurus is detail-oriented, they don't fall for the big picture; Instead, he observes every single detail of your personality. Whenever you present yourself, be careful enough to tell him what he needs to know and don't get off track. 
Always have a plan for yourself and be clear about what you are really aiming for. What Taurus men like is a confident woman who can stand by what she believes in. This is the most efficient way to persuade a Taurus man.
2. Open up and share your thoughts with him
Unlike many other zodiac signs, Taurus are good listeners and has a protective side to them. To win over a Taurus you need to open up and share your weaknesses with him, not only will he jump on them but he will also make an effort to meet your needs.
We have all had our ups and downs in life and experienced our fair share of suffering. Our past mistakes may have caused us problems, but just talking about your shortcomings will only put him off as you will come off as emotionally needy. 
So, in order to attract Taurus men, you need to be able to cater to their feelings by sharing yours with them as well. You have to allow them to connect with you in this way and establish trust in them.
3. Be deep and thoughtful
If you want to attract a Taurus, the best thing would be to have deep and thoughtful conversations with them. Taurus can converse deeper than you can ever imagine because they have an entire universe in their head. You have to take into account that they like deep conversations and if you want to please them you should get into their thoughts and try to understand their feelings.
4. Don't miss out on romance
We can all flirt a little here and there sometimes. But when it comes to Taurus, you should keep this aspect in mind. They like spice in their life. Be flirty sometimes and when it comes to romance, set the mood and try some cheesy things. 
Taurus always likes to be romantic, and if you have a vivacious personality and are also into romance, then you have the best chance of attracting a Taurus man. If you want something done right, do it yourself. This is especially true of the romance you share with a Taurus man. Just because Taurus men don't always know how to go about it doesn't mean they won't love it.
5. Be organized
If you're messy, then there's bad news for you. Taurus like it when someone is organized. Yes, it's hard and you have to be obsessed to be as organized as a Taurus, but to attract a Taurus you should at least try. 
A Taurus hates clutter and clutter, and they like it when everything is in its place. Being organized also shows how much work you put into getting everything in order. In this way, Taurus tries to create a calming environment and home. So the next time you invite a Taurus man into your home, try to keep it clean and organized. That will surely attract him.
6. Never try to withdraw from your true self
Being honest and showing your true self makes us better people. Taurus likes this quality in a woman. He wants her to tell him who she really is because being yourself also means being unique. It's individuality that counts, and Taurus cares deeply about that. 
So always tell the truth about yourself and be honest about it. You can't pull a different face every time and expect someone else's authentic version. This is the most precious thing in a person and the most efficient way to attract a Taurus.
7. Give it some time
To attract a Taurus man, you need to give him some time to adjust to your surroundings. Taurus doesn't open up very easily, nor do they easily let you slip into their routine. Achieving this requires some trust-building and therefore it takes time. So if you want to attract a Taurus man, keep in mind that you are patient and calm when it comes to relationships.
Taurus are deep thinkers and act rationally, and they are also sensitive to people they trust. In order to persuade a Taurus man, you need to be able to build trust. For this, there must be an element of truth in your personality in which you can present yourself honestly. This is something that Taurus finds attractive, making it very easy for him to fall in love with you.