Zodiac
Your love horoscope for October 2021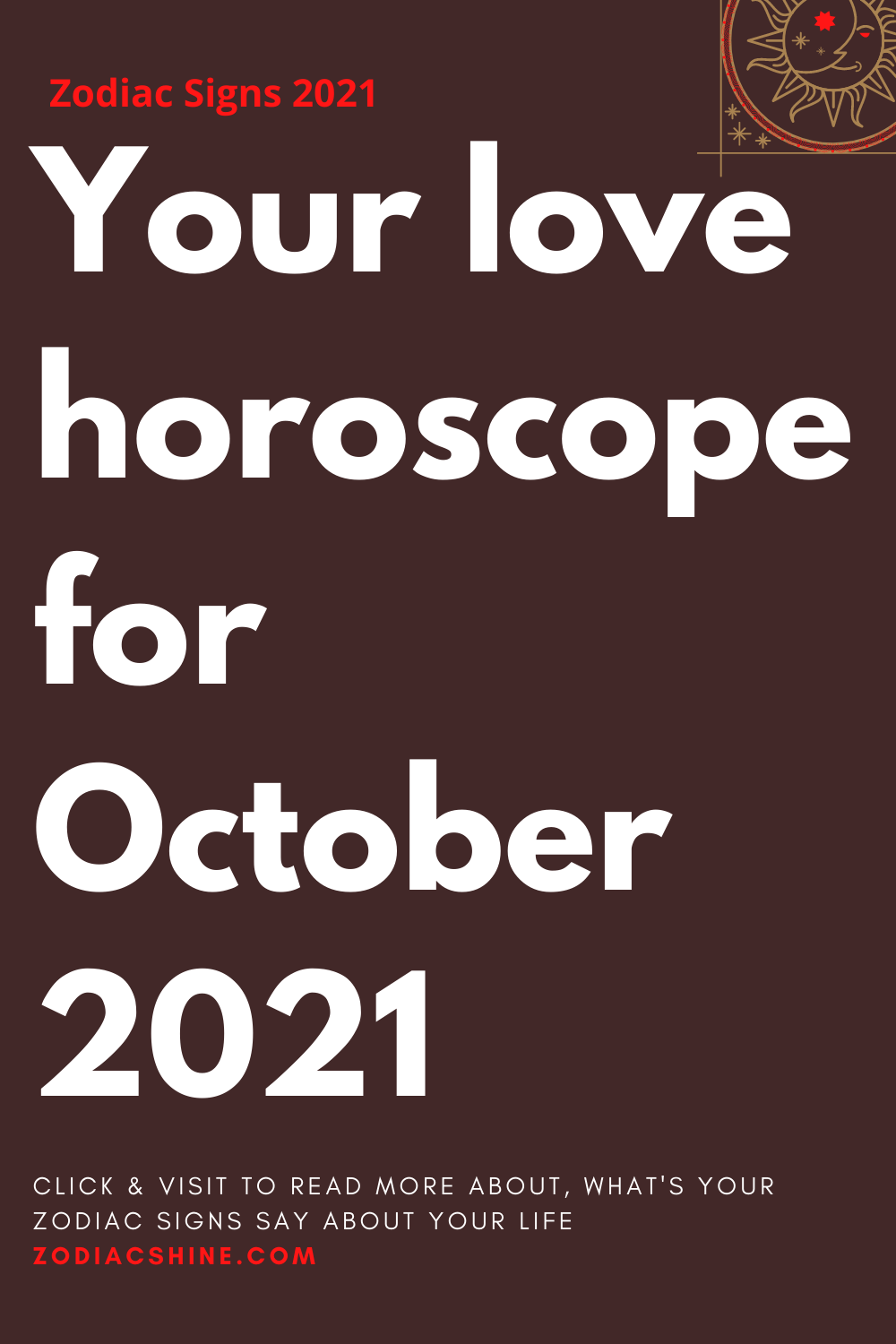 Your love horoscope for October 2021
This is your love horoscope for October 2021. What will your love life look like in the coming weeks? Find out!
Capricorn (December 21st – January 19th)
Your love life will be rich this month. If you're in a relationship, the first twenty days of the month will be an amazing time. After that, there may be disputes about your different points of view. You will find it difficult to reconcile your social and private life.
When you are single, love will enter your life on different occasions. You feel drawn to people with status and power and look for your future partner among them. You will have a lot of chances so make sure you get the most of them. Your heart always knows the right answer.
Aquarius (January 20th – February 18th)
This month ahead is crucial to your relationship if you are already in one. Pre-existing problems that have long been hidden will emerge and require a solution that puts you in an awkward position.
This month will tell if your relationship is strong enough, which will calm you down completely. If the situation turns out to be a dead-end, then take the opportunity to clarify. When you're single, the stars improve your communication skills and make you more social and outgoing. You might even fall in love!
Pisces (February 19 – March 20)
In your love life, things will be pretty even and you will accept the favor of the planets that will benefit your relationship. From the beginning of the month, you have the opportunity to restore your relationship or parts of it as needed.
When you're single, you may feel that your strength is exhausted and you have a strong need to slow down and take a break. This will be temporary and after a while, you can return to the game with the dynamics that characterize you. In your social environment, you will find your role that is valued by your loved ones.
Aries (March 21st – April 20th)
This is the best time for your love life. Your words will touch your partner's soul and this will revive your relationship. From the middle of the month, your charm and natural charisma will attract the attention of others.
If you're single, take advantage of this month to play the game in a direction that will finally expand your horizons. You can invest now in relationships that are important to you and that will enjoy their fruits in the future.
Taurus (April 21st – May 21st)
Your love life this month seeks the truth. You want to clarify the current situation in your life and that makes you tired. If you are in a permanent relationship, your needs will be met.
If you're looking for your other half, your work life may get mixed up with your love life. That's not necessarily a bad thing.
Gemini (May 22nd – June 21st)
When you are in a relationship the mood will be explosive and your behavior will be very moody and unstable. Only the strong, substantial ties remain untouched. Otherwise, you will go your separate ways.
If you are single and should be looking for love, you have many opportunities to meet the person you are looking for. Allow yourself to swim in the ocean of emotion and passion and put aside all doubts. 
Cancer (June 22nd – July 22nd)
You have to deal with issues that are deeply hidden in your relationship with your partner. When your bond is strong and deep, nothing and no one can break it. If not, and you already know something is wrong between you, maybe it is time to go your own way.
If you're single, this is a good time to start a new relationship. You can do as you see fit, as long as you take the chance. Leave behind the things that are hurting you and take the next steps in your life. Pleasant surprises are ahead.
Leo (July 23rd – August 22nd)
Your love life is going to go through some difficulties this month. If you're in a serious relationship, don't make a hasty next step. Give your love some time to flourish.
If you are single, do not be idle, because the planets favor your love life and motivate you to find the person you are looking for, especially in the second half of the month. It could be a good time to take a different look at someone in your social or professional environment. 
Virgo (August 23rd – September 22nd)
This month will favor your love life. You will get the chance to improve many things in your relationship, which will improve your mood. Your charm and shine will rub off on your partner. You can spice up your relationship by organizing a trip that will turn the slow-burning flame of your relationship into a wildfire.
If you are single, you may see spectacular changes in your love life thanks to the favor of the planets. 
Libra (September 23rd – October 22nd)
You are at a good level and you have a tendency to resolve situations that are disrupting your relationship. These can be past problems that created tension between you and your partner.
From the middle of the month, you will be favored by the planets and you can make your dreams come true. Your partner will be by your side and support you. If you are single, be vigilant because something very nice is about to happen even if you don't expect it. Maybe, just maybe, a friendship develops with something else.
Scorpio (October 23rd – November 22nd)
Love will be more present than ever in your life towards the end of the month when you are in a relationship. The romance will be very intense, balancing out any negative emotions or past wounds.
If you are single and should seek love, it will find you in unexpected ways, maybe during a vacation trip. Your emotions will knock you off your feet, so it's up to you to live the moment.
Sagittarius (November 23rd – December 20th)
This month is going to fix some things in your love life. When you are in a relationship, all of the flaws and imperfections will show up. Try to be patient and communicate with your partner.
If you're single and haven't found the person you want, this month will bring you a chance. A new relationship could begin with someone you have wanted to address for a long time.