Zodiac
WHO ARE YOUR BEST ALLIES ACCORDING TO YOUR SIGN?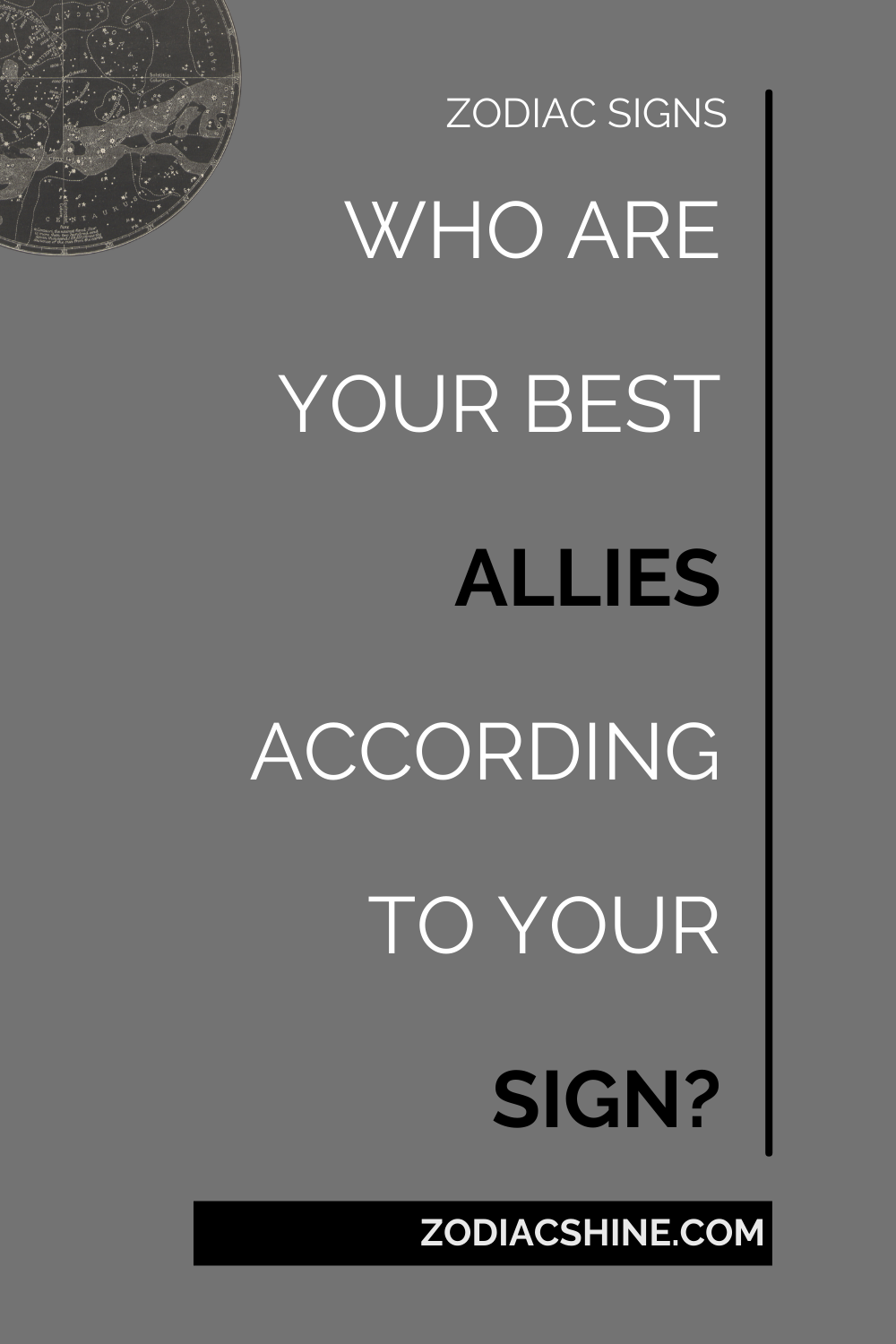 WHO ARE YOUR BEST ALLIES ACCORDING TO YOUR SIGN?
Aries: Leo and Sagittarius
The natives of Leo and Sagittarius are your best options. Being fire elements like you, they are characterized by an adventurous spirit and a lot of energy. Although they can also be somewhat dominant, they are not as impulsive as you are. Therefore, they will know how to deal with this most dominant part that is in you. However, you should know that Capricorn and Cancer are complete opposite signs for you, so it's important that you avoid any relationship with them.
Taurus: Virgo and Capricorn
Virgo and Capricorn are signs with which you can establish the most stable and long-lasting relationships. Both are open and very empathetic people with whom you share the feeling of protection and empathy. When you are with them, you will see that the energies flow without the need to force anything. On the contrary, you should stay away from Leos and Aquarians: you don't share many values ​​with them and, for this reason, relationships will fail in the future.
Gemini: Libra and Aquarius
This open and decisive personality that you were born with makes you a person that almost everyone likes. However, this does not mean that the relationships you establish will be successful with everyone who comes into your life. You are a person who likes loyal and responsible people, as well as balanced people. Therefore, the natives of Libra and Aquarius are your best companions. Avoid Aries natives.
Cancer: Scorpio and Pisces
As a water sign, Cancer, you like easy relationships and are always looking for those that bring you something in life. Dramatic relationships do not accompany you and even less those in which you cannot be yourself. Therefore, the signs of Scorpio and Pisces will be great allies in your day-to-day life. It is not advisable to establish stable relationships with Libra or Aries and if you have them, you will find that they will not flow easily.
Leo: Aries and Sagittarius
To find your ideal partner, whether in love, at work or in your circle of friends, you must look for an Aries or a Sagittarius. Not only will you be able to have a good time with them, but they will also be by your side in the difficult times that life throws at you. On the contrary, you have to be very careful with Scorpios and Taurus.
Virgo: Capricorn and Taurus
Capricorn should be your highest preference and you won't find anyone who gives you the same as this sign. They are very original and fun people, with whom you can have interesting conversations. Being a person who places a high value on communication and intimacy, Capricorn is practically the only one who can give you what you are looking for in life. However, Taurus are also a good choice because they are sincere and responsible, other traits you look for in those around you. However, you should avoid Sagittarius and Gemini natives.
Libra: Gemini and Aquarius
The natives of signs that are of the same element as you, Libra, should be your preferred choice, especially Gemini. With Gemini, you will be able to find that little debauchery that you are not able to achieve on your own. Aquarius is another good sign to have around you, and that's that you share more with them than you can imagine, like the stability you both seek in life. On the contrary, the natives of Capricorn and Cancer are completely opposite to you, so they are not the most advisable for a person as balanced as you.
Scorpio; Cancer and Pisces
The natives of Cancer and Pisces will be your best allies at all times. Scorpio, you are a very familiar and responsible person who likes to have plans for the future. For this reason, an alliance with Pisces is ideal for you, since you have this trait in common. Cancer is also a good choice, because it will offer you that sincere friendship that you long for. On the contrary, you should avoid the natives of Leo and Aquarius.
Sagittarius: Leo and Gemini
If you are a Sagittarius native, you should not doubt for a moment the relationship you have with Leo. He is a person who perfectly combines with you and eliminates all extremes in relationships, something you do not like at all. On the other hand, Gemini will bring you the pleasure and complicity you seek in all aspects of your life. However, forget the natives of Pisces.
Capricorn: Virgo and Scorpio
Virgo is your partner, your friend, your ideal partner. Look no further than them. Capri, if you have thought of a relationship where there is complicity, intimacy and friendship, Virgos are the ideal people to have by your side. At work and in friendship, they will be by your side at all times. Keep in mind, however, that the natives of Libra and Aries are opposites, so it is not advisable to have deep relationships with them if you do not want to end up suffering.
Aquarius: Gemini and Libra
If you are looking for stable and serious relationships with people with whom you share values, the natives of Gemini and Libra are ideal for you. You will see that with the Gemini you will be able to find this pleasure which you need so much in life. They are spontaneous and know how to get the best out of you. On the other hand, the natives of Libra will bring you the balance that you have struggled to find in life. You have to be careful with Scorpios because you are very different.
Pisces: Cancer and Scorpio
Being the good Pisces that you are, you like to study and analyze your relationships well to avoid the complications that will make you suffer in the future. Therefore, the best bet you can make is with a Cancer sign. However, the natives of Scorpio are also good life partners for you. The important thing is that you avoid any relationship with the natives of Sagittarius, especially when it comes to long-term relationships.