Zodiac
What Kind Of Toxic People You Will Attract In 2021. According to your zodiac sign.
What Kind Of Toxic People You Will Attract In 2021. According to your zodiac sign.
Our personality affects our environment and what we wear. About the person we find attractive and the relationship we enter into, everything has to do with our attraction. Here I tell you what kind of toxic people you will attract in 2021 based on your zodiac sign.
Aries (March 21st – April 20th)
YOU ATTRACT DOMINANT PEOPLE.
Aries people love peace. They are usually aloof beings, far from violence and chaos. This is also why some people believe it is easy to rule over an Aries. It cannot be denied that the Aries enjoy being dominated every now and then, but most of the time the Aries wants to be the dominant part. But it is only a matter of time before the chains of dominance become too tight for an Aries. And as soon as he starts to break away from it, the chances are very bad that the Aries can still be controlled. Aries people are strong, don't be fooled by the fact that they are often just quiet.
Taurus (April 21st – May 20th)
YOU ATTRACT ATTENTION ADDICTS.
It is not because you are saying or doing something that the attention addicts seek your presence. It's your aura. They feel that you are carefree and friendly, dear Taurus. You make them feel like "someone", this hurts their ego because they need everyone's attention to keep their low self-esteem high. But you are very relaxed with them, which makes them want you even more.
Gemini (May 21 – June 21)
YOU LITERALLY ATTRACT PREJUDICE PEOPLE.
Gemini people are known to be totally extroverted. He naturally attracts a lot of people and often brings a good mood. But attractiveness also attracts many negative people. These are people who are jealous of what surrounds the twin. So they decide to judge you. But the Gemini won't let that touch him, he's too busy enjoying his life to the fullest.
Cancer (June 22nd – July 22nd)
NARCISSISTS.
Cancers are healers. They are inherently empaths who always provide comfort and constant support to people. They do not accept help from anyone and rarely speak openly about their emotional world. They are basically the "perfect prey" for the narcissist. I mean, what better "sacrifice" than someone who gives you everything without asking for anything?
Leo (July 23rd – August 23rd)
BULLIES
The lion is one of the friendliest and most honest beings, but also one of the proudest. They stand for the truth, even if that means they stand alone. Are free spirits, but this often gets them into trouble. They stand up for the weak even when they know they will get into trouble. That's why they literally attract bullies. The good thing is, a lion keeps getting up. No matter how often he goes down.
Virgo (August 24th – September 23rd)
YOU ATTRACT PEOPLE WHO ONLY THINK OF THEMSELVES.
You love to love people and want them to feel comfortable and relax around you. That's why a lot of people want you to be part of their life and you don't mind either. But that also attracts people who urgently need attention. You are a found feeder for their ego and they use you for confirmation dear Virgo. You don't mind until they compromise your peace of mind.
Libra (September 24th – October 23rd)
INCONSISTENT PEOPLE.
You are ambitious and overambitious dear Libra. You attract people who are not looking for anything long-term. Because you are so focused on your work, you don't really have time to meet people who want more than just to be a chapter in your book of life. What you need is something consistent and long-term, and if someone can't offer you that, you won't dwell with that person for long, even if you keep attracting that type of person in 2021.
Scorpio (October 24th – November 22nd)
YOU ATTRACT PEOPLE WHO LOVE DRAMA.
Most people like your happy nature but also closed-mindedness. That's why you often meet so-called "drama queens" who can't see that everyone likes you. And that's why these people seek your closeness in order to claim the attention you get for themselves. By the way, there are also male "drama queens".
Sagittarius (November 23rd – December 21st)
SELF-DESPISING NARCISSISTS.
You attract the self-despising narcissists. Those who brag about everything and yet are unhappy, Those who can't stand themselves and are therefore madly on the hunt for confirmation. But do not forget that you are a freedom-loving Sagittarius and it is only a matter of time before you realize what is being played and you seek the far.
Capricorn (December 22nd – January 20th)
CLINGING PEOPLE.
You attract people who literally "adore" you. They cling to you and give you no room to breathe. It's pretty scary at times. But thank God, you are a rational person in the zodiac sign Capricorn. You speak to people directly and know how to defend your point of view. Which usually brings something and frightens this type of person.
Aquarius (January 21 – February 19)
YOU ATTRACT PEOPLE WHO LIKE TO BE IN THE "VICTIM ROLE".
You have a big heart and you are a wonderful listener, how can you expect that you will not attract "victims"? Some people are really victims and feel better after talking to you. But there are people who are so desperate for your attention that they artificially victimize themselves. You have a big heart and are known for maintaining balance in your life. Dear Aquarius. And as soon as you realize that the negativity is getting too much, you will leave without making a lot of noise.
Pisces (February 20 – March 20)
YOU ATTRACT PEOPLE WHO LIKE TO MANIPULATE.
Pisces people are known to be more gentle and peace-loving than they are. Perhaps that's why he attracts the manipulators. The person in the zodiac sign Pisces, unfortunately, falls in love far too often with mere words and since they are rather "soft" people through and through, they let themselves be lulled. The good thing about fish is that although it is vulnerable, you can only "manipulate" it until it no longer understands the deeper meaning behind it and begins to defend itself against it. And as soon as he realizes that the intentions are not good, he will open his eyes and leave without turning around.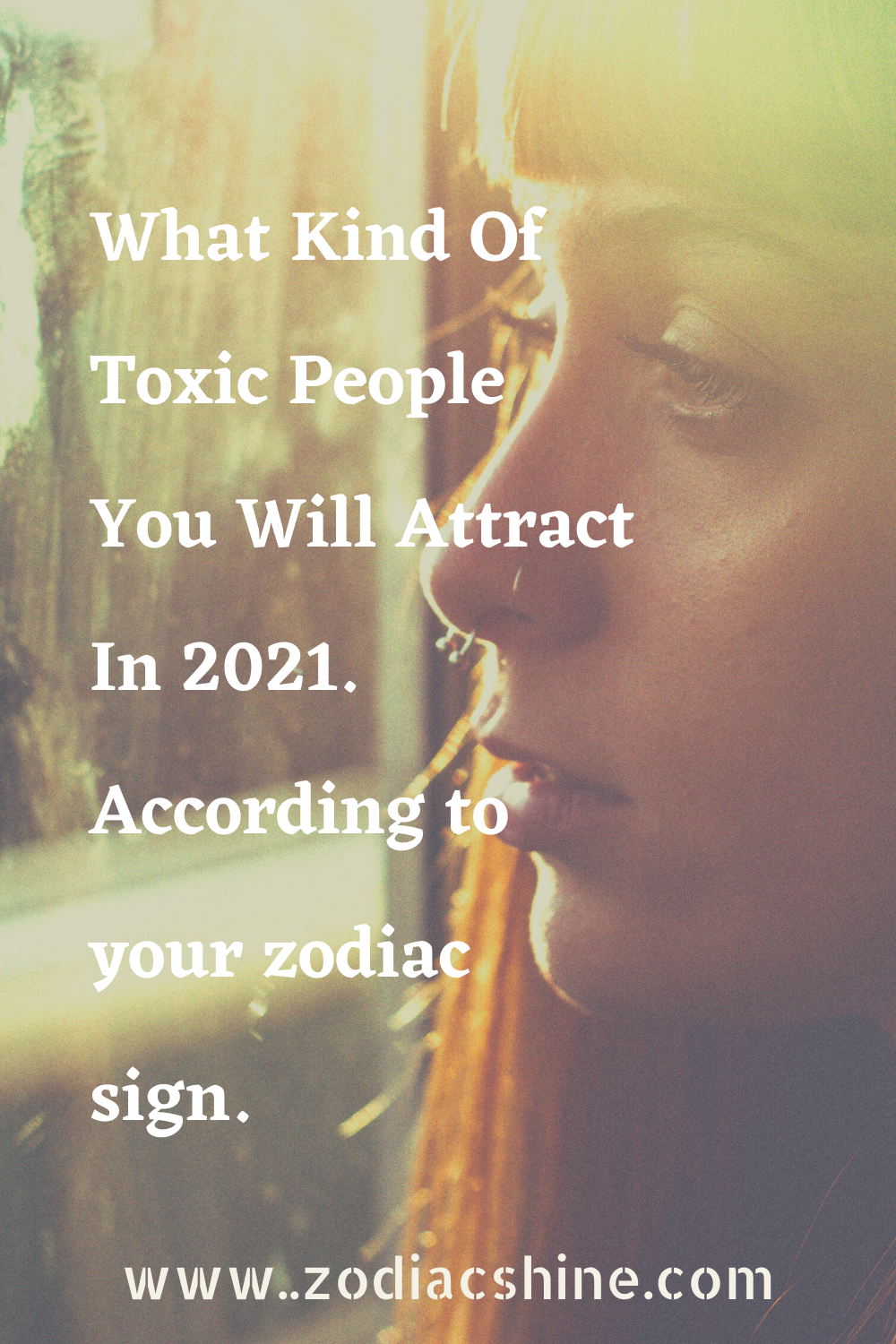 Source: deno-licina.com