Zodiac
This Is What The Last Two Months Of 2021 Will Look Like For You, According To Your Zodiac Sign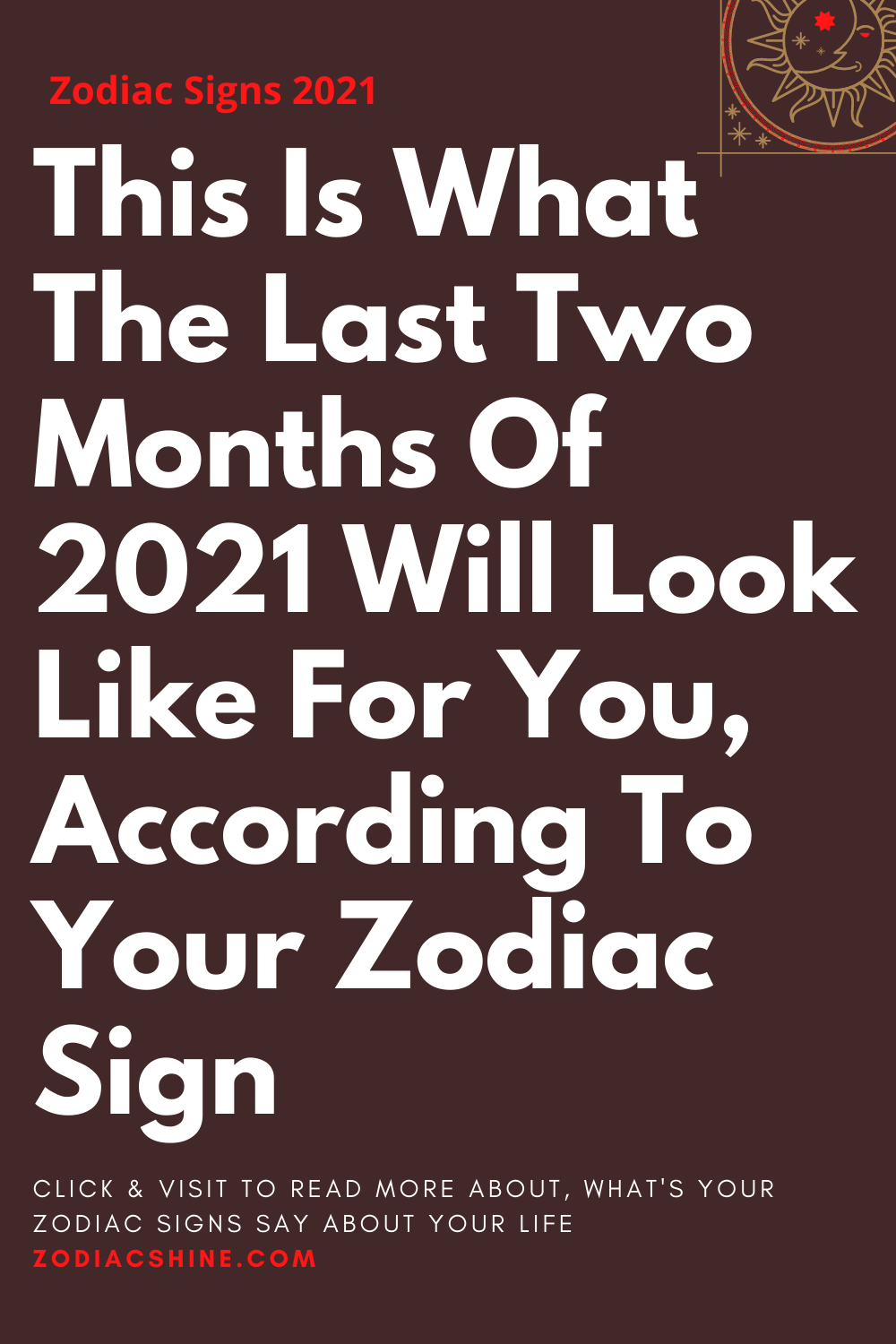 This Is What The Last Two Months Of 2021 Will Look Like For You, According To Your Zodiac Sign
The year 2021 was very turbulent and unique, but it is also drawing to a close. We all want to know what to expect in the last two months and how this year will end for us.
What do the last weeks of the year have to offer you? The stars have the answer! This is what the last two months of 2021 will look like for you, according to your zodiac sign:
Capricorn
November will bring you positivity, love, and happiness. You will meet new people, travel, and party. There is nothing essential to sway your boat and everything will move on at the same pace.
In December, however, you should have an open ear for your friends. They might need your help and you have to be there for them.
Aquarius
Maybe towards the end of this year, you will have the opportunity to socialize and expand your circle of friends. However, this time could also cause some tension in your love life.
Talk to your partner to calm them down. If you're single, you shouldn't withdraw any further from your crush. The person you like may feel ignored and complain that you've changed.
Pisces
Towards the end of the year, it's about a new beginning. You will be motivated and in a good mood – and that will help you to approach this new beginning in a positive way. Your self-esteem is particularly strong in December.
This could be an opportunity for you to address any concerns you have had about your love life this year. Keep your cheerful attitude and let the conversation with your partner flow.
Aries
November brings a lot of energy and positivity into your life. There might be a promotion waiting for you! Just as you will have a smooth ride in November, December will also be full of positive surprises.
Not much is going to change in your love life. But you have to be patient and not overreact in any situation. If you are single, there is a high chance that you will meet someone who is interesting.
Taurus
You may feel a little irritable and confused during the last two months of the year when you have to make decisions that affect your love life.
Try not to be too emotional and make an effort, to be honest with those around you. Try to approach each situation pragmatically. Keep calm, take the time to think about everything, and then make a decision.
Gemini
One of the most important things to do during this time is to communicate openly. Be especially open to your partner. It's time to let him know your true feelings and come up with a mutually acceptable solution to all of the things that bothered you in the relationship.
In December, a misunderstanding with a boyfriend or girlfriend could lead to an argument. Try not to put things off but to address them directly.
Cancer
If you are single and looking for a future partner, the wedding bells may be ringing soon. Maybe it will even happen towards the end of the year. Those who are in a relationship can expect romance and love to fill their lives this month.
Maybe you're going on a weekend getaway or going to an extravagant dinner with your partner. In any case, time will weld you together for two. If you are single, you will look particularly attractive in the next few weeks. Use this time!
Leo
It is time you became honest with yourself and realized what your real needs are. Be strong enough to step back from your relationships when they don't serve their purpose.
Stay strong and acknowledge your feelings. You will feel much more free and independent towards the end of the year if you listen to your heart now.
Virgo
Everything seems to be fine in your love life. You will be in a happy phase in December and are optimistic in all areas of your life. It could be a good time to take your relationship to the next level and make plans for the future.
You could get more recognition in your job and that will give you a boost in your confidence. 
Libra
Your love life has been ups and downs lately, but the past two months can bring you some relief. You could meet someone special and has a good time with them.
For those who are in a serious relationship, a journey together might be on the horizon. The planetary position is in your favor, so enjoy this phase.
Scorpio
Maybe you are ignoring the problems in your family or you are undecided about your friendships. This could also upset your partner and put your relationship at risk.
It would be a good idea to meet up with the people who have hurt you in the past, pour your heart out, and start over with a fresh start.
In December, you have to move more out of your comfort zone and make an effort to socialize – otherwise, you might feel a little lonely.
Sagittarius
This is the time of the energetic, optimistic, and ferocious Sagittarius. It's the time to have fun and let the walls fall. Spend some time with yourself reviewing your plans for the year ahead.
Maybe you want to improve your life a little and discuss this with your loved ones. You will see that if you listen carefully to them, they can give you very good advice. You could also end the year with a vacation and make the last few weeks a memorable time.