Zodiac
These 5 zodiac signs will experience the greatest change in the second half of 2020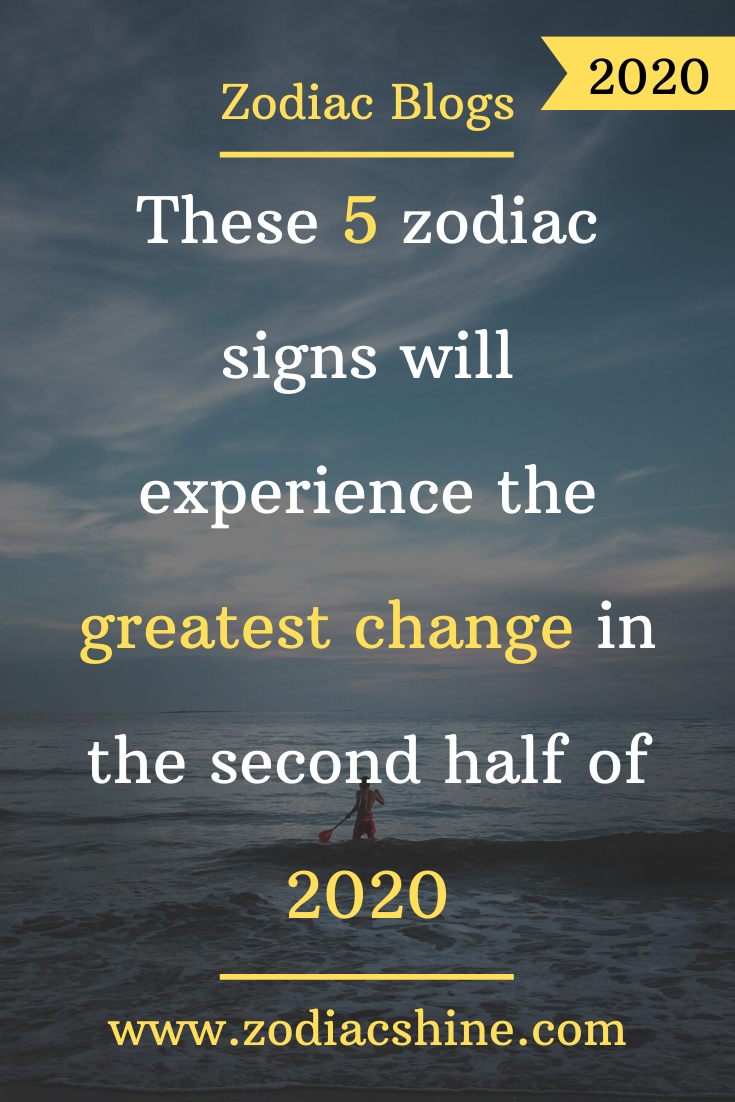 These 5 zodiac signs will experience the greatest change in the second half of 2020
Is there a chance for a new job? Or maybe you will get to know the love of your life? Here are the 5 zodiac signs that can expect a big change in the second half of 2020.
We would all like to take a look at our future, just to know which way to go. Are our wishes coming true? Can we achieve our goals? Perhaps this will also tell us that there is a unique opportunity waiting for us. If you knew beforehand that an event was coming up, you might be better prepared for it. 
Astrology can only give us a conditional look into our future, but we can roughly learn what and when something will happen. Because the star constellations have different effects on the respective zodiac signs at different times. For the next half of 2020, the following 5-star signs are in particular focus. Are you one of them? If so, find out how you can use your character strength to tackle the respective events in a meaningful way. 
1. Cancer
You should take a breather now, dear Cancer. Because the planets predict some experiences for you in the second half of the year that is not exactly pleasant. This mainly affects your relationships. The good thing is that these situations will strengthen you and you will end up with a clear view of things. You know at least at the end of the year where you are on this matter.
And that will show you in the form of relief. So you should relax now. Come to rest and maybe go away for a weekend to switch off. You can have a coffee with friends and do anything that restores peace and harmony within you. Switch off your cell phone for a moment and enjoy the peace. Until then, get involved in the changes in your life and don't fight them. 
2. Capricorn
You can finally throw all the accumulated stress overboard and put yourself at the top of your priority list. It's your turn! You should definitely take this energy with you in the second half of the year. Because during this time you will experience some moments when your perseverance is required. In July and August, in particular, you should be extra patient. This could be a great opportunity for you that you've been waiting for so long.
The chances of success are very good for you and it could be that you will find yourself in a completely new and better situation at the end of the year. This could be the case professionally as well as technically. You need all your willpower and a conscious attitude. You can't fail with this combination. 
3. Pisces
You will outgrow yourself this year, dear fish. And that will bring a reward. You don't usually like changes that much, but you'll really like them. Because this change will pay off for you. In the second half of the year, you absolutely have to hold on to your intuitive values ​​and dare to take certain steps that you have never taken before. Get fully involved and you will find that you can enjoy this time.
The months of August and September are your lucky months, in which you will also experience the climax of these events. You will notice that things will turn out well for you. This will significantly increase your self-esteem and affect all areas of your life. Don't doubt yourself anymore! You deserve it, fish!
4. Sagittarius
Your soul has longed for a change. It will finally happen this year – between September and December. You will end your daily routine once and for all and new energy will come into your life. The most important thing is that you don't lose trust in your loved ones and don't neglect them.
You deserve your full attention. It is really important that you put your ego on hold. Because you could make an important acquaintance very soon. This will give you the fresh start you always wanted. Stay open and dynamic. The decisive turning point will come! 
5. Taurus
You have built up a conscientious routine recently. You can say goodbye to that in the second half of the year, dear Taurus. This time will bring new momentum to your life and you will love it. Jupiter and Saturn will ensure that you get a new perspective in your life. You should go into it and put all your energy into it. Because this is your big chance for something that could have the potential for your personal determination. Your friends will support you in this and you should definitely take their advice. Stay open and creative and the second half of the year is yours!