Zodiac
These 3 Zodiac Signs Will Have The Best Valentine's Day 2022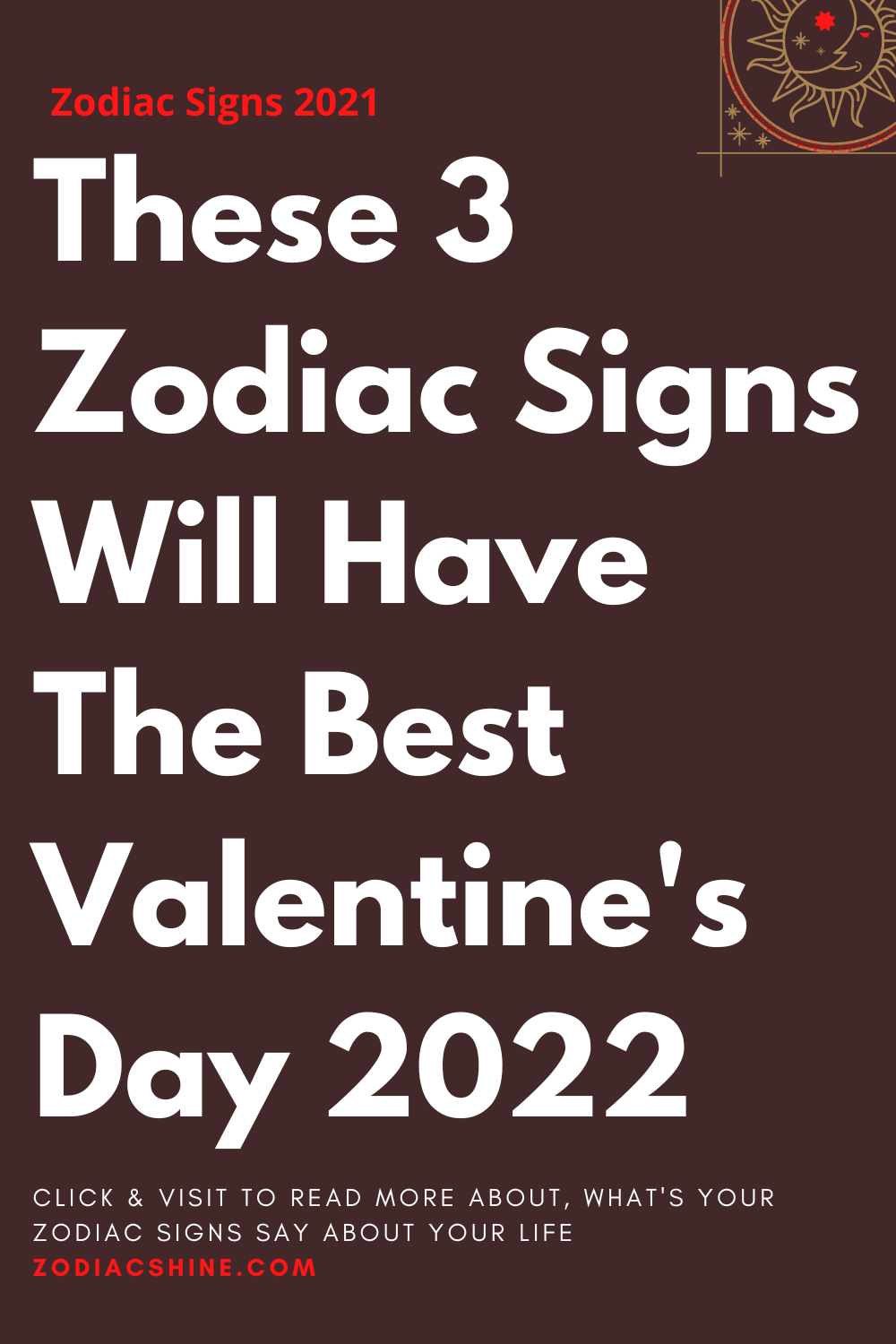 These 3 Zodiac Signs Will Have The Best Valentine's Day 2022
The most romantic day of the year is just around the corner! And for some of us, this will be a very lucky day. Valentine's Day 2022 will be particularly romantic for some zodiac signs.
For some, February 14th may be a very special day that will be remembered for a long time. According to astrologers, there are three zodiac signs that will have the happiest Valentine's Day of all.
If your zodiac sign is Sagittarius, Aquarius, or Aries, you may be in for the best Valentine's Day ever!
Sagittarius
Valentine's Day is definitely a good thing for you and you're probably already looking forward to it. At this time, you can feel completely comfortable – but not in an outward, ostentatious way.
Instead, you'll likely feel more balanced and empowered internally, as if you're glowing from within. Celebrate how good it feels and take the chance. Approach that person that you love so much or that you're constantly thinking about.
As for your relationship, as long as you always talk about your problems with your significant other, things are going very well. It is important that you communicate openly about your needs. If you manage to do this, you'll know exactly what you two want to do on this romantic day. 
If you are single, the astrological aspects are favorable for you to expand your circle of acquaintances. That way, you have every chance of bumping into the love of your life. Go to an event with friends or just get out of your comfort zone. Dare that one person to ask out.
Prepare to be lucky in love that day. You will feel the need to date and cuddle with someone special. Whether you are looking for someone new or you already have a lover, you will definitely want to meet someone you can be close to. Luck is definitely on your side, so don't hesitate to take a risk when it comes to love.
Aquarius
It will be a great Valentine's Day for you. This day will bring out the inner passion that you often forget or suppress. Now release them and show everyone what you're made of. This gives you an extra boost of vibrancy and everyone around you will notice.
You will likely be the center of attention and people will seek out your area. In any case, you will not spend Valentine's Day 2022 alone. Enjoy it! Be brave and fall in love if you feel like it!
You're about to have a wild Valentine's Day and you'll feel ready to take your inner shyness by the horns. So approach the one that gives you butterflies in your stomach every time you see them.
You can also expect to feel a lot more romantic and passionate about this special day than usual – but don't shy away from the intensity! Follow your passion this Valentine's Day and you will benefit. The universe is telling you to surrender to your heart. What do you have to lose?
If you should be in a relationship, you will have a good time with your partner. It's going well and that makes you happy. Keep your negativity at bay and don't let anything ruin this beautiful atmosphere you've created. Treat your partner with kindness and don't let your temper get the better of you. 
If you're still looking for that special someone, don't expect them to just come to you. Instead of holing up in your home, dare to step out of your comfort zone a little. Go out and make the first move with someone you've had on your mind for a long time. Luck is on your side!
Aries
Out of all the zodiac signs, you will be the coolest of them all on Valentine's Day. This Valentine's Day will definitely be a good time for you. You get a lot of attention from those around you and you can enjoy a lot of compliments. Use this time to build your confidence and feel good about yourself. You deserve it!
If you're single, keep a smile on your face and open your arms wide. This will attract a wonderful new person into your life who will knock you off your feet! Cuddling is your idea of ​​a romantic time and this is what you should do on your special day. You might be contacted by someone you like or who has been in your life before.
You could meet up that day and have some deep conversations together. This will bring you both closer and you might even get physically closer. If you're ready, let it happen, and don't fight your feelings. Perhaps something long-term could even develop from it.
If you are in a relationship, you will also be able to enjoy this Valentine's Day. You and your partner probably want to use this romantic day to spend a few hours privately as a couple. You may not feel the need to go out and show everyone your love. But that doesn't mean you can't deepen your love on Valentine's Day.
When it comes to love, expect a few passionate moments with your partner. You could have a conversation about something you haven't touched on in a long time. You can be sure that you are on the same wavelength, no matter what the topic.
If you need to talk to him about something uncomfortable, try to be as diplomatic as possible and stay calm. He will certainly understand and give you his full attention.