Zodiac
The Mantra That Needs To Hear Every Sign When Everything Goes Bad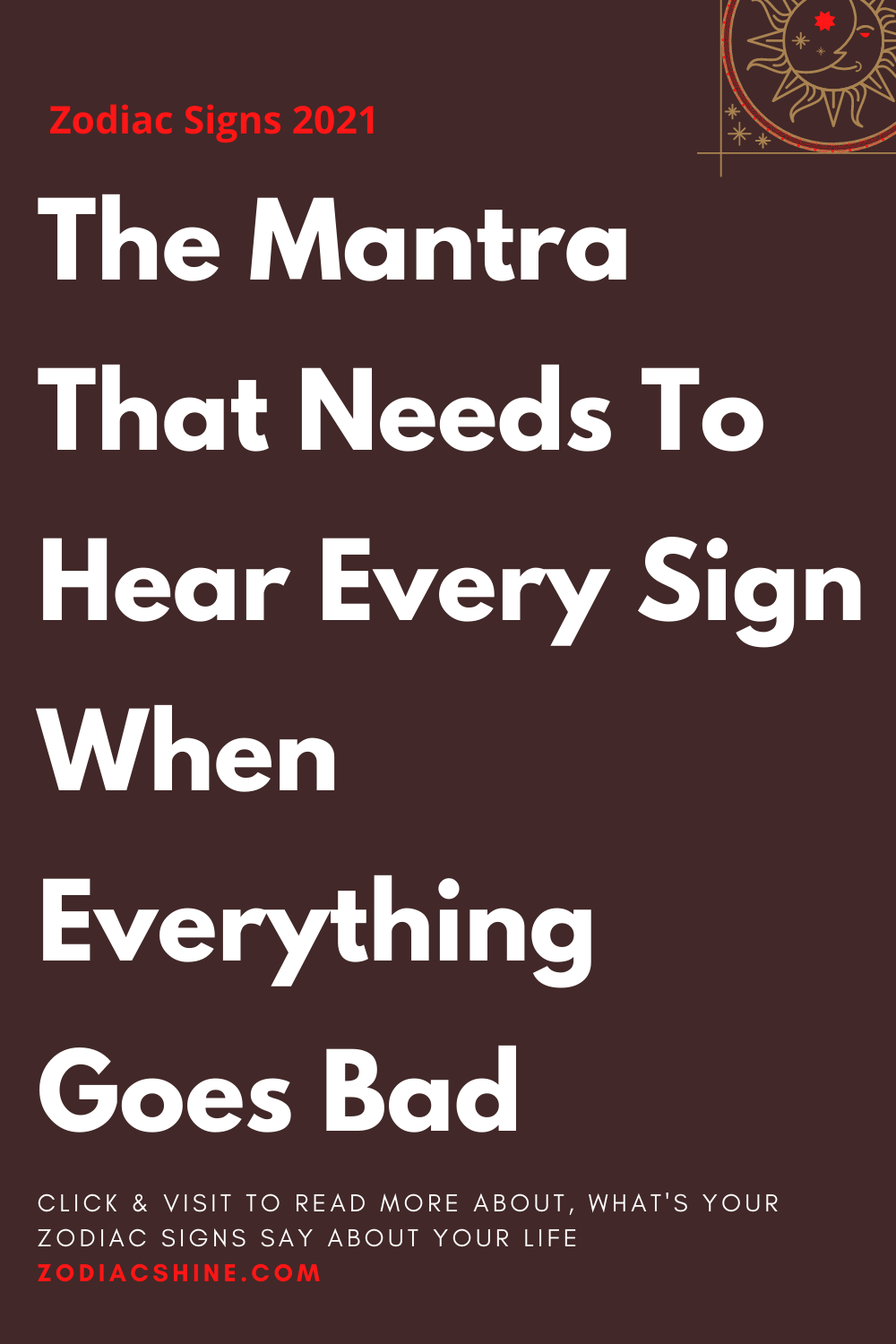 The Mantra That Needs To Hear Every Sign When Everything Goes Bad
Life is like that, one day you cry because of so much laughter and another because the pain tears your soul. It is calm with a touch of tranquility. Sometimes, you can't take it anymore, you feel that the days are heavy, that the problems drown your thoughts and no matter how hard you try, you end up in the same place. Sometimes you feel like it, you pretend nothing is wrong, but in reality everything is going wrong . This is the mantra that each sign needs to hear when everything goes wrong , when they feel that their breath is insufficient.
Aries
I know that it is hard for you to accept when you can't take it anymore, that you have the fire in your eyes, in the acceleration of your steps, in the way you don't give up even when you feel exhausted. I know that being Aries has a controlling part, but you also have that side that takes risks, the resilient one, which is capable of getting up with failure in its arms. This mantra is for you:
"It is time to let go, to let your mind, your heart and your body flow like water between your hands, it is time to open the door to the unknown." 
Taurus
Sometimes there is nothing left but to trust. I know that you are stubborn, that you like things your way, that there is a power-loving part of you and that when it doesn't go as planned, your emotions show your darker side. Take a break, you are much more than the perfect life you pretend:
«Give yourself permission to feel, to live, to shout, to love. Give yourself the opportunity to feel peace in your heart and clarity in your thoughts, it is there. Stop doubting because time is running out »
Gemini
It is time for you to stop, to observe the second hand of the clock, to appreciate the noise of the night, to let the sun enter through the window, to stop demanding so much. You are leaving the beauty of life in something that is not worth it, you are more than an impeccable person, let your mistakes peek out.
«Without fear, even if your knees shake, even if it makes you want to scream, run and hide in what you already know. You will not control the result, but you may like it »
Cancer
It is time that you give yourself the attention that you give to others. Cancer, you are love, respect, protection, that's what your soul needs. It is not worth always being there for everyone and forgetting about yourself, remember that if you are well, everything around you will be. The day has come when you make yourself a priority.
«There is the life you want, behind that range of possibilities, let your fears show you the way. No one has known happiness, without feeling that urge to drop in the towel, trust »
Leo
You are the one who steals the glances, who enchants with the way you are, but it is time that you give yourself the opportunity to help the other. I know that deep down humility and solidarity are waiting for you, trust. It is time that you let your emotions take control, life will thank you.
«Let your heart do what it really feels, let the desire to help flow and let your shine serve to do good. The world is waiting for your goodness, you just have to trust »
Virgo
You are more than your job, your partner, your children, deep down is your essence, Virgo. It is the engine that keeps you on your feet, it is the one who does not let you go, it inspires you and it is time for you to give it visibility. Your dreams, your sadness, your fears, deserve to be attended and it is never too late to start.
«Now it's your turn to give yourself that serenity, that space, that desire you have to fulfill your dreams. You are more than a thought, it is time for it to come true »
Libra
I know that life has not been easy, that you have had to take steps with caution, Libra, because it is hard to believe, because other times you have been promised the sky and the stars, but they end up disappointing you. You are a sign that lowers the moon if you want, but a little help never hurts.
«Even if you feel like your breath is short, trust in the journey that life has for you. Coincidences do not exist, but each event is a lesson, never forget it »
Scorpio
I know that it is hard for you to accept that there are cruel people in the world, that no matter how kind you give a person, they can use it against you and tear you to pieces. However, it is time to release those contained tears, which are from the ghosts that do not let you advance.
Let go, do it to give your heart a break, because the pain is tearing it. Give yourself the opportunity to free yourself, throw away the past and receive the present with a better smile »
Sagittarius
The soul that never stops, the one that always wants more. You are Sagittarius , you were born to conquer everything you want. Do not let anyone tell you otherwise, because it is time for you to let yourself go, follow your heart, your mind, let life do what it wants with you, it also tastes good.
«You are brave, you are the person who only has to dream to create. You have the ability to break with every fear, do not give up, because on the other side is happiness »
Capricorn
I know that your personality demands it, that you work hard because you want more. It's hard to accept mistakes, but remember that you are not here to fulfill anyone's expectations. Give yourself the time to do what you really want and throw away that mask of social pressure that does not let you advance.
«Let your emotions show, there are no bad ones. Anger, sadness, rage, are also necessary, you cannot be perfect all the time, that is killing your happiness »
Aquarius
Your thoughts are not going to change overnight. Do not force yourself to be who you are not, because that makes you a dark soul. The person who goes around with pain in his eyes, trying to meet the expectations of others. No more, let your true self do its thing.
«A deep breath, a breath that the spirit needs to improve. It is time to free yourself, you feel that the tension is consuming you and you are making a storm in a glass of water, no more »
Pisces
It is time to start those dreams that come knocking on your door and you have not given yourself the opportunity to listen. You are Pisces, the one who has the gift of dreaming, but also the one who can work for what he wants, the one who never gives up, the one who hides an incredible strength behind so much sensitivity.
"Now is, is your time to be, to do what you always imagined, to show the world that you are worth it, that being with you is a blessing and that you deserve what you have imagined"