Zodiac
The Luck That The Signs Will Have In Love In June 2022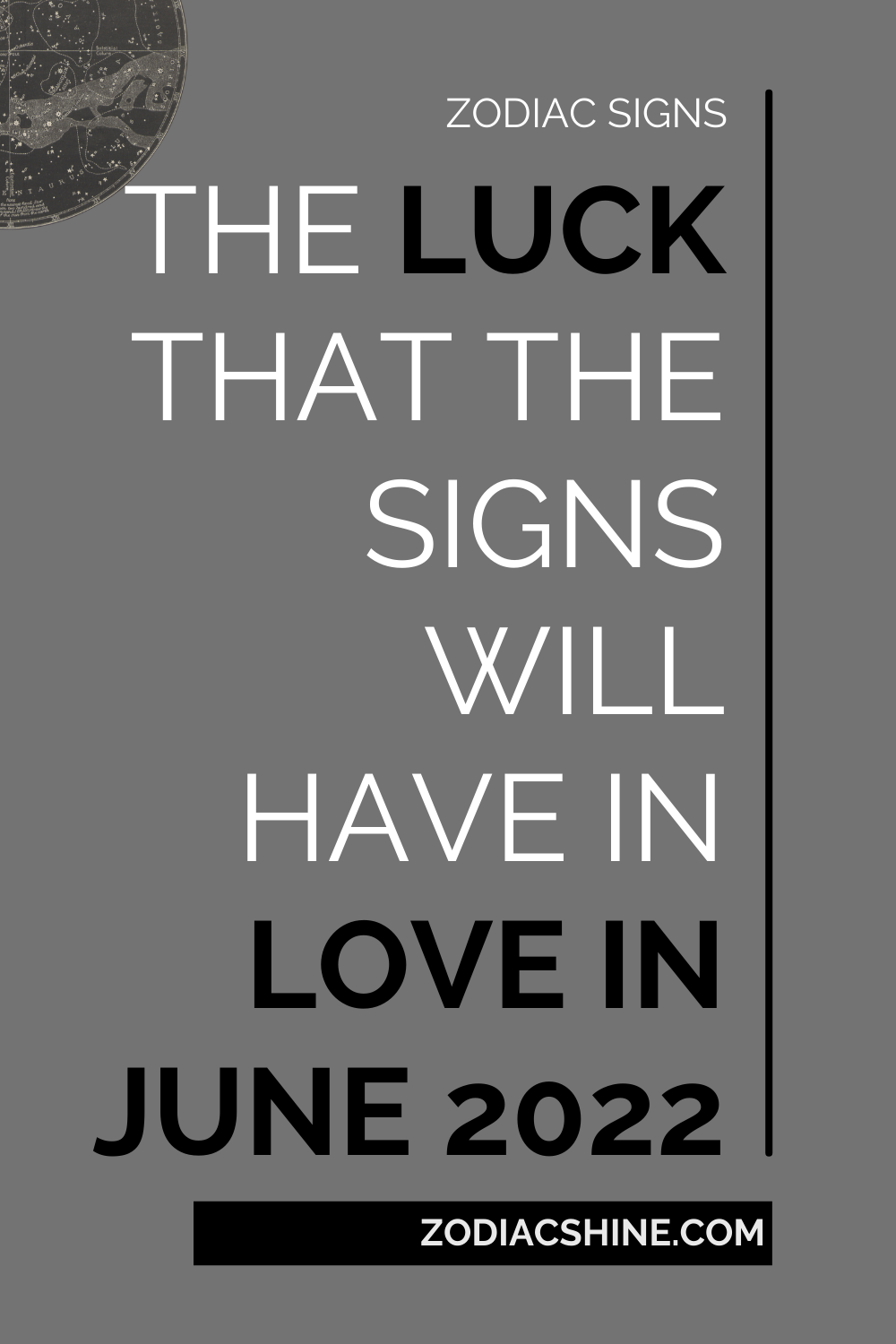 The Luck That The Signs Will Have In Love In June 2022
The influence of the stars makes our lives different every day. And, knowing what this is going to change, allows us to act accordingly and live much more calmly. For this reason, in this article, we are going to talk about the luck that the signs will have in love in June 2022.  A new month arrives, and new opportunities.
Aries
Aries, the month of June for you is going to be the most fun and you will be able to live unique experiences if you open yourself to them. It cannot be said that it will be a month in which you will find your ideal partner, but you will live unique moments that will fill you up a lot and make you feel much better. If you are in a relationship right now, we can tell you that it will grow in feelings and commitment, so you should enjoy the moments with your partner to the fullest.
Taurus
You do not need to worry about not having a partner, as this can change during this month in which we enter. If you are looking for a serious relationship, this month could bring it to you, but it is essential that you be clear and sincere from the beginning with this person to avoid future problems regarding your expectations. In the event that you are already in a relationship, you should take advantage of this month to set new goals with your partner. This will allow you to move towards what you both want.
Gemini
For Geminis, the month of June will be a month of revelation. We cannot tell you that you are going to be one of the most requested, but that it will be a month, rather, of reflection. Take advantage of these days to do activities with friends or to start new hobbies. Love will come into your life when you least expect it, but this month you should dedicate it to your personal growth. If you are in a relationship right now, the month of June will bring you moments of everything. Take advantage of these moments to analyze your partner and see if it is the relationship you have been looking for.
Cancer
You are going to fall in love, this is clear to us. We do not just see you want a stable relationship. You are at a time when you want to focus on many things and you are not going to have time for everything. Starting a relationship is going to mean giving up certain things and you must assess if it really is what you want and if it compensates you. If not, don't give anyone false hope and be direct with your intentions. For those of you who have a partner, the month of June will put you to the test. You will have many opportunities to start new relationships, which will test your loyalty.
Leo
The month of June can be very exhausting for you, so it is better that you take things slowly and step by step. You will have a good month for love, but you cannot leave your routines and obligations aside, nor is it necessary for you to close yourself off from love. You know how to organize yourself very well when you want and now is the right time to take advantage of this virtue. What you do have to keep in mind is that, if you have a partner, they are not going at the same pace as you. Therefore, it is easy for one of the two to feel overwhelmed. It is time for dialogue.
Virgo
The month of June will represent a month of change for you. Since your last relationship, you have grown as a person and you have a little clearer idea, which will come in handy this month. Someone from your past, for whom you still have feelings, will enter your life again with force. Which is something that will seem perfect to you. However, if you do not want the same mistakes to be repeated, it is necessary, this time, that you make things very clear. If you are in a stable relationship right now, the advice is exactly the same. You must be very clear with your partner about the moment you are in and what you expect from the relationship in the short-medium term.
Libra
It is not a good month for love for Librans. It is possible that you are not completely convinced if you should have a relationship or not right now. Having these doubts, it is best to be clear with the people who come into your life. For those of you who have a partner, this month will be a month of inactivity: you will continue with your routine, without surprises or surprises.
Scorpio
Starting a relationship at this time is something that you can do during the month of June and that is because you are going to have a very handsome face. You are in a good moment of your life, more than you can believe, and this brings out your lovely side. If you are open to starting a new relationship, this month is ideal for it. On the other hand, if you are already in a stable relationship, you will see how your partner supports and admires you. You will feel loved next to each other.
Sagittarius
Sagittarius, this is your year. We say that it is your year because each month is something new for you in love. You enjoy new experiences and grow daily, which makes you a much more mature person and more sure of yourself. Although this month will be good to find love, first of all, you must be honest with yourself. Do you really like this person or are you going to give them a chance just to have someone pay attention to you? Evaluate this well before starting anything and, if you are not clear, be honest at all times. If, on the other hand, you already have a relationship, this month may be a bit hectic. Problems may appear and the discussions, perhaps, will go further. It is not about leaving the relationship, but about finding a middle ground that benefits both of you.
Capricorn
For the natives of your sign, the month of June is not going to bring new opportunities in love, so you need to take it easy. Take advantage of this month to start new hobbies, play sports, focus on work, or whatever you feel like. But, above all, focus on satisfying your needs. Enjoy your time with friends and don't be overwhelmed to find a partner. It will come when you least expect it. On the contrary, those of you who are already in a relationship should pay a little more attention to it. It is possible that he is going through a difficult moment and you must be by his side.
Aquarius
The truth is that this month we enter will not be your month. Do not be discouraged: even if you have been single for a long time, love will come, although it will not be this month. The truth is that you may be going through a moment of general discouragement. Therefore, we recommend that you use this month to focus and establish yourself as your main priority. Take time and enjoy friends and family.
Pisces
Like the good Pisces that you are, you love to fantasize about true love: a love that you tirelessly seek. This leads you to give opportunities to people who have nothing to do with you and, how could it be otherwise, to experience situations of heartbreak that destabilize your life. During this month, you will have many occasions to start a relationship; but, before doing so, it is advisable that you clarify your ideas and establish your priorities. If you have a partner, this will be a quiet and most stable month.
Now you know how things will go for you in love during this month and what you can expect from these people who, without a doubt, will enter your life. We encourage you to live it all intensely, but without changing any of the priorities you have set for yourself. A relationship should flow and not make you rethink your goals.