Zodiac
The best gift ideas for every zodiac sign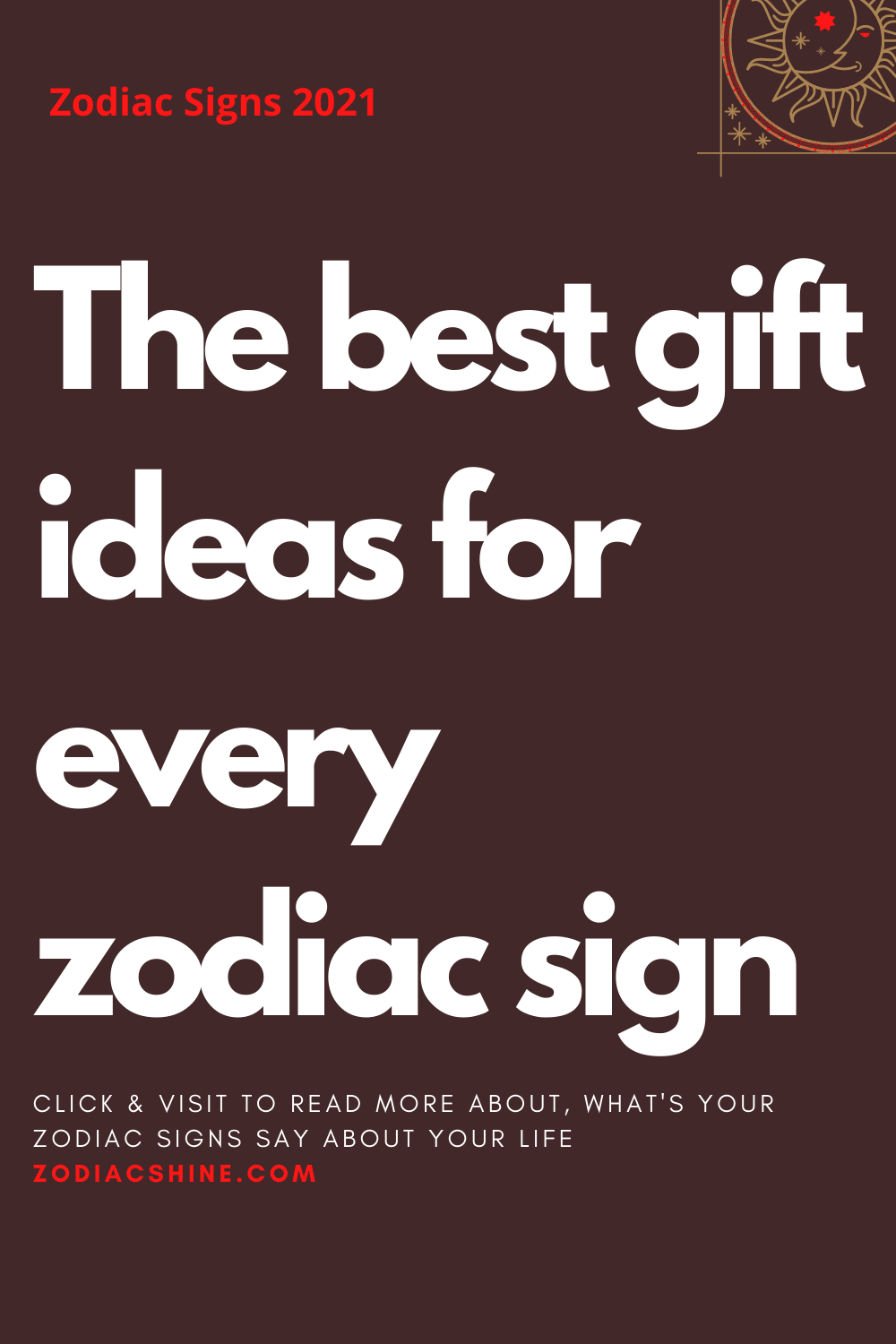 How many times have you sat and thought about what to give someone?
How many times have you wandered aimlessly through the city for hours, searched stores, returned to the same store, who knows how often, and still doesn't know what to buy?
As in countless cases so far, astrology offers help and all you need to know is what that person is in the zodiac sign. And then the planetary energy will do its thing.
Aries:
The best gift for Aries women is something exciting and challenging. Aries does not like mediocrity, and therefore he will always be happy about a high-quality, original and expensive gift!
If you don't know what is beautiful, you know what is expensive!
The ideal gift for an Aries woman is definitely a diamond, but you can also opt for a high-quality handbag or an elegant hat.
The Aries man shares the traits of the Aries woman. Since the main feature of this sign of the zodiac is fire and the symbol of fire is the color red, it would be wise to choose a gift in this color.
The best gift would be a sports car or motorcycle, and of less expensive items hats, caps and helmets.
Ideal gifts for Aries are also tickets to games and other sporting events that match his competitive spirit.
Taurus:
If you are looking for a gift for a Taurus woman, do not think too much – money will be what she will most enjoy.
If the occasion is such that you have to decide on a particular gift, give the Taurus woman jewelry.
A Taurus woman would love to go to a good restaurant, but you can buy her a musical instrument if she is into music.
A Taurus man, like a Taurus woman, loves safety and comfort, so it is necessary to be guided by this fact when choosing a gift.
If you don't want to give money, opt for a comfortable armchair, bed or comfortable clothes.
Twins:
The Gemini woman will be delighted with an unusual and original gift. This can be sunglasses or a wardrobe with sequins. A Gemini woman loves computer equipment, so a laptop or cell phone could make an ideal gift.
The Gemini man is adaptable and not very demanding. Small things like books, pens, posters, and balls can easily make him happy.
If you want to give him something original and unforgettable, surprise him with a short trip to an unusual destination.
Cancer:
Cancer women are the most romantic and emotional women. As a symbol of romance, the pearl is an ideal gift for these women.
You will also be very happy with something less expensive, like dinner at a seafood restaurant or flowers.
If it is a woman with children, everything you give to the children is also a gift for them.
Cancer men are more open and emotive than women, but they are very traditional and home-based.
Therefore, the ideal gift for men born under this zodiac sign is something related to the house, such as various household appliances.
Also, giving them fishing gear or a boat is easy to make them happy because these are usually people who enjoy spending time on the water.
Lion:
Great, shiny and expensive. These are epithets that should describe the ideal gift for the Leo.
Leo women love expensive and large gifts, so the ideal gift for them would be a large diamond, but since there are few out there who can meet such needs of their women, any gold jewelry is something that will make these women happy.
Another option is luxurious clothing, such as a smart dress or high-heeled shoes.
A Leo man loves to give, and when given a gift, he values ​​size and glamor. The ideal gift for him is a valuable work of art with recognition value or another valuable rarity.
The Leo man will be happy to receive tickets for a concert or other event.
Virgo:
Unlike Leo, Virgo will not be happy if you give her an expensive gift.
Virgo women and Virgo men look forward most to practical gifts. The ideal gift for Virgos are all the little things, such as pens, clocks, various office equipment.
Virgos also love to read, so a book is one of the options to have when choosing a gift for them. Give them a ticket to a seminar or take them with you to a lecture by their favorite author.
Virgos attach great importance to their health, so an ideal gift for them is a preparation with healing properties or an exercise bike.
Libra:
People born under the zodiac sign Libra are characterized by a particularly refined taste.
Buy Libra woman's jewelry or precious stones. She pays great attention to her appearance and clothes are very important to her, so the ideal gift for her can also be an elegant dress and formal shoes.
Skin and hair care is also important to her, so she will be delighted when she receives a visit to a beauty salon as a gift.
Men who are born under this sign of the zodiac place a lot of importance on their appearance. The ideal gift for her is an elegant wardrobe, but also erotic lingerie.
They often wear bow ties and ties so these fashion accessories make them more than happy. You can also buy them various porcelain and white marble decorations, as well as expensive works of art.
Scorpio:
Whichever gift you choose for a Scorpio woman, let it be black or a dark color. In addition to the fact that clothes should be black, buy something that is tight and that highlights all the attributes of a Scorpio woman.
Even jewelry that contains black stone will make you happy, whether it is a bracelet, a ring or a necklace.
The Scorpio man is also dark and mystical.
If you want to give him a wardrobe, give him hats, jackets, hoodies and shirts in black.
An ideal gift for a Scorpio man can be various sundries from occult stores, books on mystery, hypnosis, and other dark subjects.
Sagittarius:
Every Sagittarius has dreamed of long trips since childhood, so a plane ticket and an overnight stay in a hotel in an exotic country will be an ideal gift for him. It does not matter whether it is a man or a woman.
If you don't have any money, at least give him a book about foreign countries and cultures or pay for a foreign language course.
Give him an object that is related to another culture, such as a statuette from Africa, a kimono, or bongos. He will also enjoy a fun board game or series of films, as well as tickets to a good concert.
Capricorn:
Expensive and high quality, these are the qualities that an ideal gift for a Capricorn should have.
It is best for Capricorn women to buy expensive jewelry. Also, these women love crystal, so they will be happy with a crystal object.
For the wardrobe, choose leather items such as belts, handbags, and essential shoes.
Capricorn men and women love shoes, so shoes are always an ideal gift for them.
In addition, if you want to surprise a man like this, buy him some tools for work. Sports equipment can also be an ideal gift if the Capricorn man is involved in a sport or other activity.
Aquarius:
Choose unusual gifts, an interesting table lamp, a picture or a figure.
If you want to give a piece of clothing to an Aquarius woman, every piece of clothing and every fashion detail that is different and just in time comes into consideration.
Women under this zodiac sign will also be happy if you give them a home appliance such as a hairdryer. A cosmetic and hairdressing treatment is also an ideal gift, because these women love fashion and like to follow fashion trends.
Aquarius men also love the authentic and unusual style. This relates not only to wardrobe and appearance in general, but also to the technique, which these men consider an ideal gift.
Computers, printers, new computer programs, cameras and various music devices are the best gifts for men under this zodiac sign.
Pisces:
Pisces love gifts that have invested a lot of effort and love.
Pisces women will delight you when you invite them to a romantic dinner or to the cinema.
They pay attention to details, so fashion accessories such as fur or shoes will give them great pleasure. Cosmetics and makeup are also good choices, but choose makeup in light shades.
Men born under this zodiac sign are calm and withdrawn and most of all appreciate the arts. Therefore, when choosing a gift, choose an art painting or sculpture. It can also be a book or a CD.
The ideal gift for these men would be any of the wonders of technology, including computers, phones, cameras, and camcorders. Since they are often interested in psychology, a book in this field can be a great gift.