Zodiac
November 2021 Will Be A Difficult Month For These 3 Zodiac Signs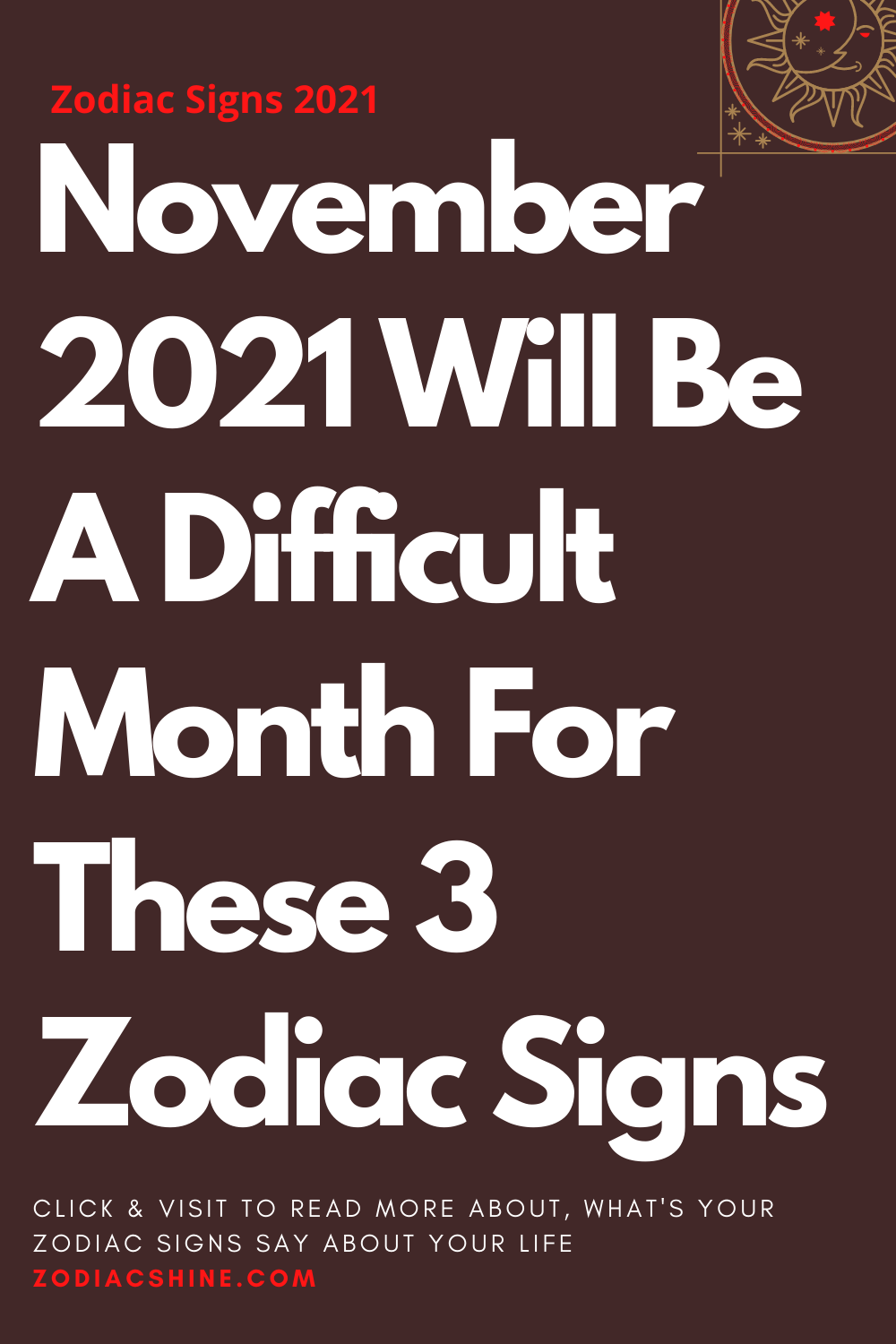 November 2021 Will Be A Difficult Month For These 3 Zodiac Signs
Everyone goes through difficult times. November 2021 will be a difficult month for these 3 zodiac signs.
While some will have a good time in the month ahead, others will have a pretty difficult time. If your zodiac sign is one of them, then you will be better prepared for this complicated phase.
There are a total of 3 zodiac signs that will have a lot to fight in the coming month and will not be spared from the drama. For some, it is a turning point that is always fraught with complications, and others will be forced to accept certain changes that they do not like. Find out which 3 zodiac signs will have a difficult month.
Aries
You may be going through your own personal crisis this month. You may be a little more emotional than usual and feel a deep sense of sadness over the little things.
It is a time of death and rebirth, which could cause conflicts that you thought were over and over to become a problem again. 
This regression can also create affection issues, as well as difficulties with your ability to impose boundaries in your relationships. You need to become more patient with yourself and show yourself more respect.
All in all, it may feel like you're going through some strange transformation this month, but you're getting stronger every day. Try to turn your attention inward and listen to what your heart is telling you.
At work, this month won't start off optimally. You won't immediately be able to release the tension at work and lose a lot of energy as a result. Keep calm because this situation will eventually change and things will get better.
From the middle of the month, you can meet your obligations effectively and effortlessly. Your finances will face some difficulties at the beginning of the month, but towards the end, it will get better and many of your commitments will get settled. All of these things will only be possible through your own actions, so don't get too comfortable.
Gemini
You may have some dramatic revelations about your relationships ahead of you this month. You may be forced to face the truth that exists between you and another loved one.
Perhaps the relationship has changed and it is time to reconsider the terms. Maybe you suddenly outgrow the relationship and you don't see any point in continuing it. Things are likely to peak around the middle of the month, when your true feelings start to show up on a large scale.
Don't fight it too hard. Show those around you how you feel. Try to react to the events in a way that feels more constructive than destructive to you personally.
Your work life is going to have some ups and downs so be patient. So you will be able to master these with the least possible loss. There will be opportunities to advance your career and improve your manager's image, although at the same time you will be blocked by some people in your workplace. Don't let that bother you.
Fortunately, some events will expose these people and their intentions will come to light. Until that happens, you'll have a hard time, mostly because you can't understand their motives.
Don't let your irritability get you carried away. Control your feelings and everything will soon become clearer. Your finances will start to experience temporary difficulties at the beginning of the month. Manage your pending debts and avoid taking risks.
Leo
You can feel unstable and ungrounded at times during this month. You may feel like this month is getting off to a difficult start. This regression happens quite early and has a negative impact on the stability of your self-esteem and disposable income.
You may feel like you're not as anchored or grounded as you would like, which causes you to rethink your perspective on what you need and whatnot. Small issues can become more urgent and encourage you to set new goals that will move you forward.
But the month also has something good for you: You reconnect with your most sensitive needs. Even if you prefer to storm forward without looking back, November can tap into your nostalgia and need for comfort.
The main thing this month is about taking care of your heart and remembering your roots. However, you may have some unresolved feelings about where you are from. This month the cosmos encourages you to find peace with who you are and what has shaped you. Even if it's far from perfect, it made you the beautiful person you are today.
The beginning of the month will be intense for your professional affairs and will bring with it some small tension and difficulty. You might be a little disappointed considering what you expected and what you will get.
However, this will soon change. You will find joy in situations that you did not expect anything from. Some people in your work will offer you their valuable help and you will take more stable steps to establish your position. Don't jump to conclusions.
Let things unfold and check them out towards the end of the month so you can play it safe. Your finances will be fine again from the end of the month, with no particular fluctuations. You will meet your obligations efficiently.