Relationship
If you can not do these 8 things together then you are not soulmates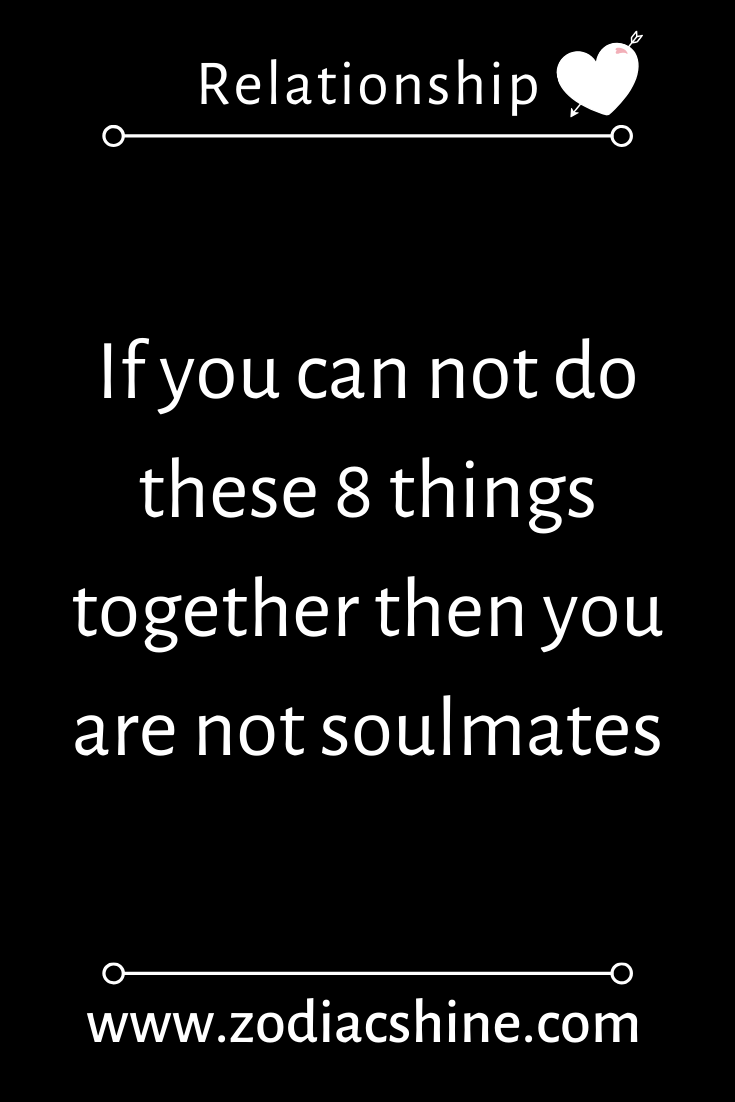 Is there anything like soulmates? Is it really possible that you will meet a person who is destined for you and will be with you for the rest of your life?
Most people in this world firmly believe that they have found "the one." They think that this partner is just made for them and they hold that destiny is already written for them.
They are sure that their love story was planned from the beginning and that they only have to carry out this story. Surveys confirm that a majority of adults assume that they have a soulmate in this world. This would be believed by both men and women. People are simply thrilled with the assumption that there is the right person for everyone in the world to be with forever.
This thought is very reassuring. Because the hope that out there is someone who fits in with one, after all the bad setbacks that we have all gone through in our lives, rebuilt. "There is someone just waiting to be found by me. What a relief! "With this thought, it is much easier to live directly.
However, there is no scientific evidence that this assumption is correct. But if you honestly think about it, you have to admit that this view may be a little restrictive and narrow-minded. Is there really only one person who is meant for you? Is there really only one person with whom you can imagine spending the rest of your life? 
Considering how many people live on this earth, this assumption may be a bit far-fetched. And even if it's true that you're only supposed to be with a man of billions, how big would be your chance to meet that person in your life? Not very high. 
But still, we love the idea that we are with someone with whom chemistry fits. If you want to test this chemistry, you should make sure that the following 8 things are in your relationship. Otherwise, you two are probably not soulmates.
YOU BOTH FEEL SAFE AND SECURE IN YOUR RELATIONSHIP.
Is your relationship a safe haven? Does the relationship personally help you heal your broken parts or does it just add more broken pieces? Because your relationship should never cause you any fears or confuse you. Under these circumstances, it can not work. 
YOU HAVE FUN TOGETHER.
Without having fun, a relationship is not worth it. The fun factor says a lot about whether the chemistry is right between a couple. He is one of the most important things in a partnership. If he is missing, then you both tend not to fit together well. 
YOU CAN BUY THINGS FOR YOUR HOME TOGETHER.
If you are unable to buy things together or for each other, then you should also question the meaning of your partnership. If something that is so easy is the limit for you both, then you know that you and your partner have serious problems.
YOU ARE COMPLETELY HONEST WITH EACH OTHER.
Everyone knows that honesty is the foundation of every relationship. If you can treat each other honestly and transparently, you have a good chance of staying together for a long time. If you feel that you have something to hide from your partner, then your partnership is not ideal for both of you. You should find out if you are honest with each other, otherwise you are not destined for each other.
YOU CAN KEEP SILENT TOGETHER WITHOUT FEELING UNCOMFORTABLE.
You do not always have to do exciting things to have fun. You can also enjoy each other's company, even though you do not visit any exciting places. You are both able to enjoy the rest in peace. For example, when you both lie on the sofa at home or sit next to each other and do nothing.
YOU CAN GIVE EACH OTHER SPACE AND TIME.
In your relationship, the feeling of individuality is at the top. Because just because you are a couple does not mean you have to be together 24/7. You know your limits and know that you both have your own personality. Everything else would be toxic and has nothing to do with soulmates. 
YOU SUPPORT EACH OTHER'S DREAMS AND GOALS.
If your relationship puts obstacles in your way and makes it harder to reach your goal, then you should think about whether you two should even be together. A partner should never force you to give up everything you want.
YOU EFFECTIVELY COMMUNICATE WITH EACH OTHER.
Couples need to communicate well with each other to maintain the relationship. Because without communication any partnership will eventually fail. If you can not express each other or do not understand the partner, someday a wedge will force itself between you, which could divide you forever. Talk to each other and listen to each other! If you can not do that, you certainly were not meant for one another.