Zodiac
How You Should Decorate Your Home According To Your Sign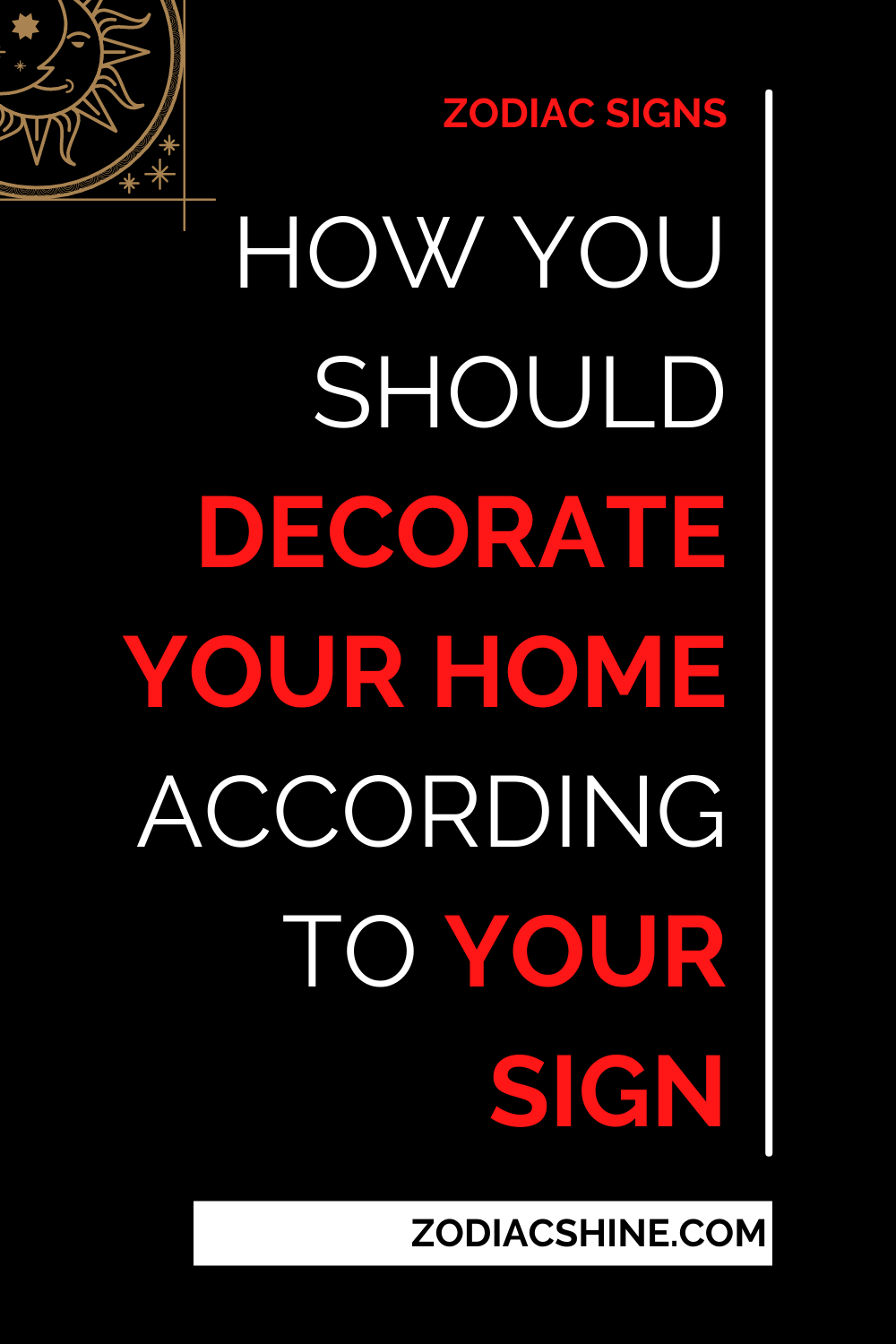 How You Should Decorate Your Home According To Your Sign
The decoration of our home is something that we should take very seriously and it is a reflection of our personality. Enjoying a home where we can feel comfortable and protected is essential to enjoy the small moments of tranquility that life offers us. If you want to know how you should decorate your home according to your zodiac sign, we will tell you about it in this article.
Aries
You are a person who likes to always go in search of adventures and you hate everything conventional. The routine does not go with you, just as you do not like to be in "boring" places. Therefore, we encourage you to use bright colors when decorating your home. Painting the walls with a reddish tone and having matching textiles is ideal for you. In addition, you can use photos and objects from your childhood that always remind you of your origins and your family history.
Taurus
Very lover of the homemade and the natural; You are a person who loves spending time at home, so you must take great care of its decoration and small details. It is essential that you avoid strong and flashy colors, as well as a very overloaded decoration. Using pastel shades and soft-colored candles will add a personal touch to your home. Plants like the peace lily and small water sources will make you immerse yourself in a little oasis every day.
Gemini
You are a dual person, intuitive, and with a great capacity for adaptation. You are firm when making decisions, although you like to discuss them with those you trust the most. You love spending time with friends and being always active, so you are not a person who likes to stay indoors. Given your personality, the best thing for you is to decorate your house with small details and plants that do not require much care. Avoid having a lot of furniture, as well as carpets, since their care requires a lot of work and time that you do not have.
Cancer
For you, Cancer, the best decoration is that related to everything natural. Use very soft and warm tones that allow you to feel less stressed and thin curtains that allow you to make the most of the sunlight. You can also have carpets so you can go barefoot at home, which will give you a great sense of peace. If you like plants, those with bright colors are ideal for you.
Leo
You are a very organized person and you love having the house always tidy and organized. Sometimes even the unimaginable. So that you can get rid of many hours of cleaning, yours are open spaces and without great decorations. Always look for a minimalist style and combine it with elements that add functionality to your home.
Virgo
Perfection runs through your veins and, therefore, your home must always be well organized and clean. Virgo, small shelves and glass cabinets are your things, so that dust is not a problem for you. Using wood on the walls or on the floor is ideal, as it will give you this little contact with nature that you need so much. In addition, plants such as orchids will give your home that personal touch that you like so much.
Libra
Following a decoration style like Feng shui is the best thing for you, Libra. You are always looking for a balance in everything and this is precisely what this form of home decoration that is so widespread today is looking for. Try to have small fountains at home so that the energies flow. In this way, you will feel in harmony with everything around you.
Scorpio
You are a very sensitive person, but also with very clear ideas. You love to be original and practical in life, so very busy decorations are not for you. We encourage you to mix different colors and textiles, as well as use small shelves instead of large and bulky furniture. Try to have a lot of free space, as this will give you the feeling of freedom that you are looking for so much in your day today.
Sagittarius
Your optimistic and cheerful character is what stands out the most in you, so your home should reflect this personality that many would like to have. When you think about remodeling your house, choose shades of yellow, blue, and green for the walls and textiles of your home. On the other hand, include some plants like bamboo and personal photos with your friends. Remembering the best moments when you get home will bring a good mood back to you.
Capricorn
Capri, you characterize yourself as a person with a great sense of duty and responsibility, you are practical and you like to have everything in order. We advise you to use blue tones in the paint, as well as furniture that is small and versatile. On the other hand, it would also be ideal for you to introduce photos of motivating phrases in the form of a box so that they provide you with this much-needed inspiration. Personal photos that reflect the strength in you are also highly recommended.
Aquarius
Aquarius, you are a very social person and you are always surrounded by your family and friends. If you like to have people at home and be a good host, you need open spaces so that your guests can move freely. Add pictures of natural landscapes or famous monuments to your decoration to give this sophisticated touch that defines you so much.
Pisces
As a Pisces, you are a person who likes to go out and discover new surroundings. For this reason, photos of your last escapades will be the ideal complement for your home. Although you usually don't like having people at home very much, sometimes you have no choice but to prepare family gatherings. Try adding folding furniture to your decor; with them, you will have enough space for when your loved ones come to visit, as well as the free space that you like so much.
The decoration of your home is something that you should take into account if you want to enjoy this very personal space.