Zodiac
How Will You Go In Love In February 2022 According To Your Sign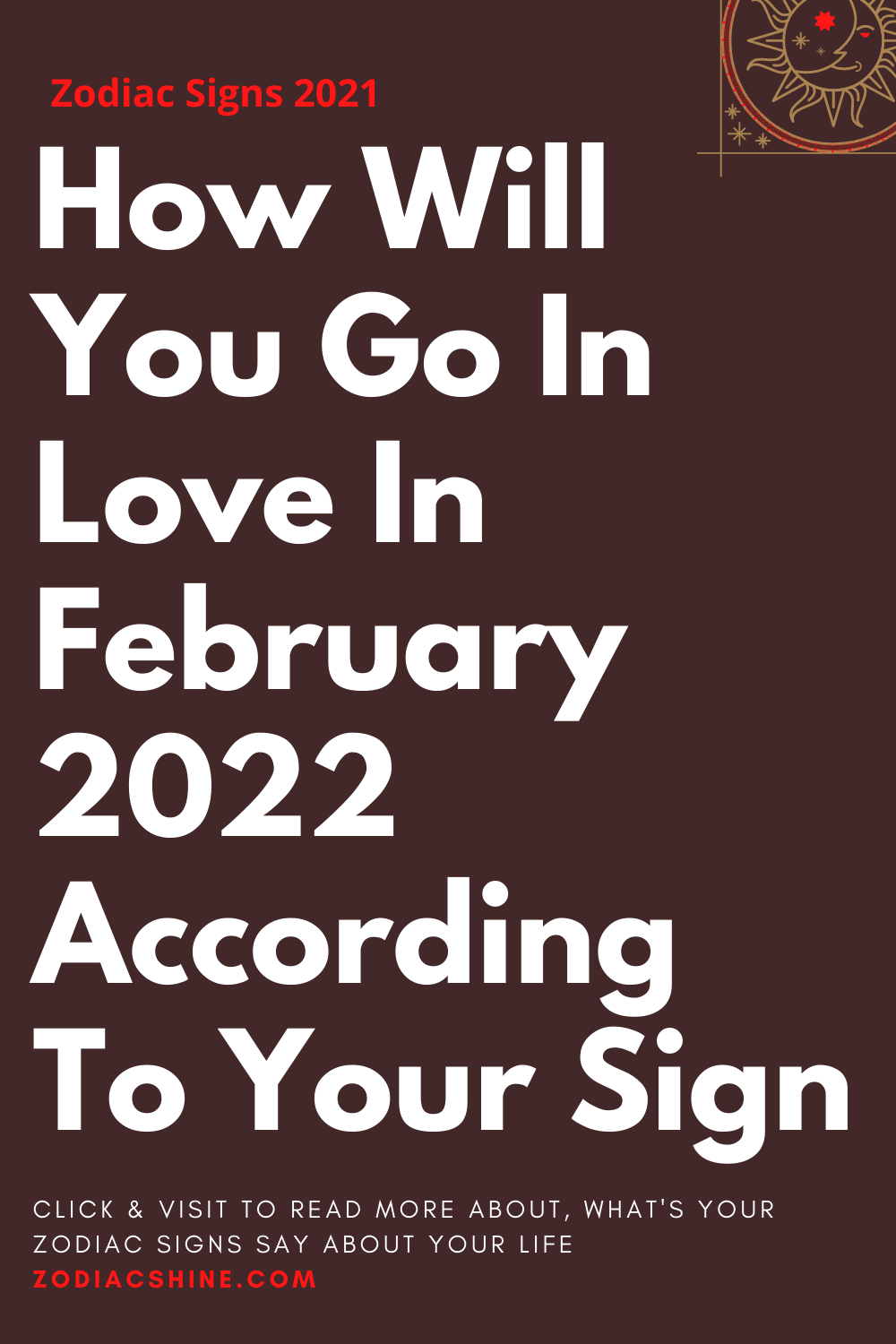 How Will You Go In Love In February 2022 According To Your Sign
Love is something that everyone is aware of. We all like to know how love is going to go, it is something that we like or not, it is constantly on our minds. There are people who are made to live in love and others not so much, but the reality is that love is something very important in all our lives. If you want to know how it will be for you in love in February 2022 according to your sign, you just have to continue reading:
ARIES
Aries, get ready for a February full of nights of passion. You will not have time to recover from one night when another will arise. Do not cut your hair and live the moment as you have always done. You will feel a confidence in yourself that you have never experienced before, so let yourself go and do not think much more. It's time to live in the moment, you always have, but now much more.
TAURUS
Taurus, this February your heart is going to be more sensitive than normal. You're starting to feel things you've never felt before and that's good. Let life surprise you and for once in your life let yourself go and don't put barriers to your feelings. As the month goes by you will be aware that someone has come into your life to stay and make things easier for you. Don't miss the opportunity and hug that person so you don't lose it.
GEMINI
Gemini, in recent months you have focused on getting to know yourself and you have. You have loved yourself like never before, you have learned to live with your defects and your virtues and you have begun to love every corner of your interior. This February will give you the opportunity to open your heart again and find a healthy love, one of those that you don't find every day. Of course, be careful and do not let anyone fool you again because you have already suffered enough.
CANCER
Cancer, this February is going to make you live love in a different way, a way that you have never considered before. You will finally open your eyes and you will stop giving everything without receiving anything in return. It's time they give it all to you. Let yourself be loved and pampered like never before. It's time for them to show you all the love they have for you. Cancer, be strong and do not fall into temptation, do not give in, this month of February is for you.
LEO
Leo, this month of February is not going to be easy at all because your relationships from the past are going to come back to your mind. You may be in luxury right now, but as the days go by your heart will become nostalgic and it will cause you to have more than one existential crisis. Of course, you will not stop being radiant for a single second and you will be able to conquer whoever you want, but Leo, this is not the time, leave that for later.
VIRGO
Virgo, this month of February is going to make you open your eyes. You will finally feel what true love is. You may not feel it towards another person, but you will discover what it means to love yourself. After all, the most important thing in this life is to love yourself. Do not be afraid to get to know yourself better and open yourself to a new life in which the highest priority is yourself. Take advantage of this opportunity and do not let it escape.
LIBRA
Libra, love is very important to you, but this month of February is not going to be the right month to enjoy it. You are not going to feel motivated enough to meet someone, so focus on yourself and let fate do its thing. You may not be looking for it and therefore do not pay too much attention, but throughout the month, a person will appear who will turn your whole life upside down. Do not miss the opportunity to get to know her thoroughly.
SCORPIO
Scorpio, this month of February will make you open your eyes and discover that love is not a matter of luck but of effort and trust. You've been wondering all your life about the mystery of love and you're finally going to find that answer you've been looking for for so long. Love can come into your life like lightning and disappear in the same way because you feel everything with great intensity, so let February surprise you and don't put up barriers.
SAGITTARIUS
Sagittarius, after many months of dramatic changes in your life, February is going to give you a break. You will be able to connect with your interior and discover what you really want. Love is present in your life, but maybe in the wrong way. Open your eyes and don't waste anyone's time. Both you and the people around you deserve to be happy. Sometimes putting an end to something ahead of time is the right solution.
CAPRICORN
Capricorn, love has always been very important to you, even if others believe otherwise. This February you will feel that life is once again giving you the opportunity to open up and strengthen your current relationships, whatever their type. It's time to sit down and talk about your feelings as honestly as possible. Yes, it is difficult for you to express what you feel, but for you, there is nothing impossible in this world.
AQUARIUS
Aquarius, these past few months you have made very important decisions about your independence. This February is going to make you start to see the consequences of those decisions. Your feelings are on the surface and you need to see the fruits of all your efforts in order to move on. Don't be in a hurry, everything in this life comes. Be yourself at all times and everything will be fine.
PISCES
Pisces, this February you are going to experience a love that you have never experienced before, a sincere, true, and super intense love. A completely new feeling will run through your entire body and the truth is that it will be a super nice feeling. Do not let your fears stop you, listen to your heart and let yourself go because you are going to experience unforgettable things. Do not let the envious make you feel guilty for something that is totally natural.