Zodiac
How To Make The Most Of The Last Days Of 2021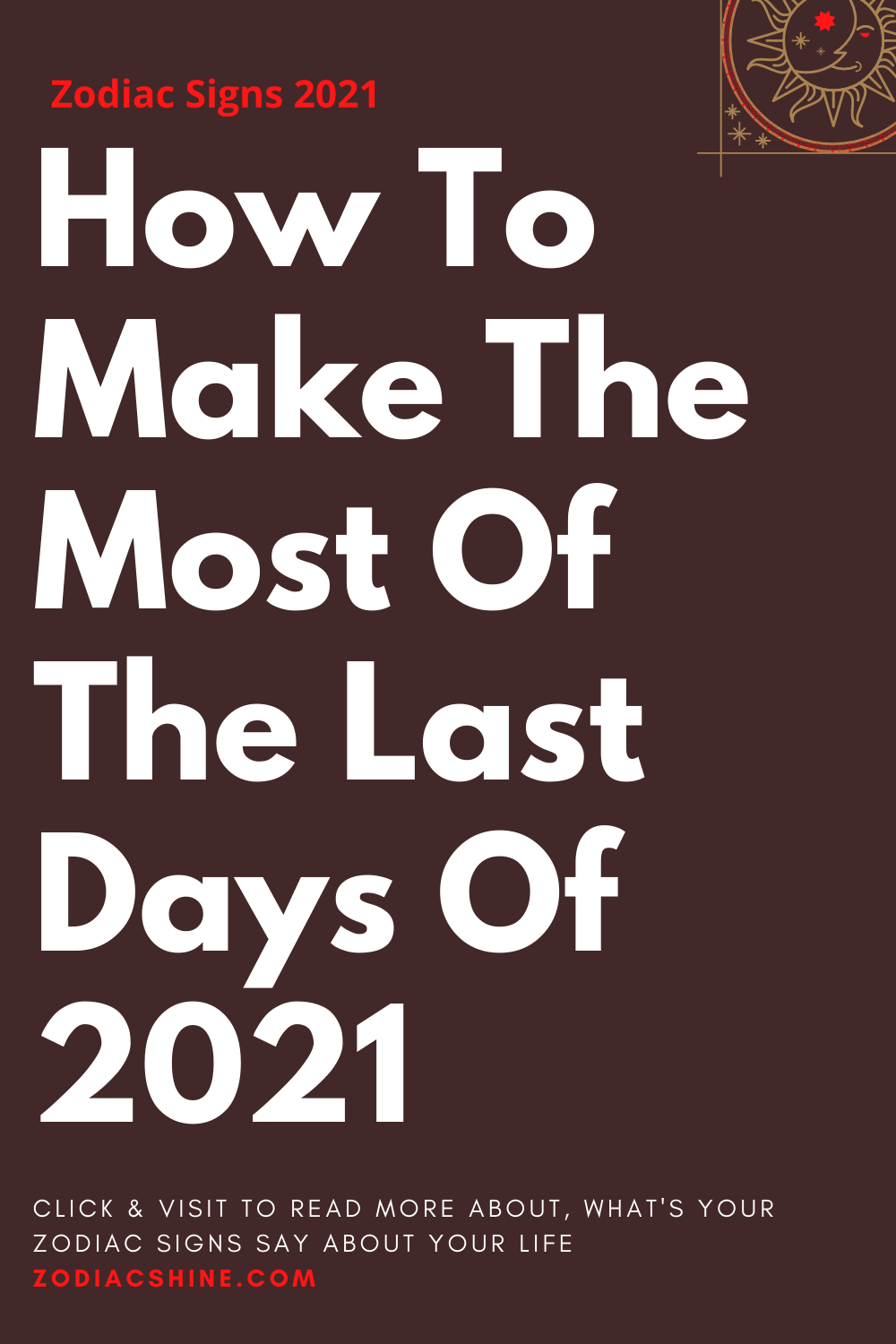 How To Make The Most Of The Last Days Of 2021
One more year, we are fortunate to think of the twelve grapes. In 2021, we were emotionally shaken from the roots, but we got up and that's what matters. We are about to conclude everything we have experienced, but we are left with the memories. We had to cry, laugh, shout, dance, sing, love. It was complicated, but thanks to these months you were able to improve in many aspects. There is still time in which you can make a difference, do not throw it away. How to make the most of the last days of 2021? 
Aries
This year was one of the greatest tests of your life, Aries, you lived experiences and had opportunities that you never imagined. However, your friendships were also exposed, not everyone who said they loved you showed it, on the contrary, they minimized your dreams. You still have days to shine, you may feel a bit nostalgic and listless, but don't let the darkness of others turn you off. Days are coming when it is important that you focus your energy on the material, what you expect for the next year and the way you are going to invest because the eclipses will be on your side. Try to save as much as you can.
Taurus
It was a stressful year for you and those around you. Without a doubt, the planetary movements were following in your footsteps on a professional level, but it was not easy to keep your attention in your dreams. Many times you felt down as if you were challenging something impossible and in some areas, you fought against scarcity. Fortunately, a very promising year is coming, now more than ever your growth will be unstoppable, but it is important that you let go of all that is preventing you from moving forward. Take advantage of these days to release the ghosts of the past, you need to cleanse your energy to attract what you really deserve. End the year planning, because a guide is what will facilitate each step.
Gemini
2021 of ups and downs, but a lot of change. Growth was latent in all areas of your life and that greatly improved your relationship with others. Of course, there were things that took you by surprise and it was almost impossible for your emotions not to overflow. You may have felt insecure and with low self-esteem, but you still didn't give up. The best way to close the year is with optimism ahead, the past trampled on, many good things await you, do not let anything make you bitter at the moment. You may have to deal with false and negative people, trust your intuition, it is time to remove them from your days. You deserve inspiration in every way, don't hesitate for a moment.
Cancer
What cost you the most this year was unlearning, turning the page was not as complicated as changing the way you behave in many situations. It is evident that you broke many times, but you understood that the people who were there to lift you up will hardly leave your life. Close 2021 thanking, if you turn to heaven and keep everything beautiful that you lived these months, better things will come. Keep your energy healthy, no complaints, to start the year on the right foot. Cancer, you had your bad streaks, but they do not define you, you are here to shine and show everyone that you deserve the whole world if you want it that way. Let go of grudges with friends and loves, there are many people who would give anything to be with you, stop settling for those who are not worth it.
Leo
Those were tough but valuable months, Leo. 2021 taught you to value your mental and emotional health, in a very intense way and you are grateful from the heart because your perspective changed completely. You lived moments in which you had to keep crying so as not to worry others and you put yourself in last place. Also, the changes were very significant in your relationships. Many did not understand your way of overcoming yourself and you felt alone, but you learned that in the end you have you and when your world falls apart it is important to take refuge in your self-love. Close the year with hope, without misunderstandings, and focused on your achievements. Remember that you are not here to please anyone, if they were not able to see your brightness it is their problem. It is worth recognizing each of your accomplished goals.
Virgo
Your world suffered uncontrollable flares at the love, work, and family level. As much as you tried to stay strong, there were nights when you stayed crying until dawn. The stress had no mercy on you, when it was not one thing it was the other, the joke is that your thoughts did not stop and that made you feel very insecure. The good news is that the nightmare is over, 2021 is gone, and the last days are essential to take a deep breath, find yourself, and really do what calms you down. Stay with everything that made your heartbeat and filled you with good vibes. Let go of negativity, because a lot of good things await you. The moment you start to believe it, everything will change.
Libra
You stick with the way life blatantly forced you out of your comfort zone. In 2021, he made it very clear to you that the least you can do is the plan because everything can collapse in a blink of an eye and you have to be ready to face adversity. As great as things look great, sometimes you have to accept that something can go wrong. Perhaps romance did not smile at you all the time, but you understood that no matter how much love you have for someone, you should never leave your essence aside. Your friends, your hobbies, and doing everything that you are passionate about are very important. Libra, you are love, say goodbye to the year like this. Trust that new opportunities will come and that everyone you love will be better off.
Scorpio
What weighed the most in 2021 is the home part, seeing your loved ones having bad times was very hard, because as much as you wanted it was impossible to help, especially those who live far away. However, that led you to plan more and restructure your way of seeing life. The fact that everything is so unpredictable makes you more alert than ever and that you value everything you have. They were complicated months, but at least you had bread on the table, the opportunity to get up to go to work and even keep thinking about your dreams. In the end, it was all worth it because little by little you have been feeling the reward. Take advantage of these last days to say goodbye from the bottom of your heart, with the certainty that you gave your best and that you will not give up until you see all that you have always wanted to be materialized. Take a deep breath and let the Universe bathe you with luck, love, and much happiness.
Sagittarius
2021 taught you that nothing is forever, that many times the people you trust the most and the one you love the most end up betraying you. It is not easy for you to say goodbye to love, family member or friend, because it costs you a lot to establish a bond, and letting go implies that you live sleepless nights and a lot of contained crying. However, you know that no one loses their life because of love and that your spirit is the key to keeping you smiling in the midst of the storm. The best way to let go of 2021 is to relax these last days. You deserve hours of rest, in which your mind has a chance to go blank and just let life flow. The last thing you want to do is stress over things that you don't even know are going to happen. Loose!
Capricorn
2021 for you was worse than a slap, just when you thought the light would come out, something new was plunging you into the depths of sadness. It was a constant challenge to work on what you want without having to deal with judgmental comments from the people around you. The moments of crisis, in which you most needed impulse and the hand of someone you love, taught you that there are people who are not what they appear, many say they love you and at the same time rejoice in your misfortune. Give thanks to this year because you realized in time that there are those who do not deserve a second of your energy. Take advantage of these last days to have heart-to-heart talks with those who showed you that whatever happens, they will always believe in you.
Aquarius
The truth is that you do not intend to invest your energy in complaints, Aquarius. Of course, 2021 had its bad times with you, but that is no justification for bitterness to become part of your days. It is clear that you experienced growth on a personal level, but you faced constant trial and error. Not everything turned out how you imagined it, but there are times when your imagination knows no limits and you can lose yourself in reality. These last days are important for you to focus your thoughts on everything that causes you joy, in your dreams, the people you love, and what you want to achieve the following year. There is no room for regrets anymore, don't mess things up like that.
Pisces
Ups and downs, this is how we could describe your 2021. Those were moments when you felt your soul go to the ground, but in your shadows, you found your serene part, the one that invited you to reflect and value each of your advances. On some occasions, you felt that instead of moving forward, you were going backward, but time showed you that you did the best you could and that everything helped you to improve not only in your work but also with your family and in matters of the heart. The best way to say goodbye to the year is by sending everything that stole your peace and happiness through a tube. You are no longer here to give second chances to anyone and if they call you selfish then do it. It is better to walk away because of your sincerity than to surround yourself with a lot of hypocritical people. Give yourself the privilege of starting the year off right.