Zodiac
How They Will Deal With Retrograde Venus Signs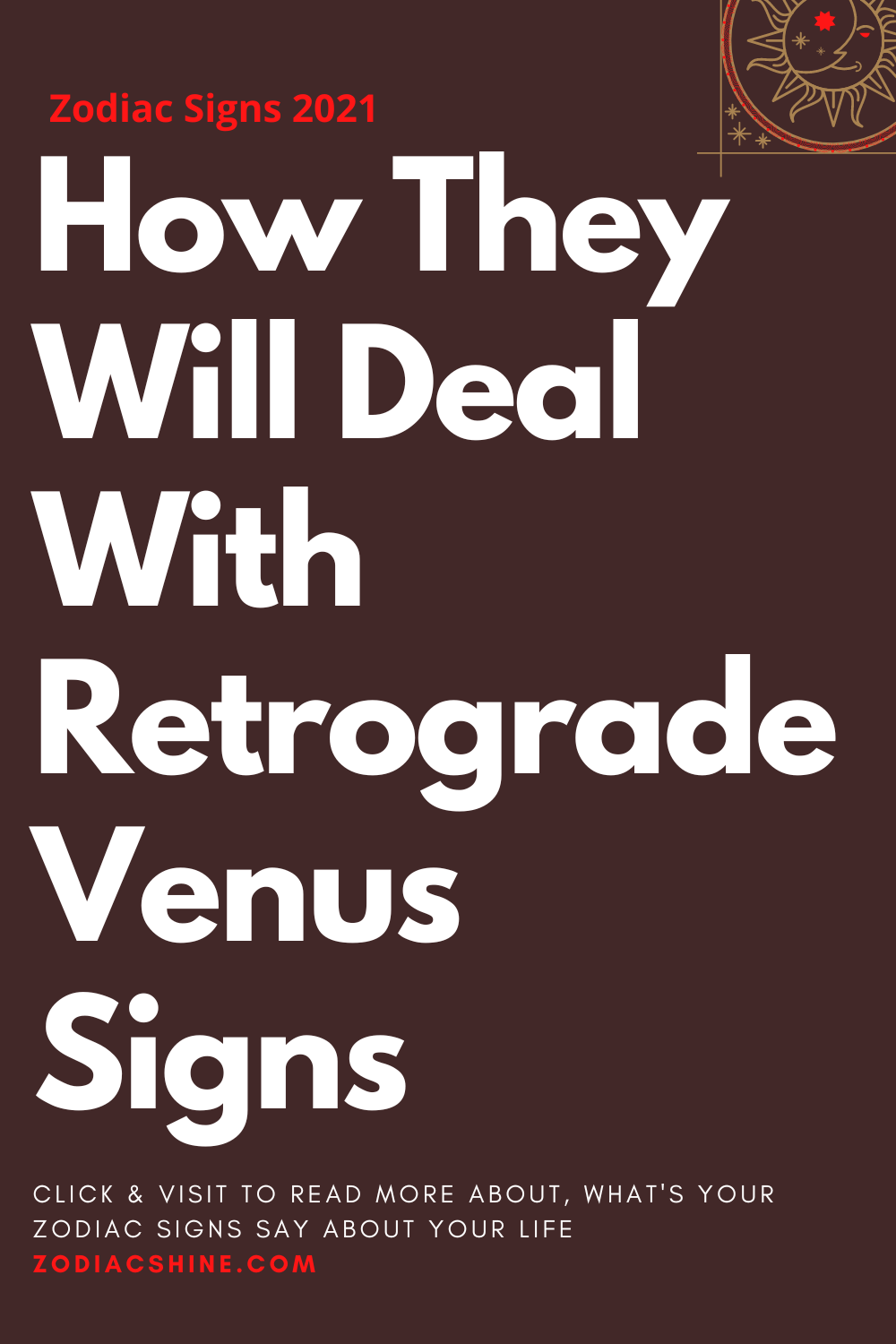 How They Will Deal With Retrograde Venus Signs
Venus retrograde is here and it will force us to be a little more realistic with our relationships and review all those things that we value for six long weeks. This setback, which began on December 19 and lasts until January 29, will help us to do a cosmic check inside ourselves and analyze our love life and our finances. If you want to know how the signs are going to deal with Venus retrograde, you just have to keep reading:
ARIES
Aries, the planet of love has started its retrograde movement and that is going to affect you in one way or another. This time this movement will directly affect your financial life. You will feel the need to restructure the way you manage your finances in order to continue fighting for what you want. You know that things do not fall from the sky and Venus retrograde is going to make you open your eyes and start moving before you lose the game. 
TAURUS
Taurus, Venus is your ruling planet, so this retrograde is an important time to re-examine all those parts of your life that are supposed to give you pleasure. Love is a very important part of your life. Take advantage of this moment to explore and go beyond your daily routine. There is much fish in the sea, so do not get caught in a small corner of the ocean if what you are experiencing does not convince you at all. 
GEMINI
Gemini, you are very used to doing what you want and getting where you are not called. You don't do it on purpose, but it is in your nature. Venus retrograde has come to teach you the power of limits. It's time to review who and what is getting the most of your energy and see if those relationships are the right ones to waste your precious time. At the end of all this, you will know who you want to be around and who you don't. Don't scratch yourself too much. 
CANCER
Cancer, Venus retrograde is here and it's time to give all your relationships a serious touch. It's time to clean up and eliminate from your life all those people who only give you negative vibes. Get ready to talk about the conflicts of the past to confront them and turn the page once and for all. Take advantage of this moment to regenerate your relationships and do not feel bad about any of your decisions. There are things that you have to do yes or yes and there is no going back. 
LEO
Leo, lately you find it very difficult to know what you are really passionate about because you are stuck in a daily routine that does not belong to you. Venus retrograde has come to give you a chance to start savoring the little things in life. It is time to make room for those things that you have always overlooked and that perhaps give you much more than other things to which you dedicate much more time. Take your time and don't want to run. 
VIRGO
Virgo, Venus retrograde is here and it is going to awaken one of your most romantic sides. You are going to feel the need to make changes in your love life. You may find that your tastes are changing and it's time to take a 180-degree turn in your life. Do not be afraid, take things slowly, reflect, and then make the decision you have to make. Virgo, you have everything on your side, and you know what you want, so don't wait any longer. 
LIBRA
Libra, Venus is your ruling planet, so this retrograde is going to affect you in a special way. Take advantage of this period of introspection to get in touch with all those things that make you feel safe and emotionally stable in all your relationships. It is time to associate with people who make you feel good and leave all those people that you have left aside. Libra, waste no more time and do whatever you have to do. 
SCORPIO
Scorpio, Venus retrograde this time will make you focus on flirting and wanting to get someone special's attention. If you are in a couple, take advantage of this moment to try to solve all your problems, but without drama and focus on passion. If you are single, it is possible that someone from the past will come back to learn a new lesson. Don't be afraid, you never have. You focus on passion and the rest will be seen. 
SAGITTARIUS
Sagittarius, this Venus retrograde will make you start to open your eyes and leave everything that does not contribute anything to one side. You will feel the need to take time to get in touch with your self-esteem and thus be able to better deal with your insecurities. If something creates tension or makes you feel bad, it is time to take a step back and see if you would be better off being away from what makes you feel bad. Sagi, take advantage of the time that is golden. 
CAPRICORN
Capricorn, with Venus retrograde doing its thing, you are going to feel the need to know yourself. You are going to explore your interior and you are going to discover new tastes. It is a good time to do new projects and dreams big. Of course, before taking any steps, review all your relationships and do not run ahead of time. Do not let the rush ruin what can be very beautiful. 
AQUARIUS
Aquarius, Venus retrograde is already here and is going to stir you up and down. Do not be too distressed if you start to discover things about yourself that you did not know. You will have the opportunity to realize that you may not like loneliness as much as you think and you want to go a step further with that special someone. Of course, before doing anything, analyze everything very well because you can ruin everything that has taken you years to build. 
PISCES
Pisces, Venus retrograde will open your eyes and you will realize that your social life is completely changing. Life stages and you are in one right now in which all your priorities are going to change shortly. Don't get too overwhelmed with changes. You always keep in mind the people you love and everything will be fine. It is time to be aware of reality and live your life as you have always wanted, without depending on anyone.