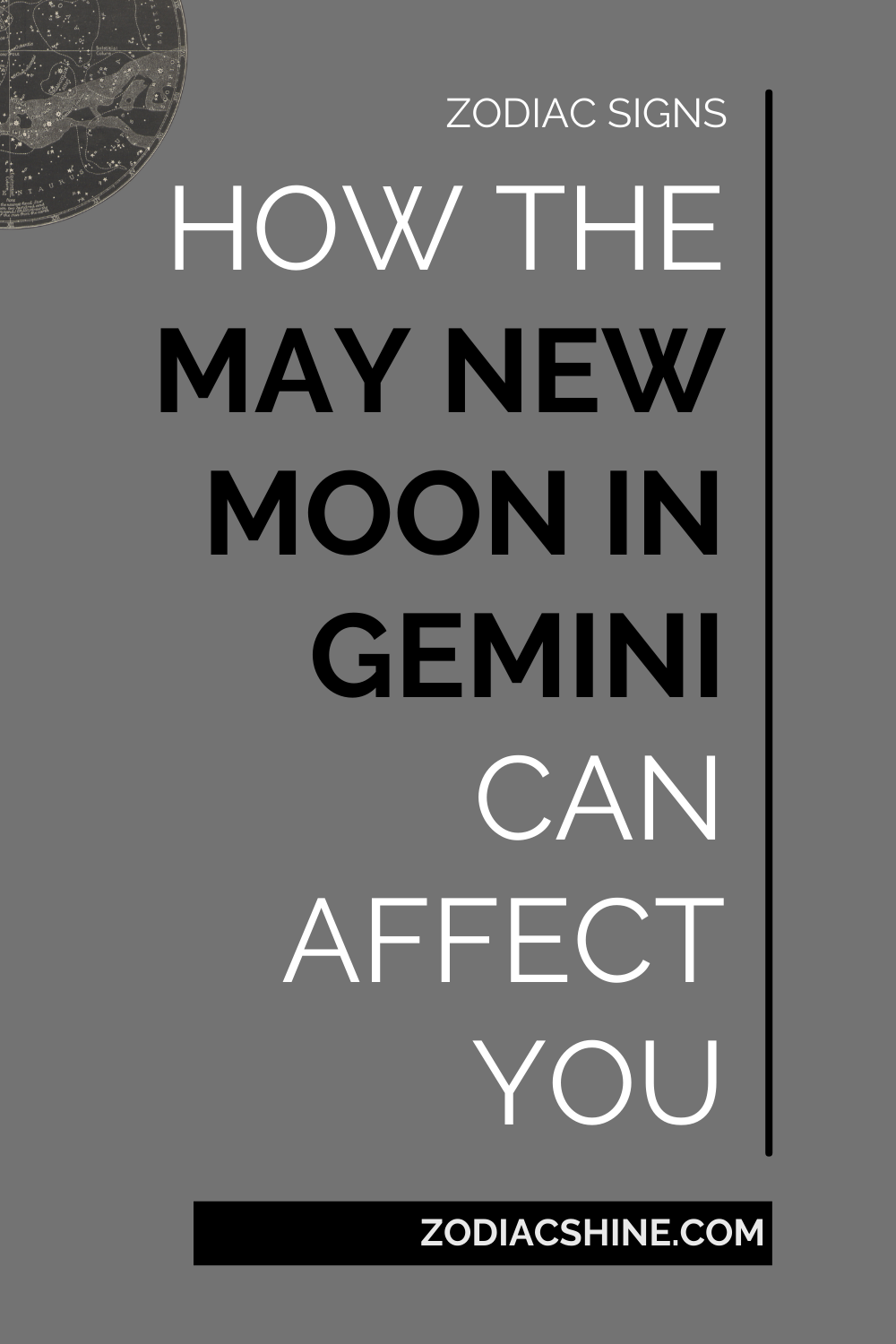 How The May New Moon In Gemini Can Affect You
It comes, it feels and it shows, the effects of the New Moon are going to give a lot to talk about. This New Moon is a full-fledged wake-up call and coincides with Gemini season. The energy of this Moon has a lot to do with communication and curiosity. All signs can experience some process of change or renewal. It's actually a great opportunity to have highly productive conversations. The ideal is to adopt an idea and work hard to make it come true. It is a season of beginnings, an illusion, and above all, of self-love. If you want to know how the May New Moon in Gemini can affect you according to your sign, keep reading:
ARIES
Beware not having time to even talk. You cannot dedicate yourself to your commitments all the time and forget to keep up with your people. You have to have some space for your things, you have to be more realistic with this topic. The energy of this New Moon is going to inspire you to have a great conversation with someone you miss. If you have the strength to put a very important issue on the table, do it now. And remember to use words wisely and stay true to your feelings…
TAURUS
You may have to deal with a conflicting feeling for yourself: pride. Between Mercury retrograde and now this New Moon, you can't wait for more. You have a cluster of emotions that you no longer know if they are good or bad. So many united emotions are leaving you a little confused. The end of your season marked the beginning of a new stage for you. The New Moons almost always bring very good opportunities for everyone, confirm your attendance to that plan that you have in mind and let yourself go. Don't think about what happened, try to enjoy more now and leave your pride aside…
GEMINI
You are the social butterfly of the zodiac. A true charming person. You are the friend that everyone wants and the lover that most people dream of. You are ideal and you have to believe it. Let behind those comments of "you're too big on yourself" or "you're coming too high" because you're in your season and it's your turn to shine like never before. This New Moon is going to make you feel strong, unstoppable, different, and very good. Now is a good time to fully focus on your goals and your deepest dreams. Everything looks pretty good, enjoy a lot…
CANCER
It's a good time to let go, Cancer. You have to tell the truth. You have to let off steam and get rid of that emotional weight that has been accompanying you for months. Lately, you have measured your words or your actions so as not to create drama, but enough is enough. It's okay, Cancer, you have to speak up and start fighting for what you want. You know that you can be very ruthless when you say what you feel from your truth, but now it is what you need. If you want to get answers to some of the questions on your mind, now is the perfect time to start…
LEO
Use the positive energy of this New Moon in Gemini to learn. You want to know and analyze new things. Deep down you feel that your life needs a little more flavor, rhythm, and good things. What catches your attention right now? If you take the time to learn, you will find new ways to leave a mark or to enjoy something new again. Now, remember that Mercury retrograde is still here among us, touching our noses, so be very patient if the communication in your family is a little more tense than usual.
VIRGO
The energy of that Moon is going to help you clarify many things that you have in mind. You have doubts about your future and want to make a radical change. Sounds weird to you, right? Sometimes you don't recognize yourself because you've never felt like this before. It's normal, Virgo, deep down you want a new beginning. If you feel stuck in the workplace, it is a good time for you to do something. You can start studying or learn some new skills. Find out about the courses that catch your attention, it is a good time for you to enter a different world than the one you are in right now.
LIBRA
The energy of this New Moon in Gemini is very good for learning. Nourish your mind, stop thinking so much and act before you get bored, and stay on the couch at home. You have to learn something new, something that will make you feel butterflies in your stomach. You can't get stuck in the same old thing because that's very unfair to you. Life is much more fun when we have an adventure on our hands, so look for yours.
Now, make sure you don't forget commitments, important dates, or appointments. Mercury retrograde is still here doing its thing and the confusions are still here between us.
SCORPIO
My goodness, Scorpio, your strength is noticeable from miles away. It's like you woke up from a nap or a bad dream. This Moon is going to awaken your most warrior and bravest side. You feel like doing many things, but first, you have to talk and clarify some matters of the heart. You have feelings for someone who, in one way or another, ends up coming back into your life. Deep down you can't stop thinking about his look, the purity of his actions, and the good vibes he transmits to you. Do what you have to do to clear up that matter and to free your heart from that pressure it has had for days…
SAGITTARIUS
It is a good time for you to dedicate yourself to the maximum in what you like the most. This New Moon is in Gemini, the sign of communication. And how does this affect you? Very simple: your conversations will be warmer and more sincere. Possibly you really want to show something to which you have not wanted to give much importance. You have to know that your feelings DO matter. If you are getting to know someone, it is a good time for you to talk about your feelings. If you don't have (nor do you want) a partner, you most likely have to deal with a person who is falling in love with you, and with that energy, you give off. Sagittarius eye, things are hot…
CAPRICORN
This New Moon in Gemini is going to inspire you to organize that chaos of sentimental life that you have a little. It's time to do contact cleaning, you know. But it is also time to cleanse the mind. You have to move forward and close chapters of your life that you know do not paint anything anymore. You can't keep thinking about things that don't come or go anymore. Dedicate yourself to the maximum in taking care of yourself, respecting you, and loving you. All the same, it is not worth it that you get serious today and that tomorrow you are again with a thousand things in your head and in your heart.
AQUARIUS
The energy of this New Moon is going to make you a little more sentimental than necessary. Your life is changing and so are you. Deep down you miss some routines you had before. You want less worry and more freedom. It's like you miss your most rebellious and carefree self. But you also want to recover the friendship or connection you had before with people who are very important to you. Try not to think too much about what you had and don't have anymore. Try to think more about what you can now recover and what you can do.
PISCES
Right now you look like a sweet stuffed with a thousand things. It's a pretty sweet comparison, really, but it's real. Pisces, you look like candy because you are very sensitive, and you have a lot of conflicting feelings inside of you. You do not know very well how to manage your inner world, so it is highly recommended that you give yourself some time alone to put your life in order. The New Moon will help you speak more freely, and trust your feelings and what your heart dictates. It is a good time to relax with friends and family who understand you the most…