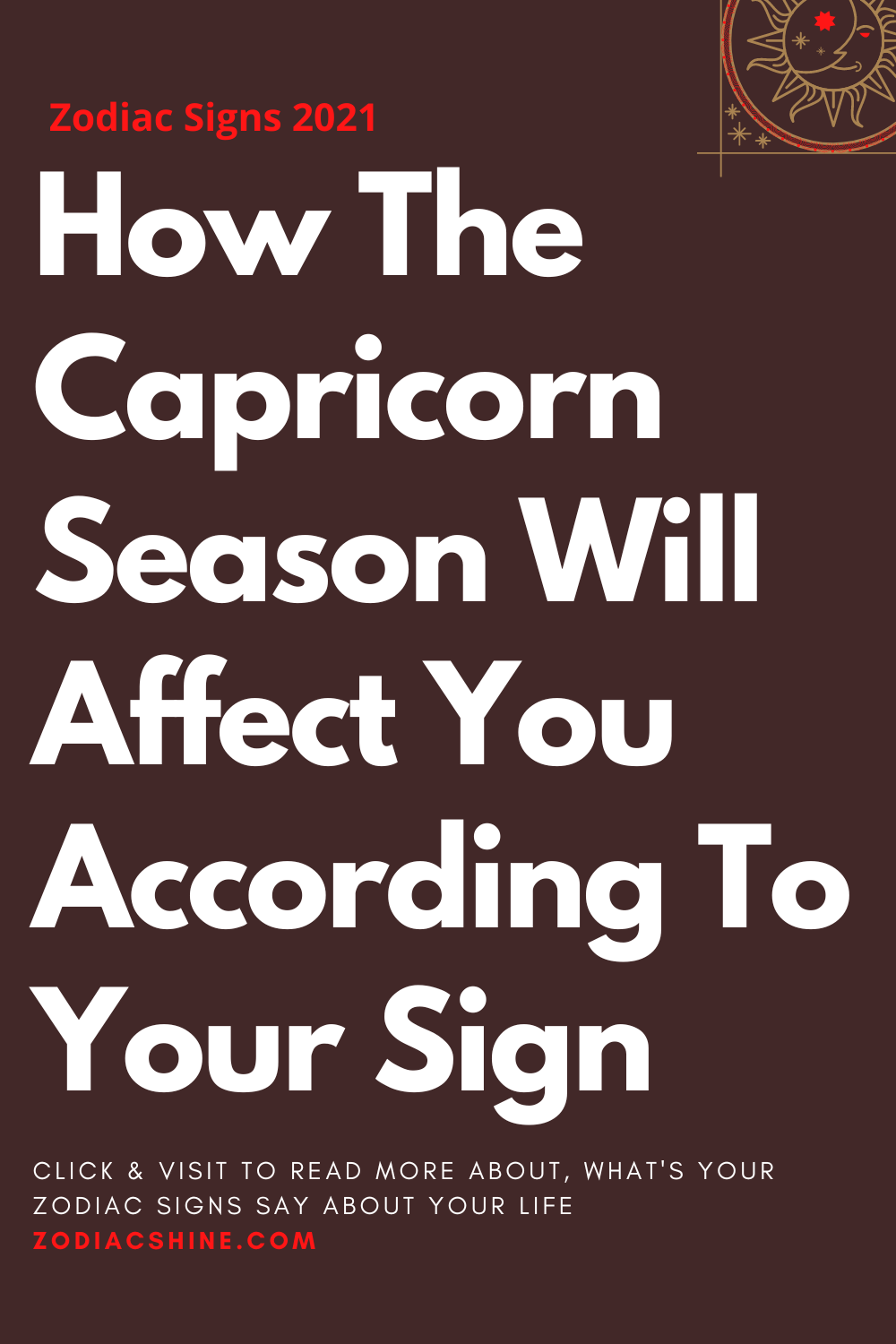 How The Capricorn Season Will Affect You According To Your Sign
First of all, you have to know that Capricorn is an earth sign. Someone who stomps, who does not give up easily, and whatever happens, always wins. A cardinal and feminine sign, capable of transmitting the greatest security in the world even though inside she is trembling with fear. The season of this unstoppable titan will invite us to reflect on many things and above all, it will help us to open our eyes. Read on to find out how the Capricorn season will affect you based on your sign:
ARIES
You may be much more thorough than usual, the Capricorn season will invite you to have a much more cunning attitude in every way. In the work area, you have to be full of energy and in the sentimental, you have to reap more patience. It's a good time to start moving tiles and playing big, but you have to remember something very important: Rome wasn't built in a day. Do not forget. Gather all the patience that you have lost out there and get down to work.
TAURUS 
It's time to open your eyes and your element mate season is ideal for that great awakening. You have the opportunity to put a huge stomp on a fear that has been your shadow during these months. Trust yourself, Taurus, you can handle it. It is time to stop repressing feelings that have to come out of your heart, Taurus, it is a good time to start seeing life from other perspectives and other points of view. Open your mind…
GEMINI 
The beginning of the Capricorn season will invite you to assume your responsibilities from a more realistic point of view. What does that mean? That you are going to keep the promises that you have been making since the beginning of the year. And you have to do it, Gemini, because you deserve to close the year with great pride and with clear ideas. You will learn to be more patient with yourself (although it is impossible to believe) and you will trust your instincts more. And if you don't, please force yourself.
CANCER 
Cancer, in the Capricorn season love, is going to be the main protagonist. What kind of love? Family love, self-love, the one you find in the things that make you happy, the one you feel when you have the gaze of someone you want to protect at all costs … How nice it is to see you happy, Cancer, but what a luxury it is to see you grow with real love. During this season, you will want to reach another level in love and you will …
LEO 
The beginning of this season will make you open your eyes, Leo, you are going to discover a new way of organizing yourself so as not to fall into a loop of madness. The discipline that you have lacked during these months, you will recover with the entry of Capricorn. It will help you to better organize yourself to work to the maximum and short term. You have seen that you work much better with more immediate routines because waiting a lot does not go with you. Make adjustments in your daily routine and you will see how everything flows better …
VIRGO 
The entry of your Capricorn partner comes loaded with very good things for you. It was about time, right? You're fed up with waiting for those good things to come that you haven't seen much around your house yet. The wait is over, Virgo, you are going to deal with the juiciest matters of the heart. Yes, yes, during this season love is going to be the main protagonist and if you let yourself be guided by your instincts, you will be surprised. Passion is here to stay.
LIBRA
Libra, you have to act before it's too late. Your head needs an all-inclusive vacation on an island far from the hand of anyone and you know it. The start of the Capricorn season is going to make you more nostalgic than usual, so please put your feet on the ground and speak up when you need to. It is a good time to solve something that you cannot run away from anymore. It's time to close chapters, Libra, close stages, tasks, and things to do …
SCORPIO
Scorpio, the Capricorn season is going to invite you to focus more on the people to whom you cannot spend as much time as you would like. Your social life is sometimes overly lit and that takes time away from enjoying your surroundings and your people. Do not pressure yourself so much to stay with everyone who is looking for you, people who really love you have to understand that you are not an omnipotent being. Take your time and enjoy.
SAGITTARIUS 
The pause of your Sagittarius season has arrived because no, it is not the end of anything because you are still here to continue giving more war than ever. After a month of comings and goings and insane in some ways, you have to catch up on your finances. You have some abandoned goals, so get to work. And remember, it's time to take pleasure in things and experiences that don't cost money. Enjoy to the fullest.
CAPRICORN 
Your season is your chance to shine more than ever in this rare year. You have to see yourself with different eyes, that can help you to be more patient with yourself Capricorn. Give yourself a chance to be happy and don't be afraid to be the center of attention. Be yourself and work hard to make your most groundbreaking qualities leave their mark. Focus more on yourself and less on others. And remember, karma is wise and knows when, how, and with whom. Do not forget.
AQUARIUS 
After a brilliant month full of suspicious laziness, the season begins for one of the most realistic signs of the Zodiac. The entrance of Capricorn will invite you to put your feet on the ground, now is the perfect time to be more productive than ever. Spend a lot of time organizing your mind. What yes, what no, who stays in your life and who leaves it forever. And get away from the feeling of grief when you do it, it's time to untangle knots that were suffocating your heart.
PISCES 
Pisces, things may be a little more tense than usual. With the entry of Capricorn comes a need to take control singlehandedly. You need to have more independence and more power. Deep down you want to make a big difference and you will have the opportunity to do so, but you have to look out for yourself. Yes, or yes, there are no more options. Look out for yourself and let your wonderful inner leader take the reins once and for all.