Zodiac
HOW ARIES SEASON WILL AFFECT EACH ZODIAC SIGN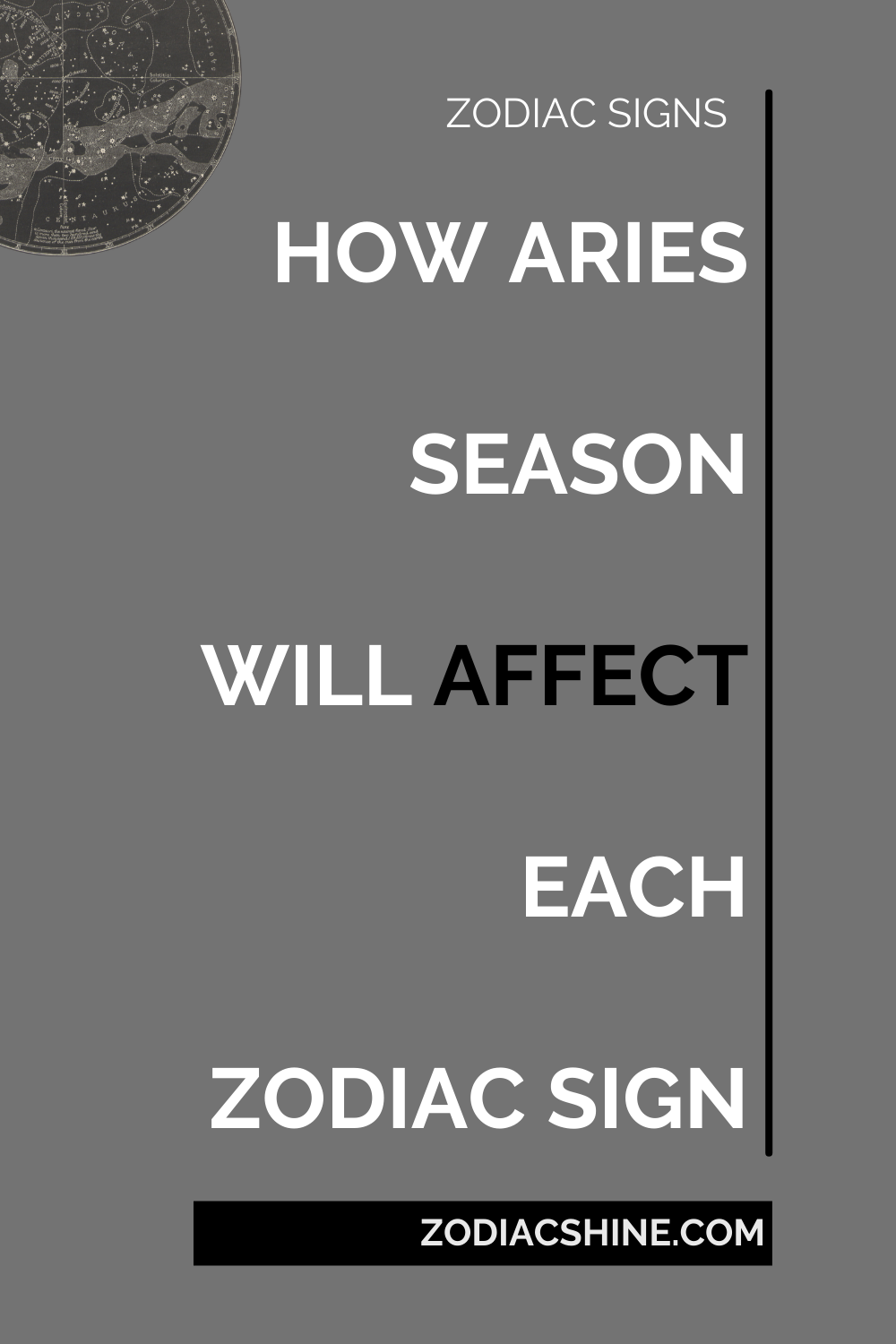 HOW ARIES SEASON WILL AFFECT EACH ZODIAC SIGN
Aries:
Happy birthday season, Aries! With the sun shining in your sign all month, it's time to shine like the star that you are. Your confidence level is high and everyone clings to your every word, so use this magnetizing force to manifest more of what you want in your life. Don't stop until you've fully achieved your goals.
Taurus:
You're ready for a spiritual start to the new astrological year, Taurus. While many of us are ready to move on once Aries season arrives, you may want to take things slow, so respect the needs of your body and soul. Sometimes our most powerful plans are implemented internally, where no one else can see them. Feed yourself by sowing seeds for the future.
Gemini:
Winter is over, Gemini, so it's time to reconnect with your social side in a big way. Aries season is an outgoing and collaborative time for you, so say yes to a few party invitations and take the initiative to make plans with friends. Gather your community and reunite your team – you'll feel so much more like yourself once you get into a more social rhythm.
Cancer:
Get crystal clarity on your career goals now, Cancer. Aries season emphasizes your professional life and also increases your level of confidence at work. It's a fabulous time to take on a big project, branch out into a new area, or push for more recognition within your work. Embrace your inner leader and step up your game.
Leo:
After an emotionally charged Pisces season, the sun is finally entering another fire sign's territory — which means you, dear Leo, are feeling revived and ready to roar. Now is the time to dream big and consider your big plans. Pursuing higher education or taking spring break this month can help open your mind to new avenues of interest.
Virgo:
Keeping the material realm of your life organized comes easily to you, Virgo. But Aries season also invites you to put your underground affairs in order. Instead of ignoring that bag of skeletons in your closet, muster up the courage to pack your bags and let it go for good. You have the power to face your true self and create the life you want.
Libra:
As we approach sunnier spring days, we leave handcuff season behind. However, relationships are still top of mind this month, Libra. Aries season is a time to clear up your romantic entanglements and make sure you're true to yourself. Advocating for your needs and prioritizing your own pleasure is vital to the health of your partnerships.
Scorpio:
Aries season aligns with the start of a new astrological year, making it a great time to clean up your calendar and get a fresh start. You feel motivated to organize your life now, Scorpio, so use this burst of fiery energy to create healthy habits, revamp your schedule, and catch up on work.
Sagittarius:
Did someone say spring adventure? Aries season is sending some seriously seductive vibes to you, Sagittarius, so get out there and stay open for the fun. If you are single, you will now find many opportunities for romance, and if you are in a relationship, you will be inspired to ignite the passion in your partnership. Either way, rejoice in the pursuit of pleasure.
Capricorn:
It's easy to get caught up in work responsibilities, Capricorn, but Aries season will have you focusing a little more energy on your private life. It's the perfect time to do some spring cleaning so your home is fresh and ready for guests. Hosting relaxing evenings with friends or connecting with family will nurture your soul and bring out the best in you.
Aquarius:
Your phone explodes this month, Aquarius, as Aries season brings out your most outgoing qualities. Indulge in these butterfly social trends by attending some local events, catching up on texts and calls with friends, and finally scheduling those coffee dates with a potential crush. Connecting with people will come easily and your conversations will flow smoothly.
Pisces:
Aries season shifts your focus to your tangible assets, Pisces, so get ready to secure your bag. It's a great time to take a look at your bank account and set a budget to make sure you're in good financial shape, especially if you've had an overpriced birthday season! Starting a savings plan or asking for a raise can help boost your balance and confidence levels.