Zodiac
A Great Advice That Will Save Your End Of The Year 2021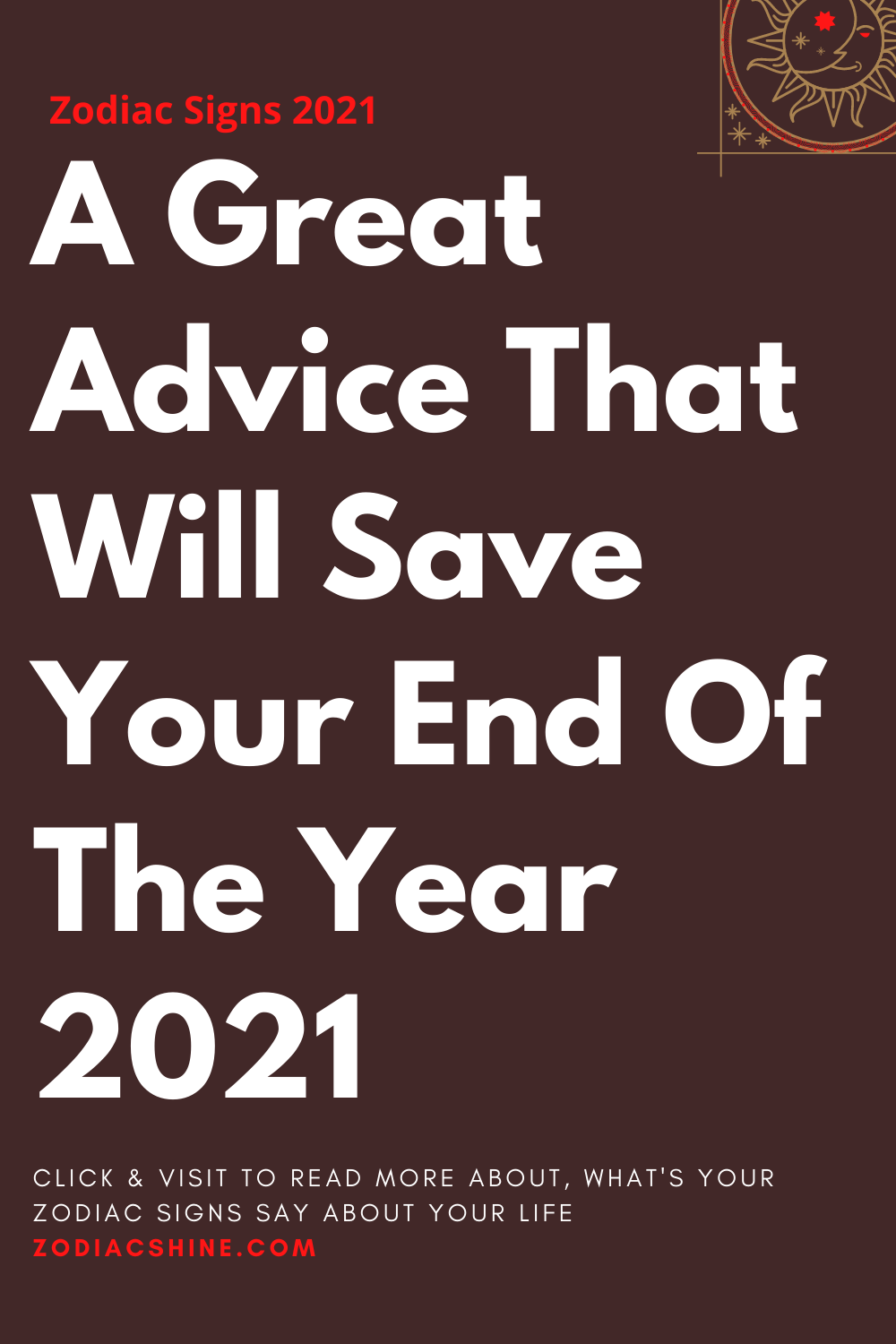 A Great Advice That Will Save Your End Of The Year 2021
2021 is coming to an end and like every year, the end-of-the-year party is one of the most special nights of all. Surely you want to start the year on the right foot like everyone else, but you may not know very well what you have to do. If you want to know what you have to do, you just have to keep reading to discover the great advice that will save your end of the year according to your zodiac sign:
ARIES
Aries, you are super proud of yourself, there is nothing about your personality that makes you ashamed, and that is great. You are a bit intense and you do everything too quickly. At this end of the year slow down a bit and take it easy, enjoy every moment, and do not want everything to go by quickly and running because then you will regret it. You are here today, but tomorrow you may be on the other side of the world, so enjoy the present and don't think about anything else.
TAURUS
Taurus, you know that money does not give you happiness, it can help you feel better and live with certain privileges, but deep down you know that this is not happiness. At this end of the year put the material aside and focus on what is truly important, that is, your loved ones. Do not miss the opportunity to live an unforgettable moment with him, stop thinking about things that will not solve your life, and enjoy your company of yours.
GEMINI
Gemini, the passage of the years has made you close in a band and do not let anyone enter your heart. You find fault with everyone and that is beginning to tire even yourself. At the end of the year, close your eyes and connect with your inner self in a special way to find the key and open up a little to others. It is time to let yourself be taken care of and give a chance to those feelings that you have kept under lock and key.
CANCER
Cancer, feeling sorry for yourself is not going to make things better, and deep down you know it. At this end of the year trying to put bad thoughts aside to start being a little more positive and trusting yourself. Do not let the things of the past ruin you this end of the year, take the opportunity to eliminate all the toxic that is near your life and start a new year full of good energy.
LEO
Leo, everyone wants to be close to you, you have an overwhelming personality of those that everyone ends up falling in love with within one way or another, but at this end of the year, you have to focus on yourself and your needs. If you need to be alone, say so. Do not let anyone overwhelm you and make it very clear at all times what your intentions are. Leo, you do not always have to be surrounded by people, you also have the right to have your privacy.
VIRGO
Virgo, you love to have everything under control, you are one of those people who need to know what is going to happen at all times in order to be calm. At the end of the year, you need to get out of your comfort zone to discover that sometimes it is good to leave things in the hands of others. Being in control of the situation sometimes does not let you enjoy the moment and it is time for you to start enjoying life as you really deserve.
LIBRA
Libra, you don't like having to make important decisions, what's more, you avoid it above all else. At this end of the year do not run away and start making important decisions, decisions that will mark a before and after in your life. Don't let others decide for you and get to work. It is time for you to move forward, do not be afraid and risk a little because otherwise, you will never win everything you want.
SCORPIO
Scorpio, you tend to keep your feelings under lock and key because you don't want others to know too much about you. You think that the more they know, the more damage they can do to you and that is why sometimes you close down. At the end of the year trying to talk to yourself from the bottom of your heart and begin to be sincere. Express what you feel at all times and do not leave anything in the pipeline because tomorrow may be too late.
SAGITTARIUS
Sagittarius, you are always with a smile on your face because you like to live optimistically, but you are not always at your best. At this end of the year be yourself at all times. If you don't feel like smiling, don't. You can't always be making life happy for others, it's time for them to make you happy. Let yourself be carried away by the moment and be true to your feelings at all times, in the end, it is the most important of all.
CAPRICORN
Capricorn, talking to you sometimes is like talking to a wall. It is practically impossible to go inside yourself and know what you are thinking or feeling. At this end of the year try to open your heart a little more and be honest with the people who love you the most, those who are by your side for both good and bad because they deserve to know a little more about you. Capri, don't hide those beautiful feelings you have.
AQUARIUS
Aquarius, living in your own world sometimes does not benefit you much. This end of the year, try to connect a little with others, try to open up a little more, and let yours know a little about you. Of course, do what you want at all times as you have always done because you know that it is the only way to be completely happy. Never give up your happiness, do whatever it takes to maintain it.
PISCES
Pisces, feeling sorry for yourself is not going to make others feel sorry for you. At the end of the year, put yourself in your shoes and make it clear to everyone who you are. You have reached where you are by having fought harder than anyone else and it is time to make things clear. Do not let anyone trample you, you have suffered too much in the past. It is time for you to start flying to leave everyone with their mouths open, you are capable of anything, never forget it.